BCMA Conference 2023
Gathering FAQ
 Haida Gwaii  |   
September 25 – 28, 2023
It's our great pleasure to announce that the BCMA's 2023 gathering will take place in person during the week of September 25 – 28, 2023!
The BCMA community has been invited by our colleagues at Saahlinda Naay Haida Gwaii Museum and the Haida Heritage Centre to join them for three days of learning on the land, connecting with each other, and getting a taste of everything Haida Gwaii has to offer.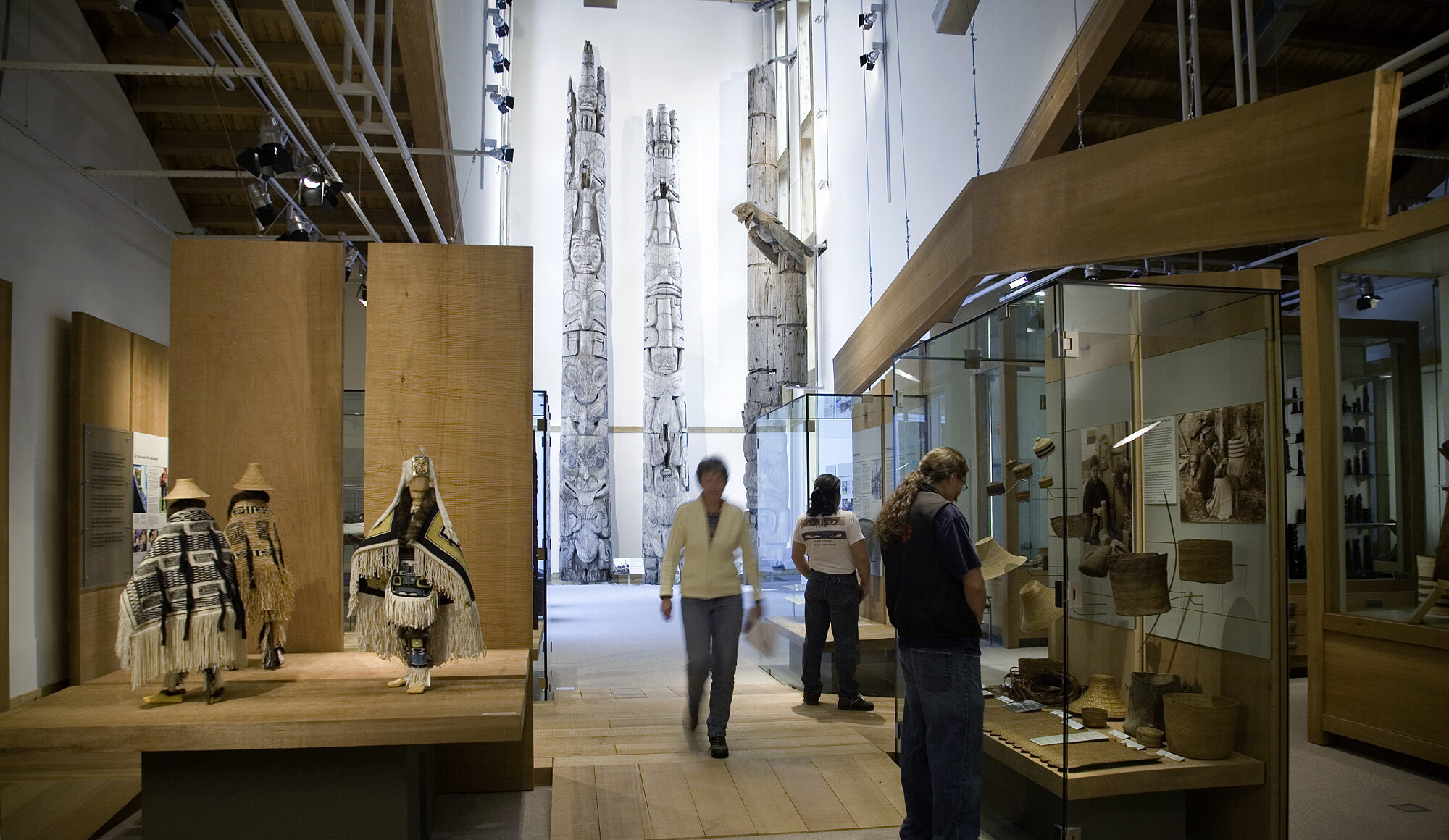 Image courtesy of Haida Gwaii Museuem, photographed by Rolf Bettner c. 2009
We will keep you up to date and release more information as it becomes available. Please see below for some answers to frequently asked questions. Beyond what we have added to this page, we are not able to reliably answer questions about event details or pricing at this point. Haawa [thank you] for your patience.
FAQ
Does the 2023 gathering have a specific theme?

The title of our 2023 event will be "Kil 'láa – Kind Words". The gathering will be based on Haida values including respect, responsibility, asking first, and telling the truth. Our call for submissions for stories and case studies presented by delegates is now open. Please follow this link to learn more.

Is there a draft schedule available?

We will release a more detailed schedule this summer when conference registration opens.

The plan is to offer pre-conference workshops and activities for Early Birds on September 24 and 25. The first official day will be Tuesday, September 26, when guests will be welcomed by our hosts and the gathering will begin with ceremony. September 27 & 28 will be full days of learning and discussions. Barnacle Day on September 29 will offer guests who are sticking around a chance to connect and reminisce over coffee for some informal networking.
Can you share any details about travel options and accommodation?

We are working with a local planning committee to answer this question for you as soon as possible. The gathering will be bookended by several travel days to spread the load on airports, ferries, and shuttles and take into account capacity of local infrastructure.
The gathering will mainly be held at the Haida Heritage Centre in Skidegate. We are in conversation with several accommodation providers on Haida Gwaii to offer guests a few options to choose from. There won't be one central hotel but we have secured transportation and will provide a shuttle to and from the Haida Heritage Centre on the main days of the gathering.

When will registration open?
Tickets will be available for purchase in mid-June. Similar to previous BCMA conferences, there will be different ticket options and discounts.
The annual BCMA gathering is held in different parts of the province (and sometimes virtually) and we would like to offer as many BCMA members as possible, and especially those from the North Coast and neighbouring regions, an opportunity to attend this event. Due to the location of this year's gathering and capacity limits for the remote community of Haida Gwaii, we kindly ask you to limit attendance to a maximum of three people from the same organization.

Will conference bursaries be offered to support travel costs?
The BCMA looks forward to offering bursaries to help members access the 2023 gathering. Like past BCMA conferences, the goal of bursaries and subsidies is to provide funding to members and delegates from historically underrepresented groups and those needing additional support to access the event. For more information about the 2022 conference bursary program, visit: https://museum.bc.ca/brain/conference-bursaries/
We hope to share more details about 2023 bursaries in advance of registration launch after funding and sponsorships have been better defined.
If I can't travel to Haida Gwaii, are there other ways I can participate in or learn from the 2023 gathering?
With the support of the Department of Canadian Heritage's Strategic Initiatives Fund, the BCMA looks forward to offering a variety of virtual learning and networking opportunities associated with the 2023 gathering. We thank our members who participated virtually in our 2022 conference series and look forward to building upon the lessons of the past years to offer even richer virtual experiences. If you have ideas or suggestions for how our virtual conference programming can best support you, or want to learn more about the BCMA's HerO (Heritage Online) program, please contact Koy Tayler.