IBPOC Museum Professionals Network
Connect with museum, gallery, and heritage IBPOC professionals from across British Columbia.
Tea & Talk  Listserv  The Podcast Provide Feedback
This network is supported in part by the RBC Foundation in support of RBC Future Launch.
The network is also supported by the Deux Mille Foundation.
Responding to the immediate needs identified by racially marginalized museum workers, the IBPOC Network provides targeted support for IBPOC (Indigenous, Black, People of Colour) students, volunteers, and professionals of our community through workshops, webinars, networking, and resource development.
Programming for the network is guided by our IBPOC Museum Professionals Advisory Group. If you have any questions about the IBPOC Network or would like to share suggestions, please get in touch with Jazmin Hundal at communications@museum.bc.ca.
Join Our Advisory Group!
The IBPOC Network is looking for new Advisory Group members to join us for the 2024-2026 term.
Applications are open from Sept 5- Oct 20. This is a paid opportunity to contribute to the expansion of this network. If you have ideas for how to support IBPOC folks in our sector, this position is for you!
Applications can be sent to Jazmin at communications@museum.bc.ca. Click the link below to learn more about how to apply.
New Resource!
Justification Letters
As we've travelled the province this year, many of you have shared with us how difficult it can be to explain the value of attending our sessions to your team.
So, we've written two letters that you can download to help with those conversations!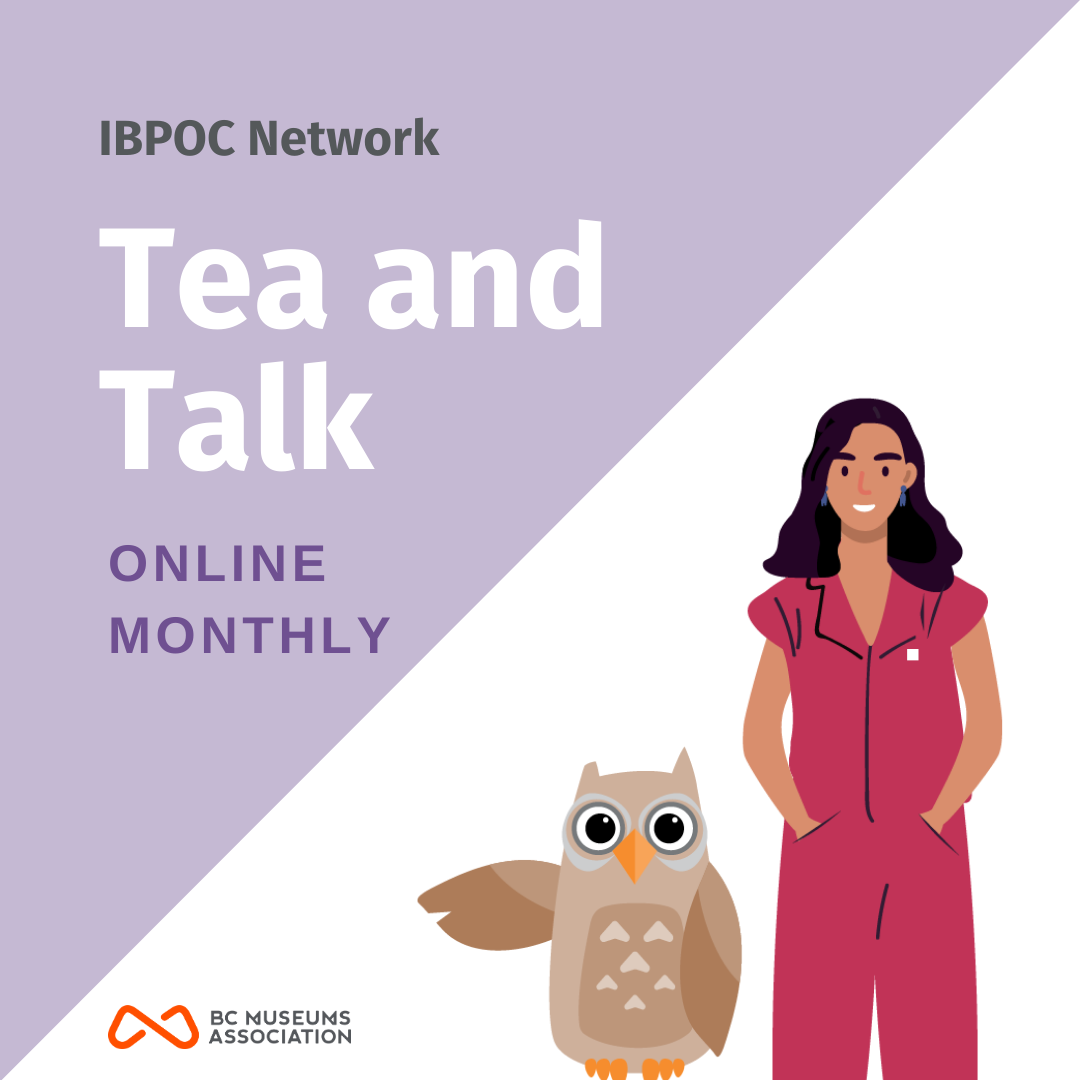 IBPOC Tea & Talk
December 13, 2023, 1:00-2:00 PM
Brew yourself a cup of tea and sit down with Network Coordinator Jazmin to chat, seek advice, and get to know other cultural professionals of colour.
These sessions are always free, and don't require registration.
Sunday
Monday
Tuesday
Wednesday
Thursday
Friday
Saturday
Why the name IBPOC (Indigenous, Black, and People of Colour)?
Originally launched under the name BIPOC Network, Indigenous BCMA members reached out and suggested using the term IBPOC to recognize that the discussions and activities facilitated through this network are taking place on the ceded, unceded, and sovereign territories of Indigenous communities across what is now referred to as British Columbia. The BCMA recognizes that we are uninvited guests on these territories and wish to centre this network around respect and reconciliation.
We recognize that grouping such distinct identities together suggests an interchangeability that fails to articulate the differential ways that racialized people experience race and racism and will continue to evolve and update our language in consultation with the community.
This Network was inspired by the #MuseumsAreNotNeutral Webinar in June 2020. Watch the webinar
Check out this recent webinar:
Community-centred Approaches to Museum Exhibits and Programs
The IBPOC Museum Professionals Network was joined by culture executive, Karen Carter for an informative webinar on community-centred approaches to museum exhibits and programs. Participants learnt how to become a co-conspirator for DEIA, build relationships not just partnerships, and what a call-and-response communications model is.
Explore our growing collection of resources on equity and justice.
This network is supported in part by the RBC Foundation in support of RBC Future Launch.
The network is also supported by the Deux Mille Foundation.