IBPOC Network Tea & Talk
Connect with museum, gallery, and heritage IBPOC professionals from across British Columbia.
Connect with museum, gallery, and heritage IBPOC professionals from across British Columbia. Brew a mug of tea and catch up, ask questions, and seek advice from one another alongside our IBPOC Museum Professionals Advisory Group members.
As a reminder, the IBPOC Network's Tea and Talk session is a safe space for all British Columbians who identify as IBPOC museum, heritage, and cultural professionals to share their thoughts and experiences with one another. Please be mindful to give space to one another and respect diverse perspectives and experiences. We ask that you turn your camera on during the session to help ensure a feeling of safety amongst IBPOC attendees.
Join Tea & Talk Now!
Virtual | Registration is not necessary.
Join us for our next Tea and Talk on February 22, 2023 at 1:00 pm.
Call for Submissions!
The IBPOC Network will be bringing in-person Tea and Talk sessions to locations across BC in 2023!
If there is a town/city/region that you would like Tea and Talk to visit, email us at communications@museum.bc.ca with your name, location(s) of choice, and organization if applicable.
Send your suggested locations by February 10, 2023.
Tea and Talk On The Road 
We're coming to Campbell River!
We're kicking off Tea and Talk On The Road with a session at the Maritime Heritage Centre in Campbell River on Friday, February 24. Join us from 1:00-3:00 PM for an informal gathering to chat, seek advice, and meet other cultural professionals of colour. Tea/coffee and snacks provided.
A full road map of 2023 locations will be available in February. Until then, we hope you join us at this session!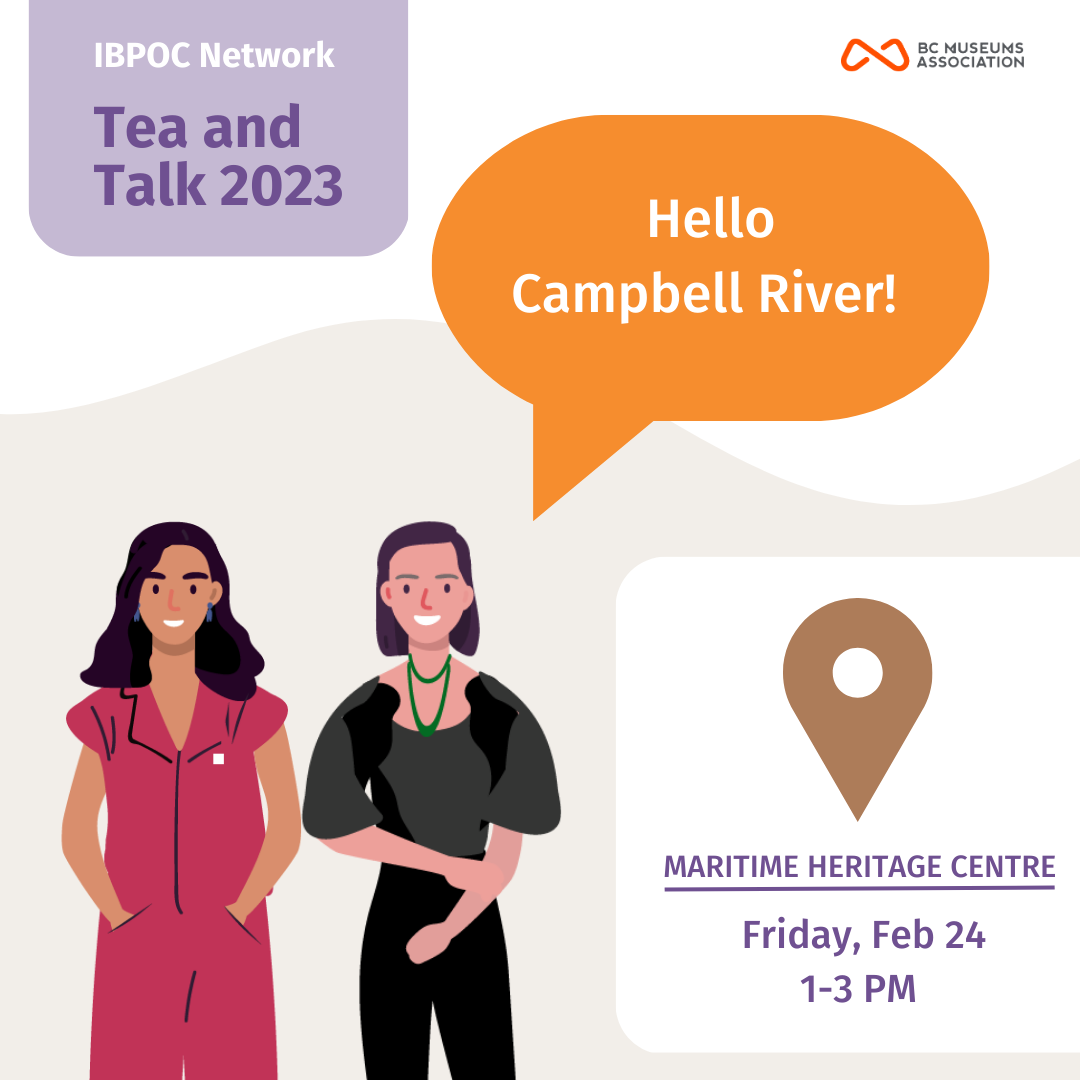 Why the name IBPOC (Indigenous, Black, and People of Colour)?
Originally launched under the name BIPOC Network, Indigenous BCMA members reached out and suggested using the term IBPOC to recognize that the discussions and activities facilitated through this network are taking place on the ceded, unceded, and sovereign territories of Indigenous communities across what is now referred to as British Columbia. The BCMA recognizes that we are uninvited guests on these territories and wish to center this network around respect and reconciliation.
We recognize that grouping such distinct identities together suggests an interchangeability that fails to articulate the differential ways that racialized people experience race and racism and will continue to evolve and update our language in consultant with the community.
A Note on Tea & Talk
This program runs on the Zoom videoconferencing platform, which may be blocked by some firewall settings. Please contact your IT department if you are not sure if you can access the program.
We are aware of security concerns about Zoom meetings and the so called "Zoom Bombing" that has been in the media. Precautions to avoid these situations have been taken and procedures such as enabling the waiting room feature, muting all participants upon entry and disabling screen sharing have been implemented. The safety and privacy of our virtual programs are a priority for us and we are closely monitoring the situation and installing security updates that are regularly released by Zoom.
This network is supported in part by the RBC Foundation in support of RBC Future Launch.
The network is also supported by the Deux Mille Foundation.