Social Action During Times of Change
Featuring 2021's nominees for the Award of Merit – Social Impact
By: Leia Patterson, BCMA Engagement Coordinator
The BCMA is proud to celebrate the 2021 Award of Merit Nominees through a series of featured articles for Roundup. We hope the work highlighted in this series inspires readers to reach higher in their own practice and prompts new ways of thinking within your own organization. Keep reading to learn more about the Nominees for the Award of Merit for Social Impact and follow the three-part series for additional nominee highlights before voting online for the people's choice award!
Featuring 2021's nominees for the Award of Merit – Innovative Practice
Featuring 2021's nominees for the Award of Merit – Community Engagement
The Award of Merit for Social Impact recognizes the significant contribution of an organization advocating for the advancement of an important social cause such as reconciliation, social justice, inclusivity, accessibility, sustainable development or climate action.
The Museum of Surrey has been advocating for the improvement of visitor experiences for people of all abilities by implementing accessible design practices. About 15% of Canadians report having a disability, and many others, especially seniors, live with unreported disabilities. People with disabilities, permanent or temporary, tend to avoid going to new places if they do not know how difficult it will be to navigate. Accessible design aims to create welcoming spaces for people with disabilities, as well as their families.
By working closely with various partners, such as the City of Surrey's Accessibility Department and the Canucks Autism Network, museum staff completely overhauled all aspects of accessibility over the last two years. Changes include the addition of Braille and ASL interpretation and features, physical accessibility upgrades like push button entry, automated washroom controls, contrasted stairs, and seating, Telecoil hearing loops at key locations, as well as sensory-safe opening hours and sensory kits. Museum staff and volunteers are trained to ensure they can effectively communicate and provide a welcoming environment for all visitors, including Autism awareness training with the Canucks Autism Network and Dementia-Friendly Environments Training with Alzheimer's Society of BC.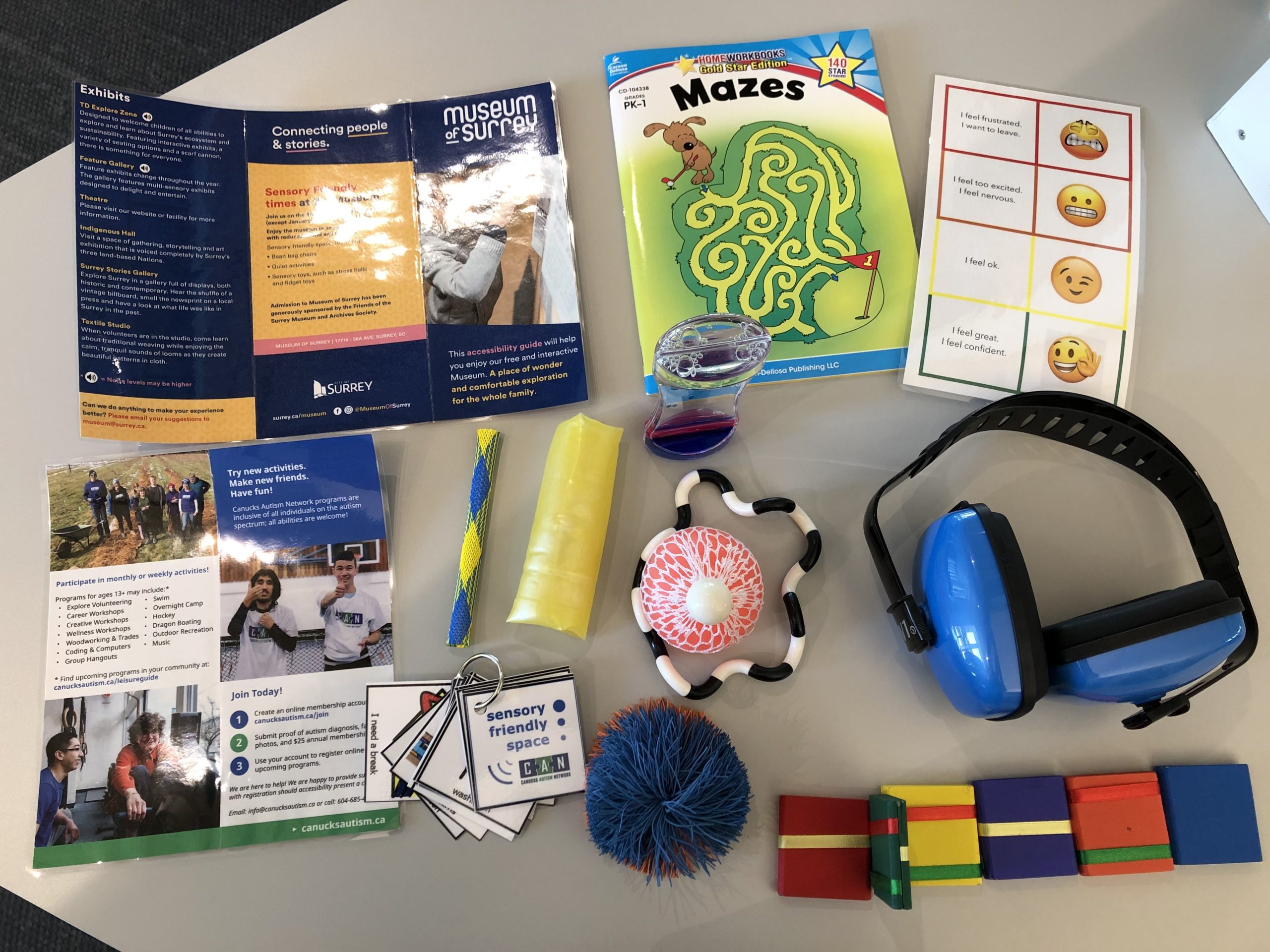 Photo Courtesy of the Museum of Surrey
The Museum of Surrey has been sharing their work through an accessibility speaker series to encourage other cultural professionals to examine their facilities and make their spaces more welcoming. Accessible design initiatives can help make museums a better place for all staff and volunteers, and expand an institutions capacity to hire an increasingly diverse team with new ideas and perspectives, as well as making visitors and collaborators feel safe and comfortable in the space.
Another Nominee that is increasing accessibility within their community is the Council of the Haida Nation, Haida Gwaii Museum, and School District 50, who partnered to ensure elders were included in online networking and cultural retention throughout the pandemic. To address digital inequality in their communities, 35 iPads were distributed to elders and seniors across Haida Gwaii. The iPads were provided through a loan program – with no return dates or late fees. To further reduce the affordability barrier, the program has also been able to provide some assistance with internet services through the support of Mascon, the local cable provider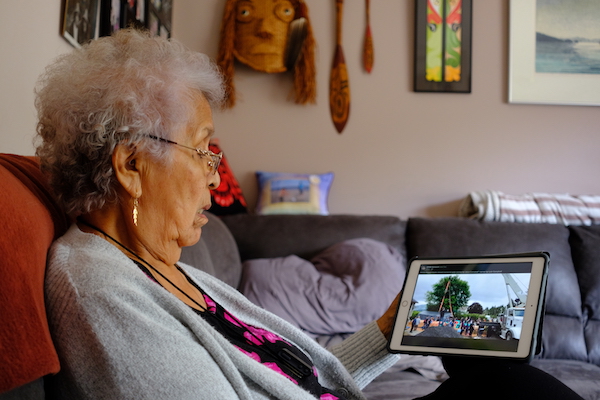 Pictured: Jiixa Gladys Vandal watches a memorial pole raising event in Prince Rupert using her iPad. Photo by: Tomas Børsa
Elders were given plenty of time and support to learn to use the technology. It helped to maintain their connection with the community throughout the isolating year, and elders were able to participate virtually in cultural convenings and ceremonies. This innovative partnership between a museum, a government, and a school district demonstrates the leadership role that museums can play in communities and how collaboration can have positive public impact. This project facilitated intergenerational learning, helped to bridge digital divides, and provided much-needed social contact and interaction during a time of isolation. The partnership demonstrates community leadership, innovation, and acts as a model for agile community engagement and support that we can all learn from.
Nominees Adrienne Silver and the team at Stó:Lō Aboriginal Skills & Employment Training (SASET) have been advancing reconciliation and inclusivity through their training program. The Employer Wage Subsidy program works to hire secondary and post-secondary students for temporary employment, with an emphasis on providing work experience and developmental learning for in-school youth. Through the Summer Employment Program, Heritage Abbotsford Society (HAS) experienced the support and care that SASET provides to both employers and workers first hand; stating that HAS "has been able to not "just" build programming that meets with (the goals and directives of the) TRC and UNDRIP and make necessary systemic changes, but it has also provided us with the opportunity to mentor individuals and support Indigenous culture" through their student hires from SASET.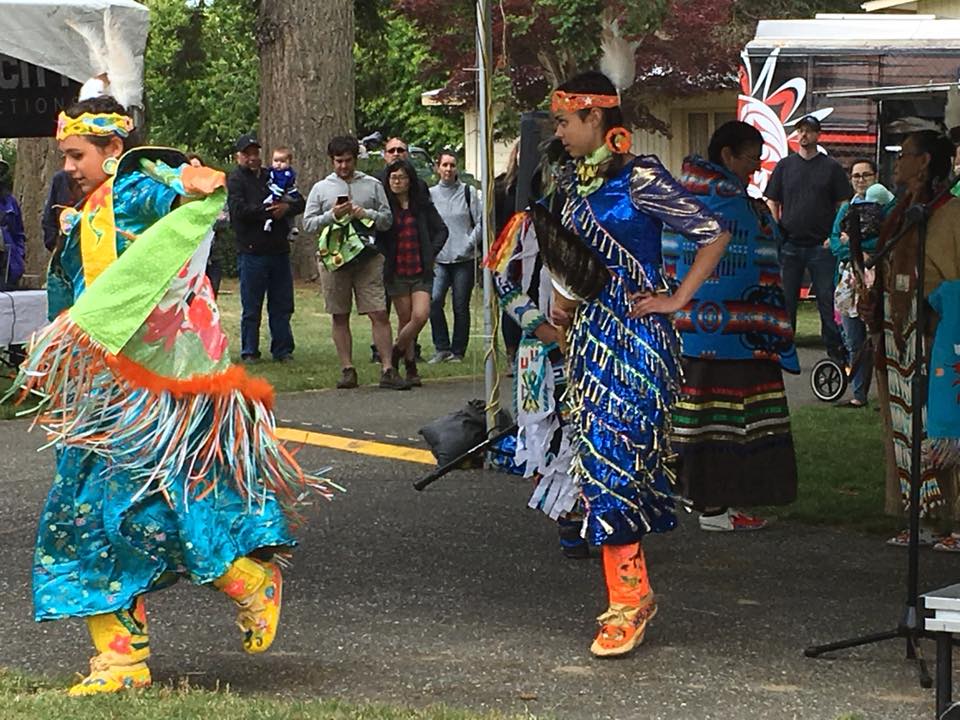 SASET creates positive social impact through the generous method of reciprocity in their work; not only do they provide funding, but they provide ongoing support to all parties and ensure that they build relationships with the organizations they fund. HAS states that: "Through SASET's interaction with us, we have been able to re-write our mission, vision, and value statements to increase our ability to establish policies that promote diversity in heritage and culture, support a process of inclusion on our Board of Directors, in the selection and training of our staff, and in mentorship programs, and promote diversity in the interpretation of our heritage assets".
With a focus on Indigenous training, SASET is supporting young IBPOC individuals by giving them hands-on experience and supporting not-for-profit institutions in providing equitable employment; they seek to ensure the positions are paid above minimum wage, setting a high bar and creating pressure for other funders to follow suit. The importance of fairly compensated IBPOC training opportunities rather than tokenistic volunteer positions cannot be understated. HAS states that without SASET "we would not have our talented Collections Manager, our latest exhibit, our updated Heritage Habitat Garden, Aboriginal Arts and Culture Day, and 5 Indigenous employees (of a total of 8) this summer. And without SASET we would not have been connected to the local bands the way we are, i.e. we could not help raise them up and support them… I cannot quite put it into words how big of an impact Adrienne Silver, Christina Price and the rest of the SASET team has had on our ability to educate and become educated. The organization has been a game changer for us, and therefore the community."
Coquitlam Heritage Society launched an online exhibit to include diverse narratives of Black British Columbians through their exhibit We've Been Here All Along in partnership with The African Descent Society British Columbia. The exhibit creation was led by Tannis Koskela, Jennie Johnston led the creation of the workbook, and Nolan Nadeau formatted the workbook.
The exhibit and accompanying workbook are educational resources that showcase information and stories not commonly shared or known about BC's Black Community. The workbook – an educational resource for children – contains real-life experiences of the Black Community of BC, lived experiences that are often not recorded in the official historical record held by archives or museums. The artwork of the workbook was done by Nigerian-Canadian artist Ejiwa "Edge" Ebenebe. Her work has a focus on ornamentation and aims to help add to the positive representation of black women, to combat the pervasive negative stereotypes that are constantly applied to them.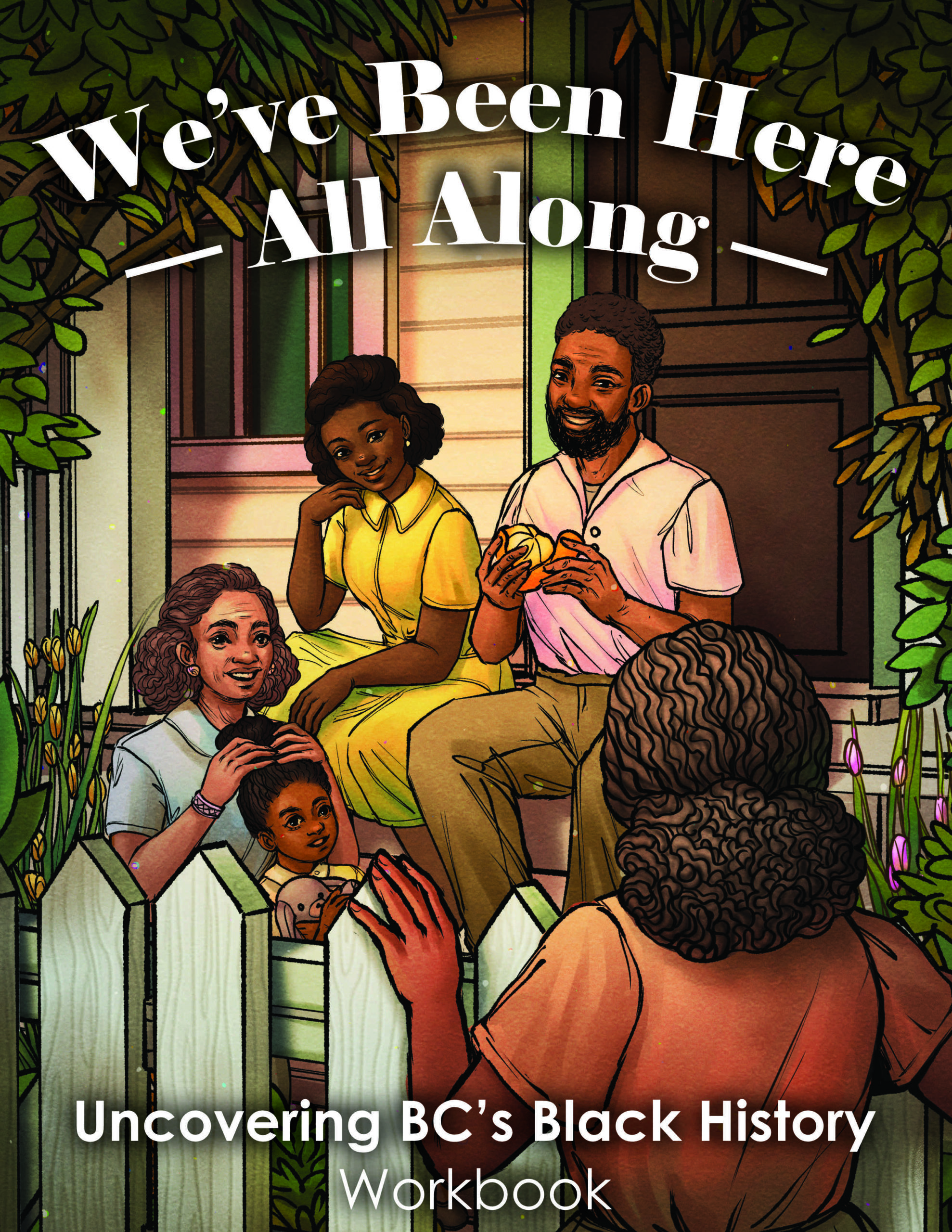 Pictured: Front cover of "We've Been Here All Along" Workbook
Over 600 people have visited the online exhibit, and multiple teachers are using the workbook in their classrooms. Many museum visitors have also made sure to take a workbook with them. Coquitlam Heritage Society notes that there was so much information uncovered and shared, and so much still to be learned. "Seeing as European and colonial history has been showcased and discussed for years on end, it is not hard to see why only one exhibit would not be enough coverage. Due to this we have already planned to put up another online exhibit, this time focusing specifically on Coquitlam's Black Community." says Executive Director Candrina Bailey.
Through this project, Coquitlam Heritage Society has brought the lack of inclusion and diversity of historical records to the forefront, and they hope that their exhibit helps other organizations dig deeper and add the stories of minorities who live in their communities to the historical record.
The exhibition Playing with Fire: Ceramics of the Extraordinary at the Museum of Anthropology (MOA) showcased the work of 11 contemporary BC ceramic artists, whose works dealt with issues surrounding social injustice, racism, identity, and censorship and challenged the notion that all things made of clay be required to be functional.
The exhibition was done with collaboration in mind at every step, ensuring that all MOA staff and the artists worked together throughout the process. This was the first exhibition mounted at MOA that featured contemporary ceramics made in British Columbia and it showcased the work of Judy Chartrand, Ying-Yueh Chuang, Gathie Falk, Jeremy Hatch, Ian Johnston, David Lambert, Glenn Lewis, Alywn O'Brien, Bill Rennie, Debra Sloan and Brendan Tang.
Each artist co-curated their own section of the exhibition, participated in public programming and public tours. A symposium titled "Catching Fire" was organized where the artists addressed the challenges related to racism, censorship, fragility, and mass consumption. Carol E. Mayer of MOA states: "When planning the exhibition . . . I searched for artists who had chosen the medium of clay to express ideas and critiques about the world around them . . . focused on the political, cultural and personal issues they examine through their work, plus their use of humour, beauty, fragility, nostalgia, controversy and even anger to make the case."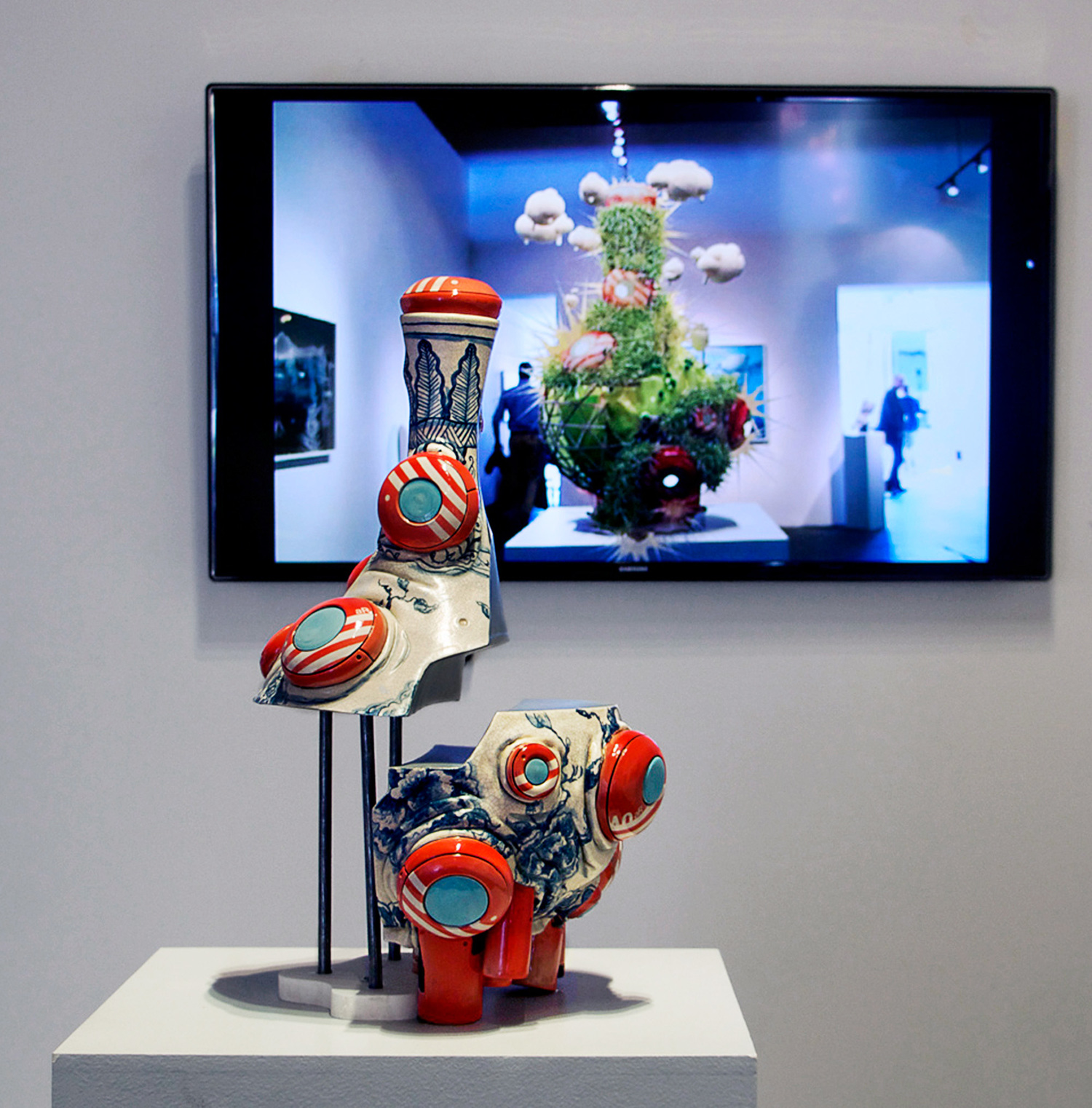 Brendan Lee Satish Tang, Alex McLeod
#lovechild, 2011
earthenware, glaze, video
100 cm x 55.8 cm x 65 cm
Courtesy of Brendon Lee Satish Tang, Alex McLeod and Gallery Jones
Photo: Alina Ilyasova
Lou-ann Neel has been nominated for her contributions to community reconciliation through her powerful move to re-home Residential School Memorial objects. Finding homes for hundreds of stuffed animals and pairs of shoes left at the Royal BC Museum vigil honouring the children who never came home from residential schools is a reminder of the power that museum and cultural professionals can play in bridging past community harms with building better futures.
Lou-ann's actions, including her use of her cultural teachings in singing and blessing the objects, are the embodiment of community involvement and outreach. In the wake of unimaginable suffering that has been caused through the actions of the government, it can be hard to know what to do and how to make a positive impact as museum and cultural professionals.Through the re-homing of these objects, Lou-ann helped many children find joy while their families struggled to work through new waves of grief and trauma, and she demonstrated admirable levels of compassion and empathy.
Mischelle vanThiel, Vice President Inclusion and Community Engagement at the Royal BC Museum, says: "As a settler on these lands, I cannot begin to comprehend the emotions involved in both the vigil and the work to re-home these stuffed animals and shoes. Lou-ann's actions demonstrate her commitment to supporting communities and to contributing to a better world for everyone. Lou-ann deserves recognition for her tireless work and impact."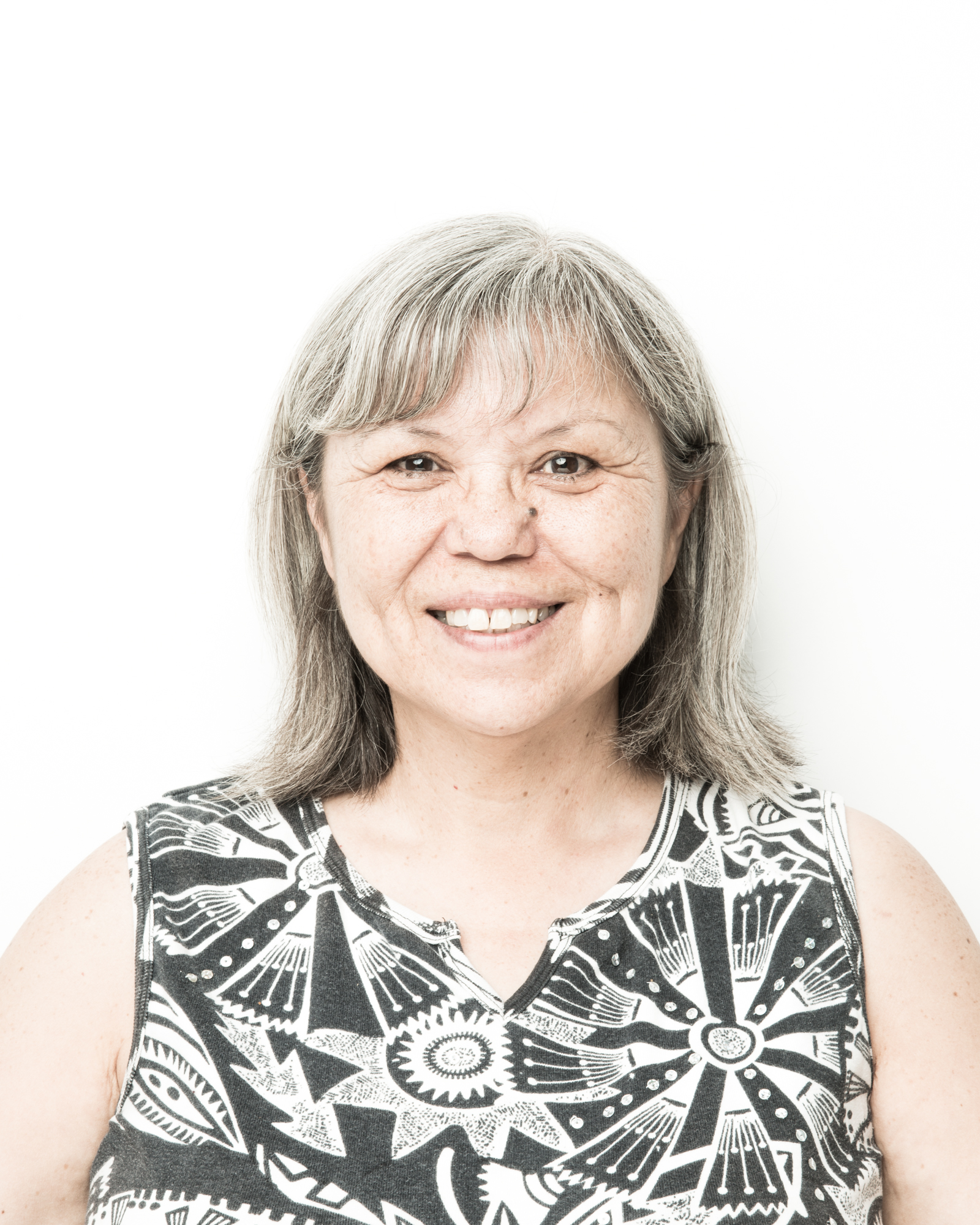 Pictured: Lou-Ann Neel, Curator, Indigenous Collections, Royal BC Museum
Featuring 2021's nominees for the Award of Merit – Innovative Practive
Featuring 2021's nominees for the Award of Merit – Community Engagement