Connecting to Community During Times of Change
Featuring 2021's nominees for the Award of Merit – Excellence in Community Engagement
By: Leia Patterson, BCMA Engagement Coordinator
The BCMA is featuring the 2021 Award of Merit Nominees through a series of featured articles for Roundup. We hope the work highlighted in this series inspires readers to reach higher in their own practice and prompts new ways of thinking within your own organization. Keep reading to learn more about the Nominees for the Award of Merit for Excellence in Community Engagement and follow the three-part series for additional nominee highlights before voting online for the people's choice award!
Featuring 2021's nominees for the Award of Merit – Social Action
Featuring 2021's nominees for the Award of Merit – Innovation
The Award of Merit for Community Engagement recognizes a recent outstanding success in community engagement, as demonstrated by ongoing participation of new audiences, new partnerships with community organizations or supporting the needs of the community.
The BC Farm Museum Association expanded their partnerships and audience through their Seeds for Seniors program. With funding from the New Horizon Grant, the program provided seniors with a sense of well-being and a bounty of fresh vegetables and flowers to harvest during this isolating year. The funding was originally secured to bring seniors into the museum for tours, but was used to pivot due to the pandemic. In response to the isolation and restrictions that left many seniors home-bound, the BC Farm Museum opted to spread joy by providing Seeds for Seniors bags that included vegetable seeds, plastic cups and pods to start the seeds in, popsicle sticks and a museum pencil to label the containers, as well as a special "Dr. Bonnie Henry Pollinator Blend" made by West Coast Seeds. Proceeds from the Dr. Bonnie Henry seed mix are donated to food banks on behalf of West Coast Seeds.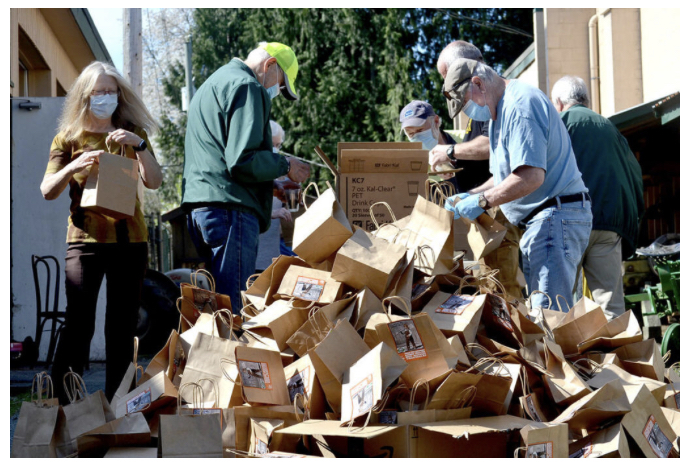 Photo Courtesy of: BC Farm Museum Assocation
The Museum created 600 seed bags for distribution which were delivered to local senior centres and senior facilities; some even made it to the Princeton Museum to be distributed to their patrons. Additionally, seed bags are being handed out by the BC Farm Museum volunteers to visitors who come to experience pioneer and agricultural life in BC. The BC Farm Museum's Seeds for Seniors program was a fruitful community collaboration between the museum, seniors, seniors facilities, the museum's suppliers, and volunteers, all working together to celebrate agriculture, gardening, well-being and sowing joy
Through the Creative in Quarantine exhibition, the Chilliwack Museum & Archives aimed to include a diverse representation of their community to highlight the talent and experiences of Chilliwack during the COVID-19 pandemic. The show featured works created during the pandemic and ran in conjunction with Culture Days – a national celebration of arts, culture and heritage held annually throughout the country. The theme for last year's Culture Days was 'Unexpected Intersections' which was meant to encourage creative and outside-the-box thinking to reveal new avenues of discovery, learning, and expression. During the pandemic, many members of the museum's community had leaned into their avenues for creative expression at home as a way to release and express themselves. Creative in Quarantine opened on September 25, 2020 with over 100 pieces from more than 50 community members.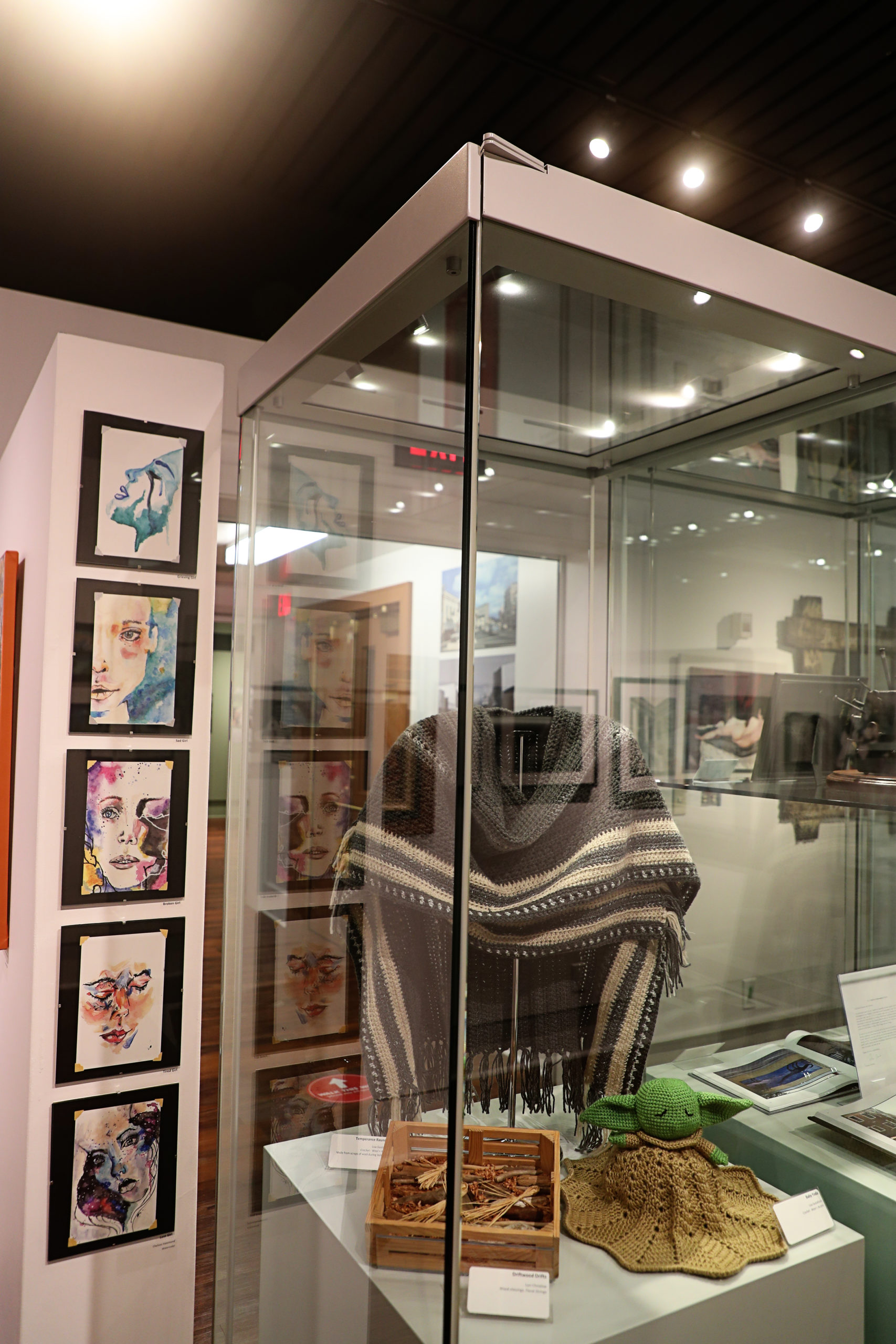 Photo Courtesy of: the Chilliwack Museum & Archives
The works came from a diverse range of individuals, with many different demographics represented. For Chilliwack Museum & Archives, the opportunity to connect with the community on a more intimate level has helped build bridges and encourage a more inclusive and diverse space within their institution. Inviting the community into the museum as curators allowed the staff to explore new ways of innovation and inclusion. Chilliwack Museum & Archives staff plan to continue this art show as a yearly initiative revolving around Culture Days to encourage community involvement, diversity, inclusion, and innovation.
The local historians behind Haunted History BC have been working to promote BC's heritage through storytelling meant to inspire everyone to discover and explore their own unique community. Gina Armstrong and Victoria Vancek incorporate Canadian ghost stories, legends and folklore into diverse history projects. The duo has published a number of books, and run a website where they publish their stories. They have been recognized by the City of Maple Ridge for their historical contributions locally, specifically for their article about the Whonnock Cemetery and its historical value.
For the story, the historians focused on Indigenous people, as well as Japanese and Norwegian settlers who shaped the local history of Maple Ridge and the surrounding community. They try to connect with local residents, utilize archives and visit locations in person in order to complete and confirm their research. Through a variety of platforms, they encourage everyone to take an interest in and appreciate the past and to use cultural and natural diversity as an inspiration to pass along to future generations.
Throughout the last year, Haunted History BC has also donated publications, merchandise, and gift baskets to support history-themed fundraisers and online events.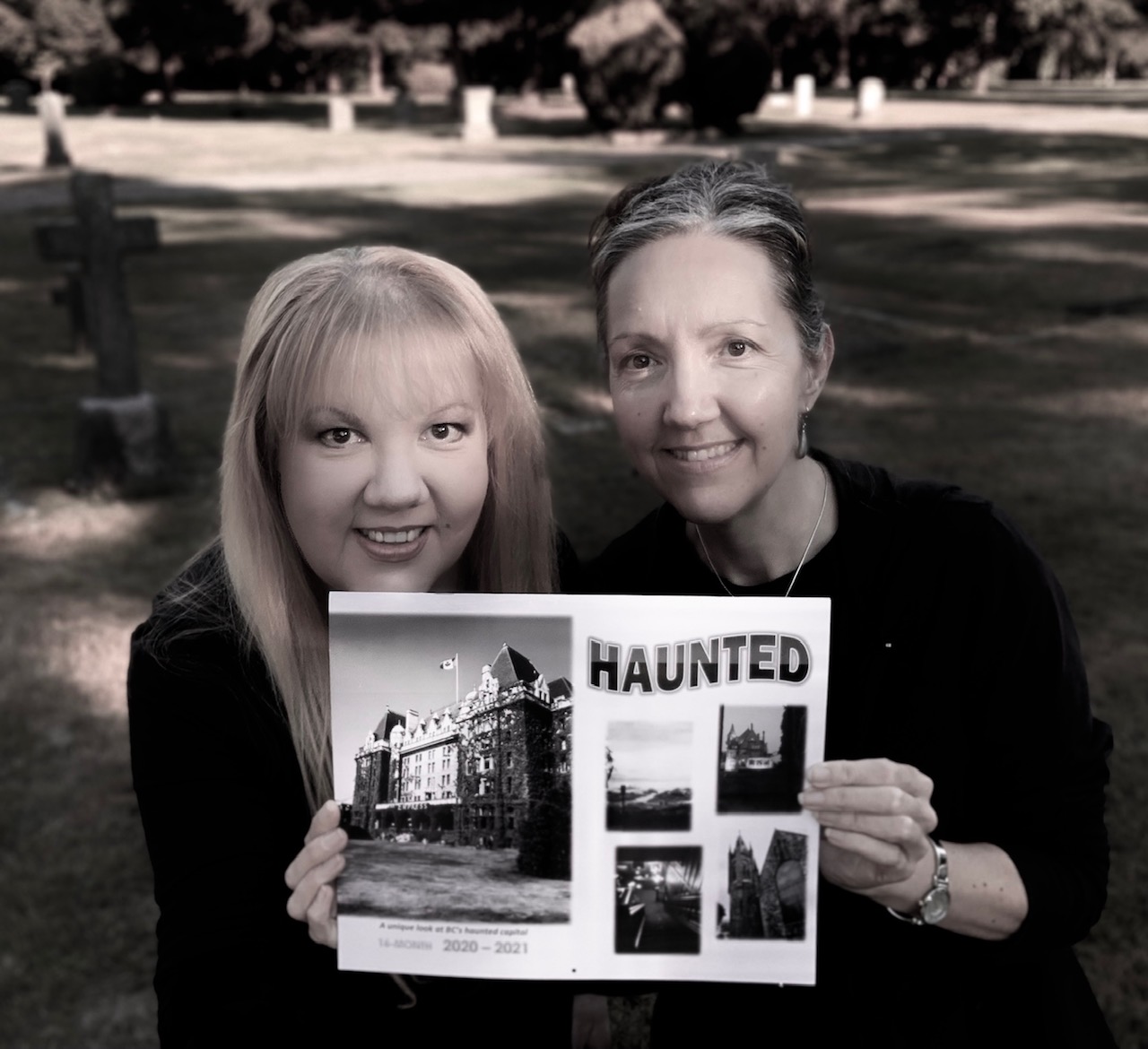 Pictured:  Gina Armstrong and Victoria Vancek Photo courtesy of: Haunted History BC
The Lakes District Museum Society established a Facebook page in 2018 to engage the community on topics related to local history. These posts now reach more than 100,000 people around the world annually. The museum's curator, Michael Riis-Christianson, has been researching, writing and posting short articles and photographs on the history of the Lakes District, and has been making a special effort to include and engage with local First Nations to include their stories – something that had largely been ignored in the past. Of the benefits of the project, Michael states "When we post information, we always ask people to share their stories about a specific event or topic, and this 'give and take' helps expand the historical record, which in turn fuels increased interest in local history".
Today, the page has nearly 1,000 followers, with most living in the Lakes District (which has a population of only 10,000). This is helpful for posts that are appeals to the community for information about places, people and events from the past. This form of digital engagement – on a platform used by so many people – ensures that the museum society can hear the voices of people with diverse cultural and economic backgrounds, engage with the community during the pandemic, and reach those who otherwise might not share their knowledge and stories.
Another effect of this digital engagement is an increased interest in the Lakes District Museum Society. In 2017, prior to the start of the Facebook page, the society had fewer than a dozen members, barely enough to fill the board of directors. By 2020, membership had grown to 90, admission revenues were three times higher than historic levels, and donations of both funding and artifacts has increased. Requests for information and access to the archives have also gone up, particularly from Indigenous community members.  All this has happened within just four years. This achievement is even more remarkable when you consider the fact that until 2018, the society and the museum did not have a functioning computer system or internet access!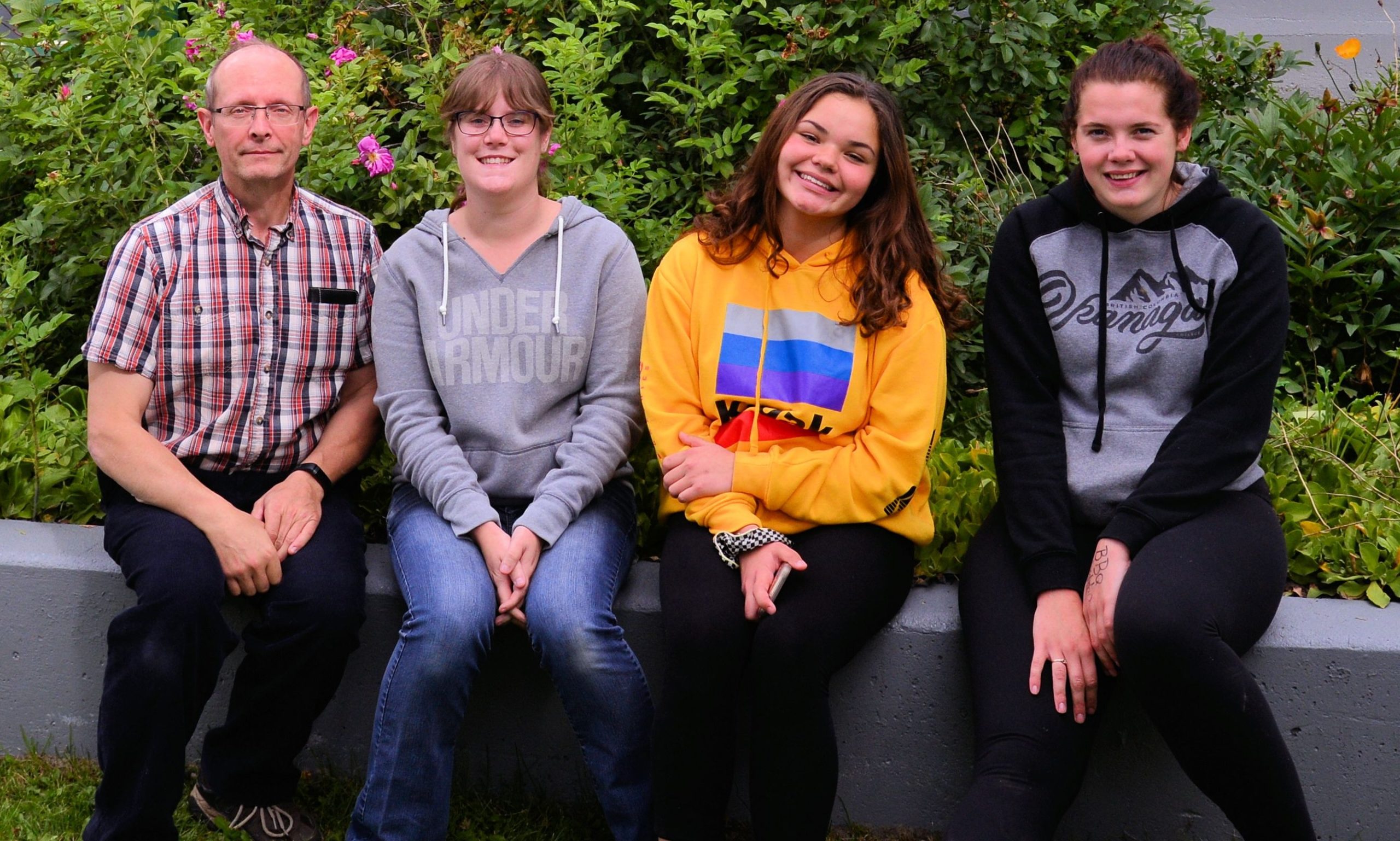 Staff photo courtesy of: Lake District Museum Society
Nominee Shirley Rosichuk is full of enthusiasm; dedicated to sharing the history of Stewart, BC, her goal is to make her museum a social hub in the community. Despite being located in a small and remote community, and often working with little funding, Shirley has made the Stewart Museum a vital and engaging organization both for her community, and the region during and beyond tourist season.
Shirley has spearheaded many community events in Stewart, including Mining Month events, Heritage Week, the Christmas Market, Farmer's Market BBQ, Movie Nights, Mother's Day and Father's Day events, Canada Day events and many others. In a small community, these events are the highlights of social life that everyone gathers for. She has been interested in starting a regional network of museum and cultural organizations to promote and support those along the Highway 16 corridor, as well as developing other partnerships for projects and to fill financial gaps in her operations.
Within the museum itself, Shirley has expanded the educational programming, engaged with the local high school, and shared the history of the community through Museum@Home sessions with the Royal BC Museum during the pandemic. She has ensured that archival collections, including resources related to mining and the cemetery, are accessible to researchers, and she developed and presents an excellent tour of the museum praised by tourists. She is a true ambassador for the region.
"I am continually impressed by the energy and dedication that she brings to her work, and she is also incredibly innovative. For example, she once called me and asked if I had any suggestions for a primary grade class that was going to visit, and the teacher wanted to explore rail history. I suggested a rather simple activity that we do where they learn railroad lantern signals. Next time I chatted with Shirley, I learned that not only had she developed a more fulsome lesson around the activity, but she delivered it in a railroader's costume, and had added all sorts of extra little details to the delivery." says Kira Westby, Curator of Bulkley Valley Museum.
Sncewips Heritage Museum has been nominated for showcasing their syilx Okanagan Nation heritage through their fun, engaging, and informative video content during the COVID-19 pandemic, effectively reaching a wide range of demographics and audiences. Their videos, produced in-house by Sncewips staff, brought much-needed humour into the lives of their followers, all while presenting their artefacts, educating viewers on traditional syilx heritage and sharing perspectives on important sector topics. With little previous video experience, their transition to online content was nearly seamless, using a staff iPhone and a few office supply props for most of the production with little to no budget.
As part of their productions, staff translated the 12 Days of Christmas into nsyilxcən, made DIY music videos about curatorial practices, yet not shying away from touching on difficult topics. Representation was a big theme, as seen through topics like Land acknowledgements, and the participatory approach of tapping into their community to bring people in. The staff at Sncewips Heritage Museum created meaningful connections with their followers and made the museum as an institution significantly more accessible and relatable.
"Despite being located over 400 km away, the strength of their video content elicited much laughter in our office while also offering important moments of cultural education.", says nominator Matthew Lovegrove from the Sunshine Coast Museum & Archives. The museum team demonstrated that creativity and a willingness to take risks is the key to creating engaging and unforgettable content. Harnessing the power of humour and quirky video production, they created a successful formula for disseminating important cultural knowledge while entertaining their audience. For many heritage professionals, it can be intimidating to share professional content that isn't extremely polished. Through their innovative videos, Sncewips Heritage Museum broke down this barrier, demonstrating it is the strength of the idea, not the HD quality of the video, that makes meaningful and poignant online content.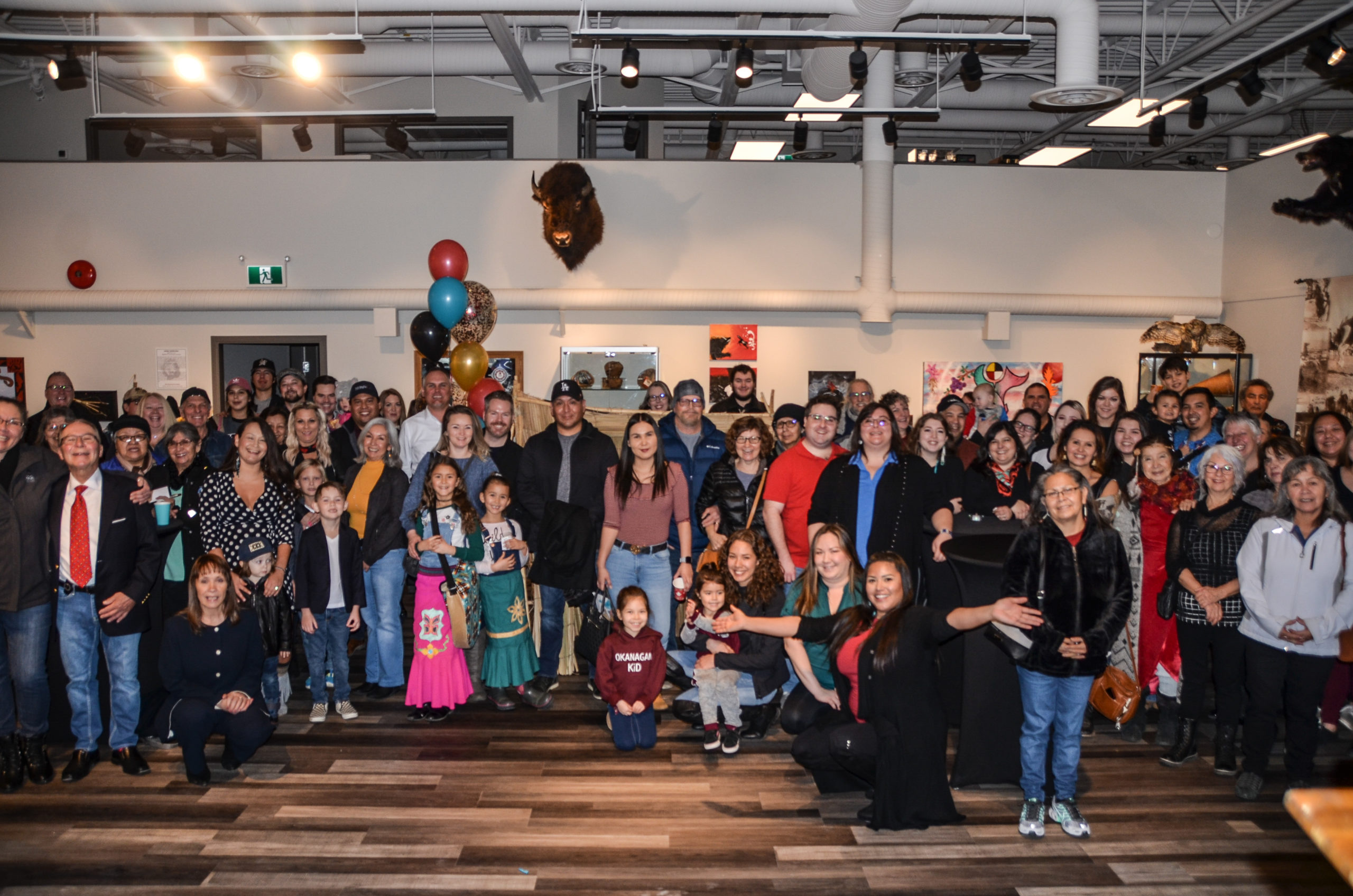 Photo courtesy of: Sncewips Heritage Museum
Similarly, the Bateman Foundation has supported the mental wellbeing of their community by providing free therapeutic art programming. Since January 2021, the Wellness Program has provided in-person and online drop-in therapeutic art sessions in addition to group art therapy sessions depending on the public health guidelines of the time. Facilitated by art therapist Kaitlin McManus, the programs were aimed at helping those experiencing anxiety and depression in the wake of COVID-19 by allowing participants to express themselves through mindful art making.
Through the Wellness Program, the foundation has provided free personalized art therapy groups of up to 8 weeks for community partners including Garth Homer, Lifetime Networks, Connections Place, Victoria Immigrant and Refugee Centre Society and SIDES Transition to Adulthood. Recognizing that these vital therapeutic resources are not always accessible to Victoria's most vulnerable communities the free, public sessions were made available to a diverse group of people, including those who cannot visit the Bateman Gallery for any reason. The removal of geographic, financial, and physical barriers represents a spirit of inclusion and consequently, the Wellness Project has a broad reach, serving the immediate community in Victoria and a wider digital community. The goal was to transcend language barriers and to reduce any perceived stigma and provide a safe environment for those who may feel shame around seeking help.
"We don't do clinical therapy with members at Connections Place, so it was very powerful to see a member get up in front of everyone, and share his experience of his mental illness. I think it's significant because when people can share with their peers, in a safe space, these are the moments we break down the walls of isolation and stigma… It's amazing that just a short four-week program allowed the members and me to realize how creative, resourceful and resilient they truly are.", says Katherine Howell, program staff at Connections Place.
The free drop-in therapeutic art sessions are open to the public and will continue to run on Tuesday evenings in-person at the Bateman Gallery in addition to the free online individual therapeutic art sessions (over Zoom) every Thursday morning. The Bateman Foundation will continue to work with their community partner organizations to offer directive-based wellness programming to suit groups from the region.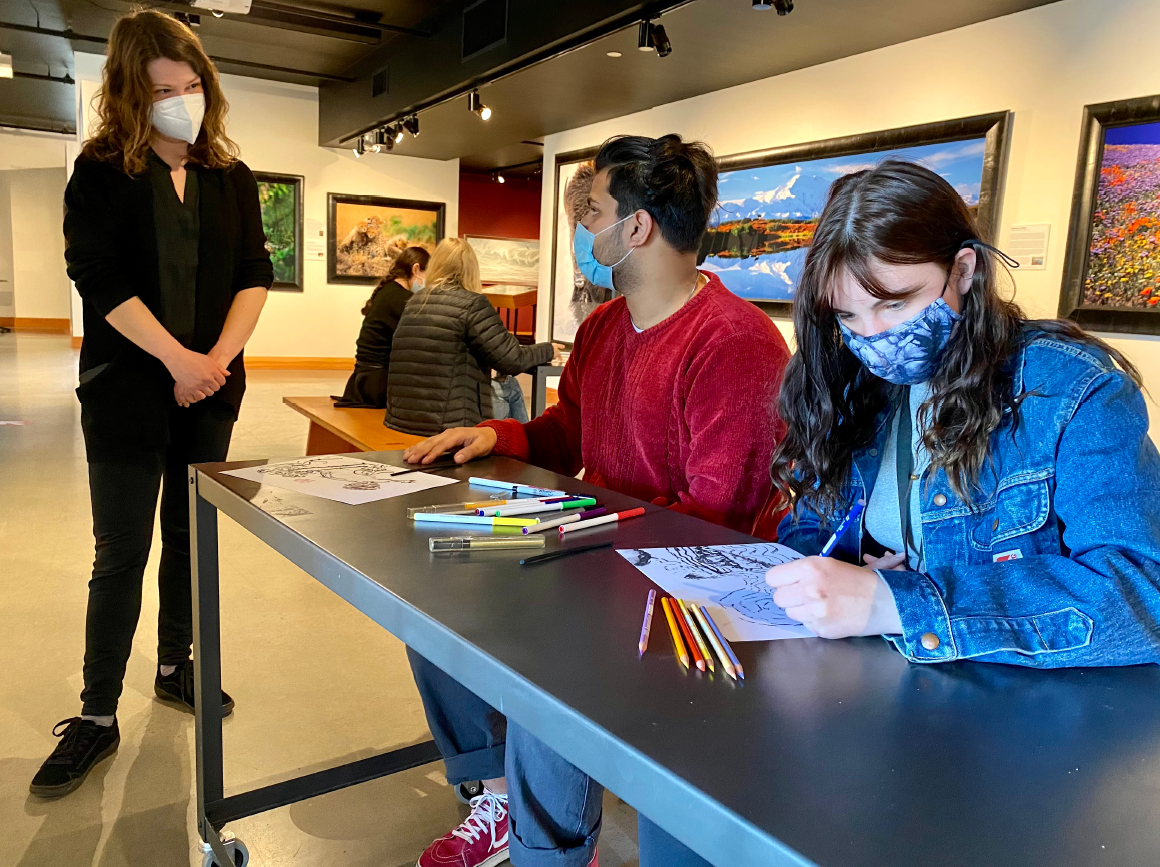 Photo Courtesy of: The Bateman Foundation
Since the onset of the COVID-19 pandemic, The Exploration Place has further embraced contemporary collecting as a community service and opportunity for engagement that will benefit the region's future. The new collection has come entirely from the community and will show future generations the impacts, both large and small, that this time had on everyone.
In addition to hand sanitizer and masks, the community brought images, memorabilia from the cancelled Women's Curling Championship, a drum from the group of Indigenous drummers who perform outside the hospital each week, signs and items from local vaccination clinics among other things. The Exploration Place is in the process of gathering empty vaccine bottles and signs from anti-mask and anti-vaccine protests in the region. Robyn Curtis, VP of Development and Partnerships, stated that "People have been very excited to contribute their items to future educational exhibits that illustrate the strange and challenging time we are currently living in. It's like being part of history".
EO Tracy Calogheros explained that: "One hundred years from now, some future director will actually have immediate, first-person artifacts and images to work from when they try to tell this story."
"That's what we're interested in, collecting the stories," adds Assistant Curator Chad Hellenius. "They're collected through objects but it's the stories that we're really interested in."
Contemporary collecting for the institution means looking ahead so that future generations will be able to look back, as we do with historical collections now. By preserving the present, there will be a complete picture of the past when the time comes. The success of the collection has led the institution to collect more present-day items from the community. The Exploration Place has partnered with the Lheidli T'enneh Nation to take in the memorial to the 215 children discovered at Tk'emlúps te Secwépemc, protecting it from the elements and keeping it safe until a more permanent solution can be found. It was imperative that this memorial was protected – not only for the Lheidli T'enneh but also for the entire community. These projects show that contemporary collecting can build connections and bridges between the museum and individuals.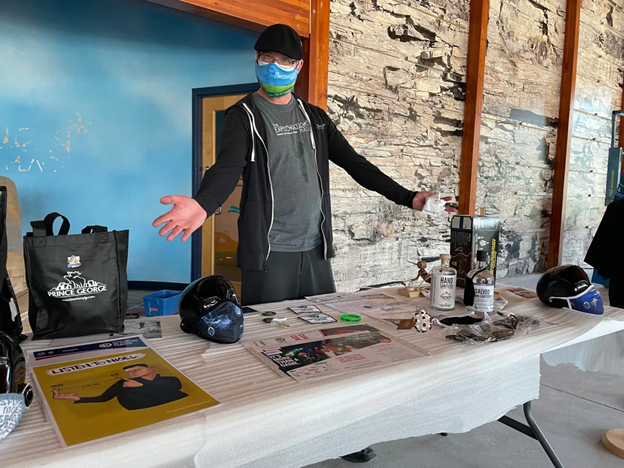 Pictured: Assistant Curator, Chad Hellenius. Photo courtesy of Andrew Kurjata
The Reach Gallery Museum has engaged their community to preserve and share stories of Abbotsford's rich cultural heritage through "Semá:th X̱ó:tsa: Sts'ólemeqwelh Sx̱ó:tsa/Sumas Lake: Great-Gramma's Lake"; telling the little known story of Semá:th Xo:tsa (Sumas Lake). For millennia, the lake existed between Sumas and Vedder mountain in the unceded territory of the Stó:lō people, in what is now known as the Fraser Valley. Teeming with ecological abundance, Semá:th Xo:tsa was central to the cultural, spiritual, and physical wellbeing of the Séma:th people (Sumas First Nation) and surrounding Indigenous communities. Between 1919 and 1924, settlers in the region lobbied the government to drain the lake, thereby enhancing the agricultural capacity of the region and accelerating colonization.
In collaboration with Cheam First Nation, artist and activist Xémontélót Carrielynn Victor, Sumas Band Councillor Thetáx Chris Silver, and Indigenous knowledge keepers, the group wrote a children's book that reframes the story of the lake, capturing its cultural and environmental significance through sqwélqwel (family stories). Xémontélót Carrielynn Victor employed her Coast Salish artistic style to intervene on archival images from The Reach's collection to illustrate the Grandmother Lake's stories and place the lake in the contemporary landscape.
The book works to shift the focus away from the narrative of settler triumph to also include the devastating cultural and environmental loss associated with the drainage of the lake. The story incorporates Halq'eméylem vocabulary, further embedding Indigenous culture and knowledge into the story. The initial print run of 2,500 books were provided, free of charge, to children in Stó:lō communities as well as to elementary classrooms in the Abbotsford, Mission, Chilliwack, and Nooksack Valley,(USA) school districts. Scholastic Canada Ltd. has also selected the book as a teacher resource for the new British Columbia grade 3 science curriculum.
The Semá:th X̱ó:tsa project has reclaimed the land of plenty legacy and provided a path for people to discover other stories of colonial injustice such as the Stó: lō Lost Boys and the lynching of Louie Sam. Semá:th X̱ó:tsa provides a way for people to ask personal and communal questions about injustice and how to go about making things right.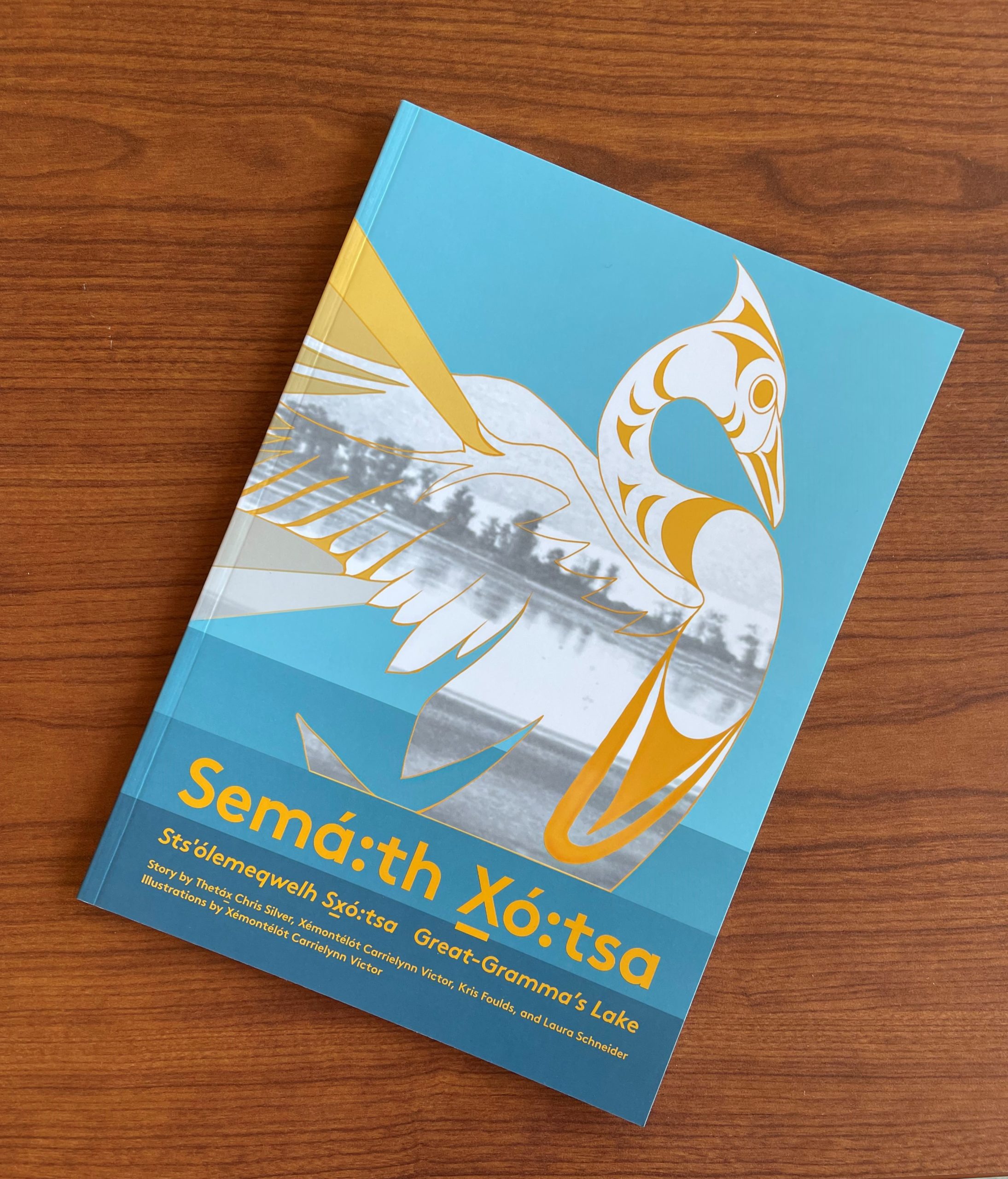 Photo Courtesy of: The Reach Gallery Museum
The Vernon Public Art Gallery raised the bar for the Okanagan Print Triennial (OPT) in the midst of the pandemic, engaging people globally through their virtual artist talk series. The Okanagan Print Triennial is a collaborative project of the VPAG, the Kelowna Art Gallery and the University of British Columbia – Okanagan Campus. Launched at the VPAG in 2009, the OPT has become an Okanagan Valley-based, much-anticipated international printmaking exhibition famed for its unique presentation style.
To compliment the exhibition and provide accessible ways of engaging with it during the pandemic, the VPAG launched a series of live virtual artist talks with 12 of the participating artists – and interpreters for those who don't speak English. Although live streaming was new to the VPAG, staff wanted to create opportunities for attendees to learn more about the artists' work and artistic process, speak to the artists directly and ask them questions.  During the live artist talks, staff saw over 180 participants tune in from all over the world, and an additional 1300 views of the recorded talks.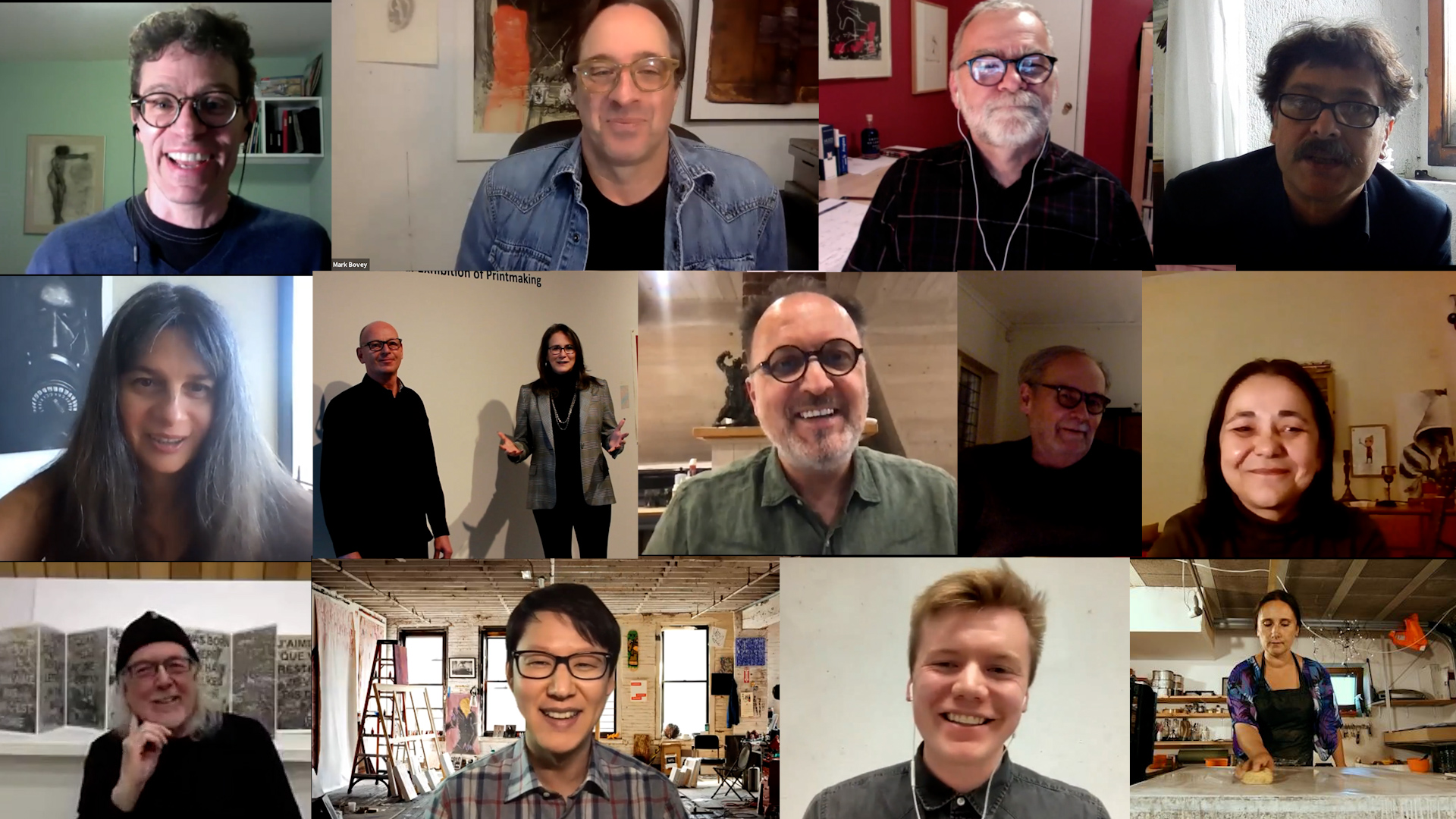 Group photo of artists. Photo Courtesy of: The Vernon Public Art Gallery
Dauna Kennedy, Executive Director at VPAG, says that: "Providing the international artists with this opportunity to interact with our local and online audience in future OPT exhibitions will be a great way to continue to connect the community to the arts and will be an initiative we will carry forward".
Featuring 2021's nominees for the Award of Merit – Social Action
Featuring 2021's nominees for the Award of Merit – Innovation