Innovation During Times of Change
Featuring 2021's nominees for the Award of Merit – Innovative Practice
By: Leia Patterson, BCMA Engagement Coordinator
The BCMA is proud to celebrate the 2021 Award of Merit Nominees through a series of featured articles for Roundup. We hope the work highlighted in this series inspires readers to reach higher in their own practice and prompts new ways of thinking within your own organization. Keep reading to learn more about the Nominees for the Award of Merit for Innovative Practice and follow the three-part series for additional nominee highlights before voting online for the people's choice award!
Featuring 2021's nominees for the Award of Merit – Social Action
Featuring 2021's nominees for the Award of Merit – Community Engagement
The Award of Merit for Innovative Practice recognizes outstanding innovative and/or creative achievement in any and all aspects of an organization's practice. At the heart of our communities are people who actively push boundaries, challenge conventions, and exemplify innovative ways of thinking, seeing, and doing, and we have seen people and institutions explore innovative ways of thinking and doing during this year of change.
For Barkerville Historic Town & Park, innovation this year meant harnessing technology to produce their educational programs and enable them to reach their goals, despite the pandemic restrictions on capacity and travel. As a heritage site, where seeing and interacting with characters on site has been a tried-and-true model that brings 4,000 students from all over the province every spring, changing their practice from the rich, site-based experience to an engaging online presence represented a huge shift for the organization.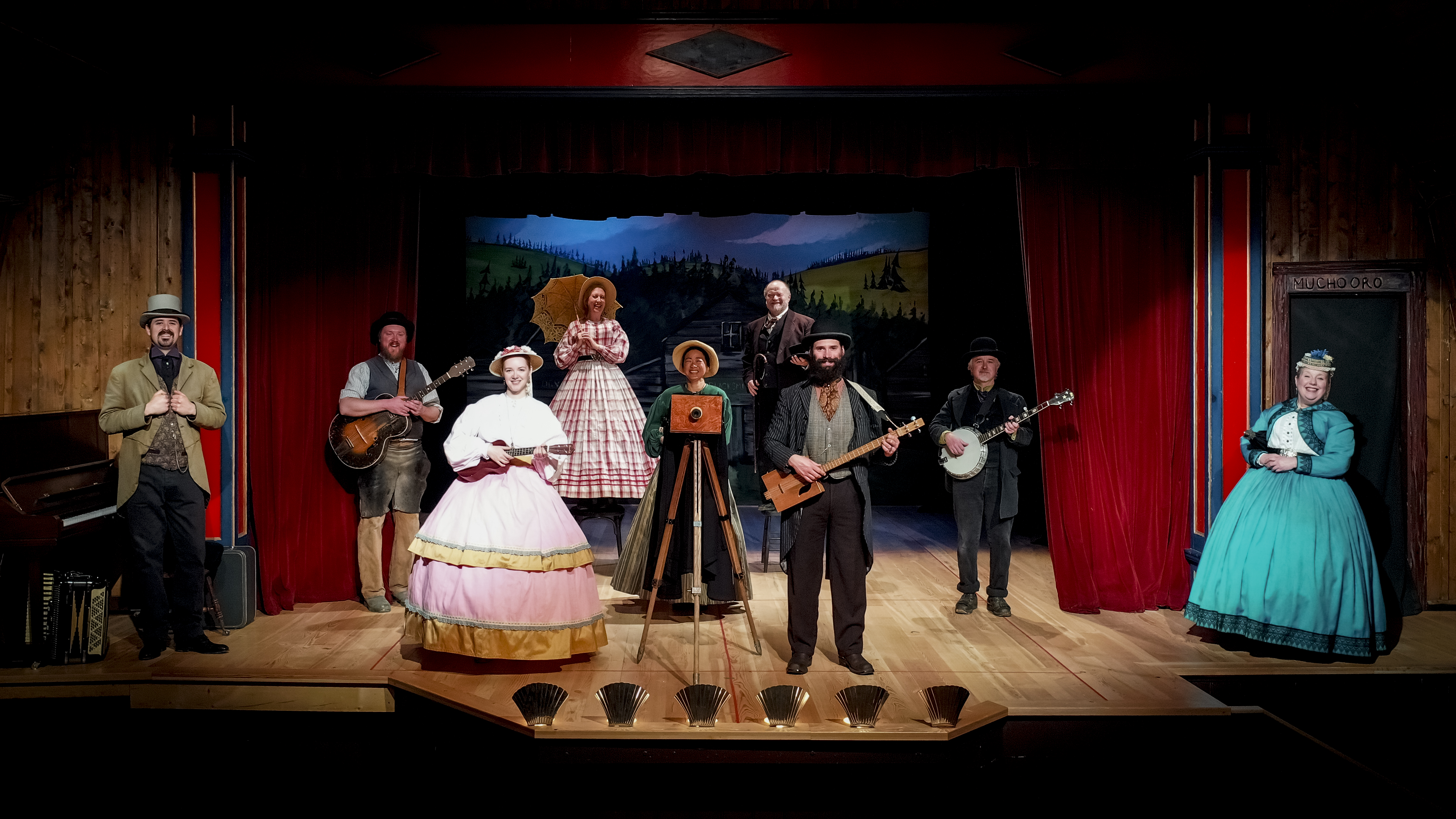 Photo Courtesy of: Barkerville Historic Town & Park
Barkerville managed to provide virtual field trips to 4,300 students last spring, and they are on track to seeing another 4,000 in the fall.  The online format is designed to generate curiosity and passion for storytelling in young students, as well as reflect the diversity of people and stories from the original Cariboo Gold Rush. Barkerville offered several sessions for free on public platforms, including Facebook. One particularly successful livestream session of the historic town tour had over 25,000 views!
The shift to online programming resulted in a steep learning curve for staff, and they managed to work through technical difficulties, including power outages and internet service disruptions that are normal for their remote location. The shift also meant that they were able to retain their staff during what has been a stressful time for many in the sector.
Another Nominee that harnessed the power of online innovation was The Pacific Museum of Earth at the University of British Columbia, which developed online tours as a fundraising tactic and offered numerous podcast interviews with scientists to engage with the public on a wide range of issues. The online programs offered included a Virtual Museum Tour and three Virtual Workshops – Mineral ID, Rock ID, and The 4.5 billion Year History of The Earth – which were created with guidance from the Beaty Biodiversity Museum. Some of the programming was offered over the holidays, which had previously never been done at the Pacific Museum of Earth, and these tours were used to raise funds for the Vancouver Farmers Market's Fresh to Families Program, assisting local families in accessing locally-grown, healthy food.
The museum's podcast production included 38 interviews with scientists that highlighted creative applications of science, personal stories of scientists' journeys in their field, and advice for young aspiring scientists and were seen as a way to give young professionals exposure and create a sense of community in . During Pride Month, the podcasts featured interviews with queer researchers, with the aim of highlighting not only the diversity of scientific topics, but also the diversity of researchers themselves.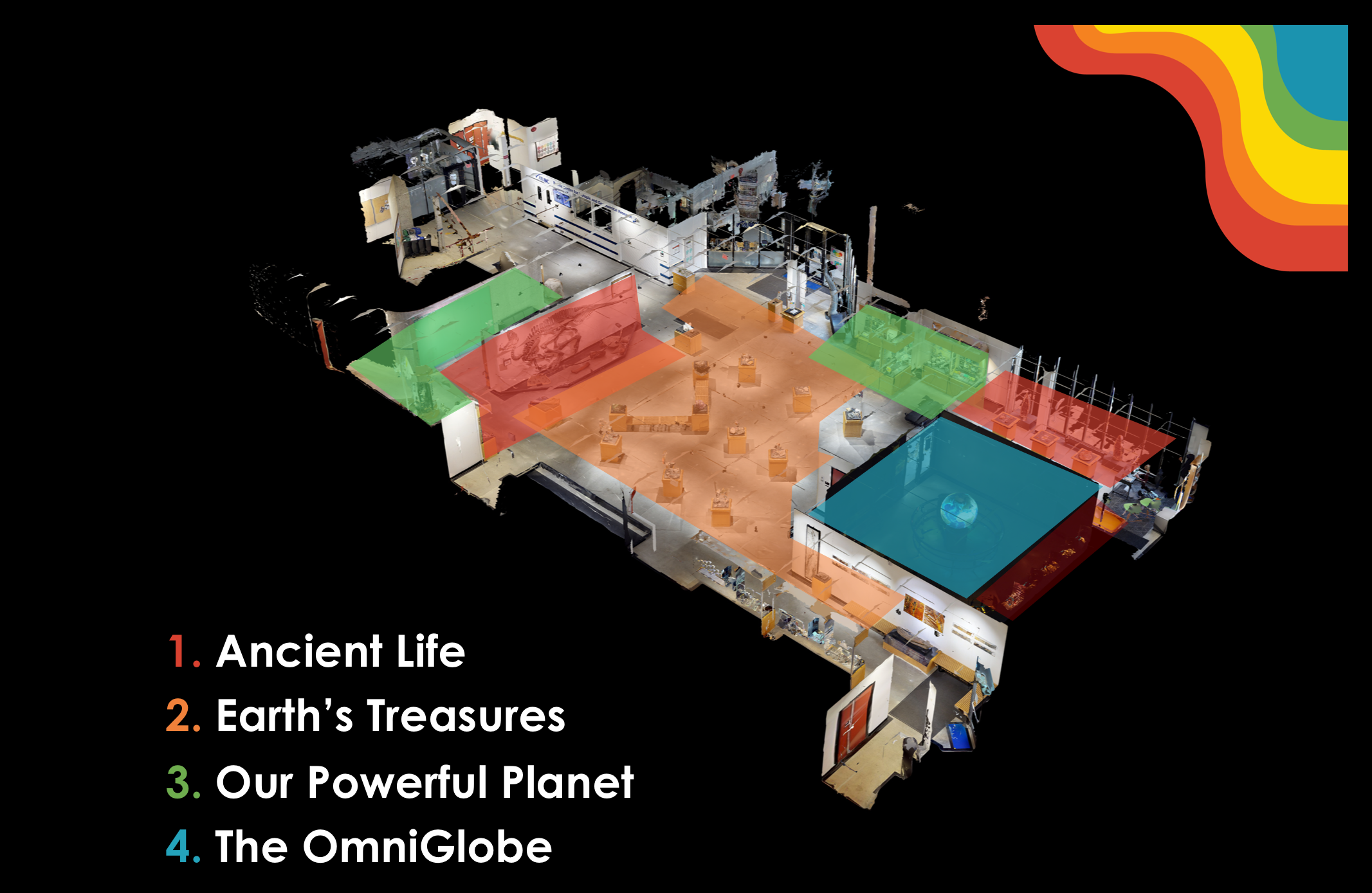 Photo Courtesy of: The Pacific Museum of Earth
About the shift to online operations, Director Kirsten Hodge stated that prior to the pandemic "creating virtual programs and resources was no more than a vague idea we'd tossed around at a museum committee meeting 14 months earlier. We never thought that virtual programs and exhibits would become our only connection to the K-12 school groups and families who once filled our galleries and workshop space… We've now expanded our reach far beyond what we could have ever done with in-museum programming and have offered training demonstrations to museum staff at many larger institutions".
Pacific Museum of Earth intern Oli Beeby has been nominated for their rebranding of the institution, their technical skills, and overall creative direction that made the institution so successful. Oli has been the graphic design student at The Pacific Museum of Earth for over a year, and helped direct and create these new online offerings.
Oli was instrumental in launching the rebranding and ensuring all online aspects align with it. The rebranding has been praised by larger institutions for the professional look. Oli has also provided their input and support to the museum's diversity initiatives, including an inspirational video for the "International Day of Women & Girls in Science" that includes sound advice from strong, local, female role models in STEM.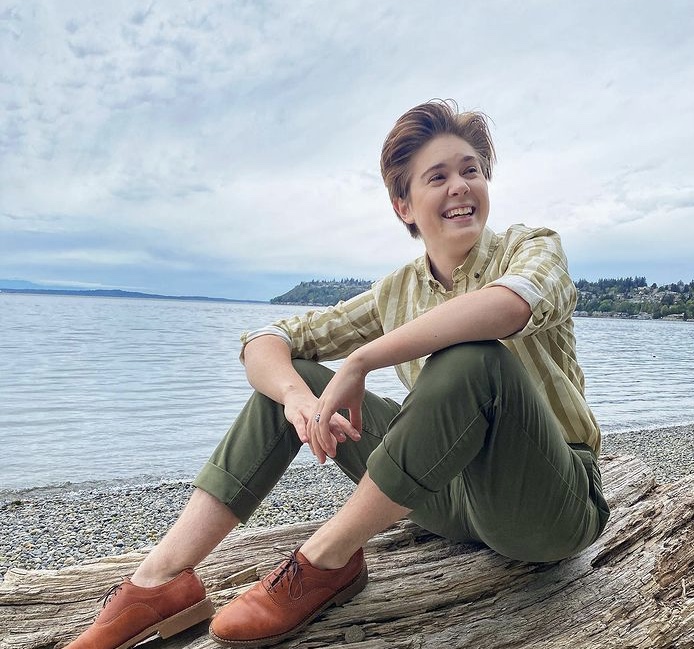 Pictured: Oli Beeby, Graphic Design Student, The Pacific Museum of Earth
Innovation at Huble Homestead came not in the form of technology, but instead as good old written work. Nominated for Ceepee and the Fish Camp, the publication and associated materials meld creative design and language revitalization. Ceepee and the Fish Camp is a children's book with words by Lheidli T'enneh Elder Edith Frederick, watercolour illustrations by Cliff Mann, and First Nations designs by Jennifer Pighin. Part of Huble Homestead's published collection of children's books, this addition celebrates local Lheidli T'enneh history and language, thereby helping to advance the knowledge of this history and work towards reconciliation. The project was featured in local news with great reviews.
The book is aimed at children ages 3-8, but makes an excellent resource for Dakelh language learners. Dakelh is the traditional language of the Lheidli T'enneh, and the Lheidli dialect is at risk of extinction, as it is fluently spoken by only a handful of Elders. The book supplements on-site programs at Huble Homestead, and is available for free to all Lheidli members and was donated to Dakelh language classrooms and First Nations education programs.
Of the process to create the book, Executive Director Krystal Leason says "Ceepee and the Fish Camp was a whole new experience for the Society. Rather than working with just one artist, the most recent book brought Lheidli Elders and two artists to the table, and balancing the accuracy and appropriateness of the text and illustrations with everyone's busy schedules and a pandemic was a definite challenge to the project timeline… The good faith and earnest efforts by the partners are what has made the project so successful; the time and trust invested in the project shows in the final product. Ceepee and the Fish Camp's success rests in the fact that while it is an educational resource and a beautiful story about a girl and her family, it is really a testament to the strength and passion of the Lheidli people".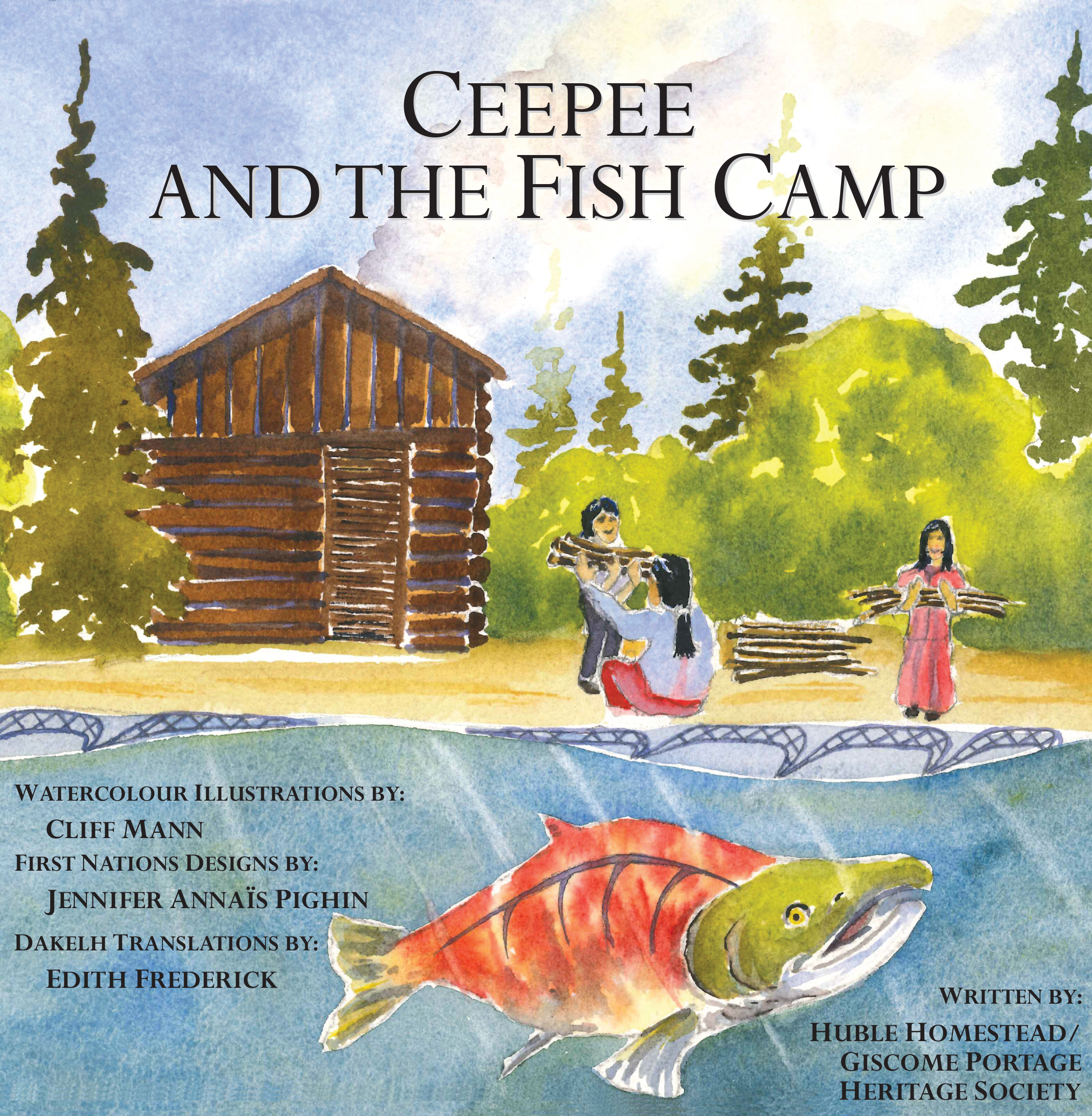 Pictured: Ceepee and the Fish Came Front Cover. Photo courtesy of Huble Homestead
Also nominated for innovative work around the inclusion of diverse narratives is the University of Victoria's multi-award-winning project Landscapes of Injustice (LOI). The project was a collaborative effort between the University of Victoria, Canadian Museum of Immigration, Japanese Canadian Cultural Centre, Nikkei National Museum, Ryerson University, Royal BC Museum, University of Alberta, University of Winnipeg, Simon Fraser University, Vancouver Japanese Language School and Japanese Hall, National Association of Japanese Canadians, and Library and Archives Canada.
Landscapes of Injustice was an innovative 7-year project that shared, at unprecedented scale, new analyses of the dispossession of Japanese Canadians in the 1940s, when the homes, farms, businesses and personal belongings of 22,000 people were seized and sold by the Canadian Government. Addressing the tension between imagined national interests and the protection of human and civil rights, the project cumulated in a Digital Research Database, three exhibitions to convey four years of research, LOI's digital storytelling website, and resources [here & here] created by teachers. Through the project, 50 students from 7 universities received cross-sector training on how to research, document, and communicate a history of racism; skills needed for the sensitive community engagement that was required. Japanese Canadians constituted at least 50% of all major planning committees, which also balanced academic and non-academic contributors.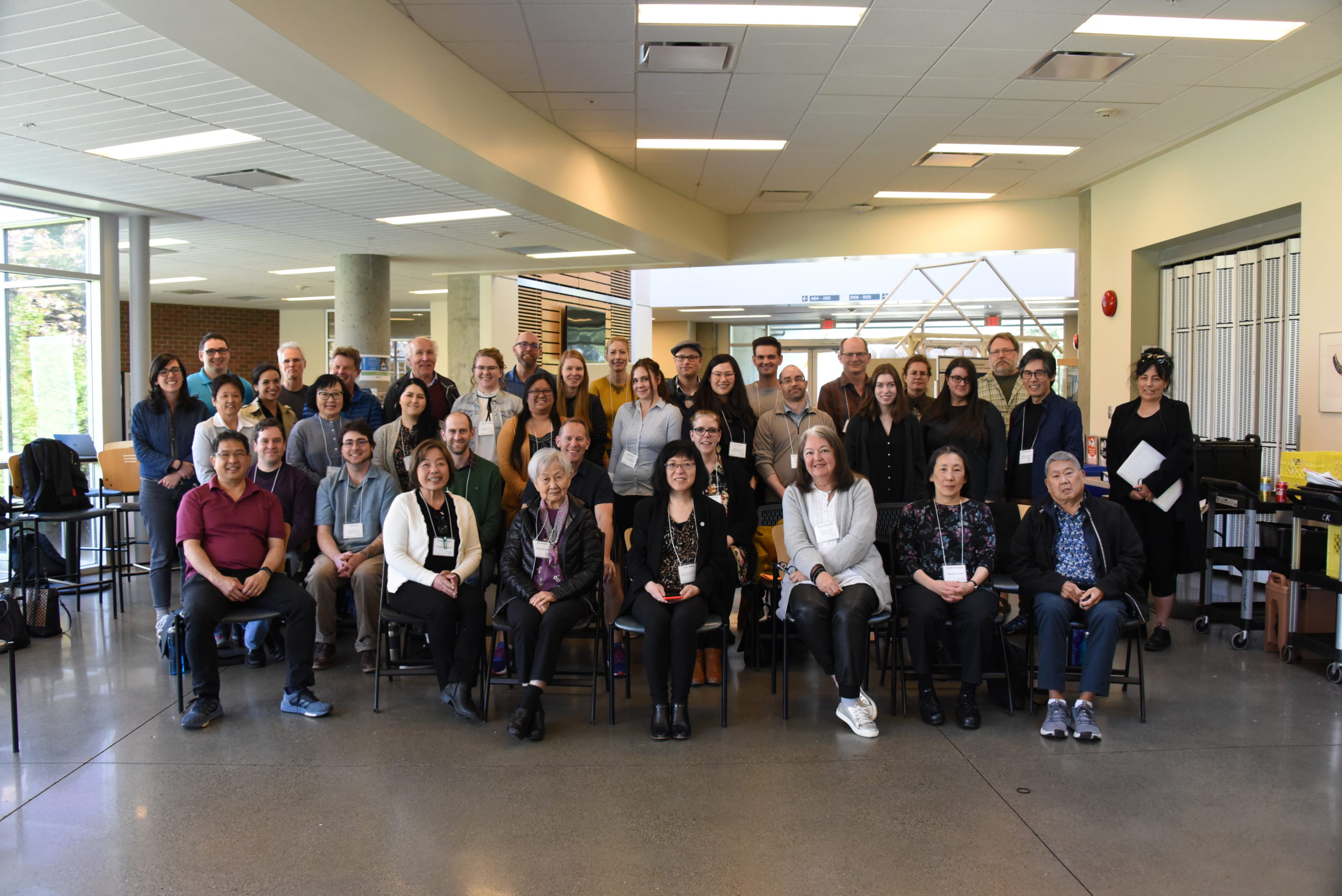 Pictured: Group portrait of the Landscapes of Injustice Collective
Over 20,000 unique visitors have accessed the Research Database since its launch in March 2021. Terry Yamaguchi, a Japanese Canadian who is now Senior Investigator at Maryland's National Cancer Institute, recently wrote that he was "astounded" by the research materials made available to him: "I have always had many questions about my ancestry and the impact [of] the dispossession… being able to read my maternal grandmother's heartache and desperation, in her handwritten correspondence, has been an incredible gift." The project team will be building an expanded partnership agreement to share challenges of migration, citizenship, and security on four continents through relationships with international institutions.
Featuring 2021's nominees for the Award of Merit – Social Action
Featuring 2021's nominees for the Award of Merit – Community Engagement