Repatriation Call to Action
The British Columbia Museums Association (BCMA) calls upon all publicly-funded institutions to repatriate ancestral human remains and burial items.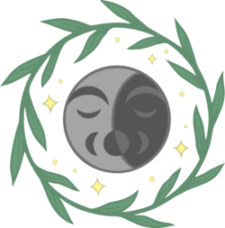 In 2022, we expanded the reach of this Call to Action to advocate for public education around repatriation. 
Public education on repatriation and its importance is key for our sector to move toward decolonization and reconciliation. Collections are held by museums in public trust, therefore the public should know the context and harm collecting continues to have on Indigenous communities. We urge museums to provide public resources about the origins of museum collections and how repatriation can help heal the relationships between museums and Indigenous communities.
Museums need community support to ensure that the work they undertake to address past and present harms will last. Museums hold special places in the hearts of many British Columbians and when we change our exhibits and collections, it can often feel sudden or unexpected. We must encourage the public to come to us with their questions and curiosity, and so we can help equip them with the information needed to understand these changes. We encourage institutions to use repatriation as an opportunity to show the return of ancestral possessions as a celebration and not a loss, a new addition to the stories we tell, not a removal. These informed community members can then help spread their support to other museums.
For each of the 12 months following the anniversary of the Repatriation Call to Action in May 2022, the BCMA provided access to hand-selected resources to Repatriation Call to Action signees', meant to help organizations and their staff engage the public and each other in ongoing learning and understanding of repatriation and reconciliation work. These resources aimed to assist organizations that support repatriation, but do not have collections to repatriate or are in the process of completing last year's actions, and wish to further include the public in these efforts. Resources were sent directly to the signees' inbox each month.
Sign on to the Repatriation Call to Action using the form at the bottom of the page, and you will be included in the email list for any upcoming programs and signal your support. If you are signing on behalf of your organization, you will recieve the Call to Action decal created for the initiative by Sarah Jim. Learn more about her and her artwork below!
View Press Release from the 2021 Launch of the Repatriation Call to Action
Repatriation Call to Action
Institutions who sign the Repatriation Call to Action agree to work on the following steps;
Ground all Repatriation policies, discussions, and decisions in a fundamental place of respect and empathy;
Create and publicly share a Repatriation Policy that:

Clearly outlines the process in full along with anticipated timelines and/or processing times;
Is easily located on your institutional website;
Lists the name of your Institution's repatriation contact person along with their contact details.
Is designed to be open-ended, flexible, and responsive to community's needs

Acknowledge that the costs of repatriation of ancestors and associated cultural patrimony should not be borne by Indigenous Peoples and proactively prepare for your budget to reflect this;
Work to create an inventory of all ancestors in your collections, and all known information regarding their origins, collection, transfer and history.
In 2022, we added public education initiatives to the Call to Action and provided hand-selected resources to help organizations educate the public and their own staff.
Take Action
Join the museums that have already taken action:  
In the spirit of reconciliation, we have been working for a number of years on the repatriation of culturally significant artifacts to their rightful homes. We look at repatriation as an opportunity to build upon relationships in our communities, and enter into the process with an open heart to return these items where they belong. For our organization, it's about addressing historical wrongs, community building, and moving forward together, and we are dedicated to this vital and important work.  Matthew Lovegrove, Manager/Curator of Sunshine Coast Museum and Archives
The logo for the Repatriation Call to Action was created by Sarah Jim, an emerging artist of mixed ancestry. Sarah is a member of the W̱SÁNEĆ nation from the Tseycum village. She holds a BFA from UVIC and conducts environmental restoration on her ancestral territory. Creating place-based artwork of her homelands and waters allows her to educate others about the importance of native plant food systems and coastal medicines in relation to the ecosystem and W̱SÁNEĆ culture.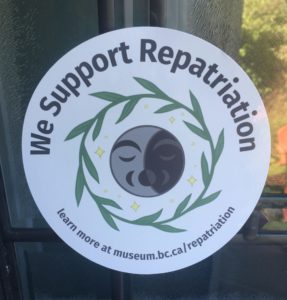 Sarah explains the elements used in the logo; "The moon and stars are ubiquitous entities that hold so much meaning for many. A moon in transition symbolizes the act of repatriation; communities are becoming whole again by receiving what truly belongs to them. The surrounding plants represent good medicine for this phase in life and stars are meant to give good wishes and represent ancestors."
The logo will be made available to institutions who sign on to the Repatriation Call to Action as a window-cling decal to illustrate their support.
About the BC Museums Association
The BCMA thanks the Indigenous Advisory Committee for their leadership in creating the Repatriation Call to Action and their dedication and support throughout its creation and publication.
Since 1957 the BCMA has supported British Columbia's museum sector through professional development, advocacy, funding, and networking. In 2017, to mark the Association's 60th anniversary, BCMA Council unanimously endorsed the Rod Naknakim Declaration, named after Rod Naknakim of the We Wai Kai Nation. The Declaration encourages cultural institutions to work in partnership with Indigenous peoples to decolonize museums, archives, and cultural spaces, creating new opportunities for collaboration, increased respect, and repatriation. Shortly afterward, the BCMA established the Indigenous Advisory Committee to provide guidance to the organization and enhance the relationship between the heritage sector and the First Peoples.