The BCMA calls upon all publicly-funded institutions to repatriate ancestral human remains and burial items.
Throughout the history of Canada, Indigenous peoples have had their belongings, language, culture, and even ancestors taken from them and housed in museums, universities, and private collections around the world. These actions have been enabled and sustained by legislation adopted to enforce colonial rule. The ancestral remains of thousands continue to be found in institutions and facilities across the county – the grandparents and great-grandparents of living Indigenous people.
The BC Museums Association (BCMA) calls upon all publicly funded institutions in Canada to take this critical step in reconciliation, and work collaboratively with Indigenous Nations to repatriate their ancestors' remains.
Dan Smith, former chair of the BCMA Indigenous Advisory Committee and a member of the Wei Wai Kum First Nation in Campbell River, stated that "True, meaningful and lasting reconciliation must include the return of our ancestors back to the Nations where they were taken from. We must work together to realize this, and in doing so free our children and their children from the sacred obligation we have for finding our ancestors and bringing them home."
This initiative has been led by decades of work already undertaken by Indigenous communities and leaders throughout the country. We encourage institutions to support the continuation of these efforts towards reconciliation by aiding the repatriation of ancestors in accordance with Article 31 of the United Nations Declaration on the Rights of Indigenous Peoples (UNDRIP) and the recommendations held in the Truth and Reconciliation Commission of Canada: Calls to Action.
"We have an amazing opportunity to work towards making things right between hundreds of First Nations in Canada and the culture and heritage sector who currently steward their material culture. This should not be a difficult decision nor cumbersome process. The ancestors are waiting to go home and we should do everything in our power to make that happen" said Jodi Simkin, President of the BCMA.
The scope of this work should include all ancestral remains and related funerary objects within all collections regardless of whether provenance to specific Nations has been identified. The power of deciding who will accept ancestral remains lies with the Indigenous communities from the traditional territories from which they were removed, not the colonial institutions who currently possess them.
"Museums and Indigenous communities have had a difficult history, but I am hopeful that this is changing," said Jordan Coble (c̓ris), chair of the BCMA Indigenous Advisory Committee and Councillor, Westbank First Nation. "We have a long way to go, but taking this vital step puts us on a path that sets a bright future for all peoples, for all relationships, Indigenous, non-Indigenous."
The BCMA encourages all publicly-funded institutions to support repatriation initiatives. Institutions must be prepared to take action – this includes adequate budgeting for repatriation work, building relationships with Indigenous communities and learning how to support repatriation practices and, ensuring information about collections is accessible to communities. Institutions should create a transparent and responsive process that removes as many barriers as possible, empowering both the staff and Indigenous communities to act swiftly and respectfully to requests for ancestral repatriation, setting a standard of readiness and willingness to be an ally in this process.
By Signing this Call to Action, Your Institution will;
Ground all Repatriation policies, discussions, and decisions in a fundamental place of respect and empathy;

Create and publicly share a Repatriation Policy that:

Clearly outlines the process in full along with anticipated timelines and/or processing times;

Is easily located on your institutional website;

Lists the name of your Institution's repatriation contact person along with their contact details.

Is designed to be open-ended, flexible, and responsive to community's needs

Acknowledge that the costs of repatriation of ancestors and associated cultural patrimony should not be borne by Indigenous Peoples and proactively prepare for your budget to reflect this;

Work to create an inventory of all ancestors in your collections, and all known information regarding their origins, collection, transfer and history.
The logo for the Repatriation Call to Action was created by Sarah Jim, an emerging artist of mixed ancestry. Sarah is a member of the W̱SÁNEĆ nation from the Tseycum village. She holds a BFA from UVIC and conducts environmental restoration on her ancestral territory. Creating place-based artwork of her homelands and waters allows her to educate others about the importance of native plant food systems and coastal medicines in relation to the ecosystem and W̱SÁNEĆ culture.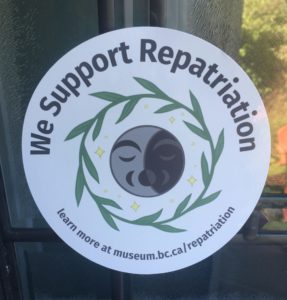 Sarah explains the elements used in the logo; "The moon and stars are ubiquitous entities that hold so much meaning for many. A moon in transition symbolizes the act of repatriation; communities are becoming whole again by receiving what truly belongs to them. The surrounding plants represent good medicine for this phase in life and stars are meant to give good wishes and represent ancestors."
The logo will be made available to institutions who sign on to the Repatriation Call to Action as a window-cling decal to illustrate their support.
Join the museums that have already taken action:  
We signed the Repatriation Call to Action because we are committed to walking the path of reconciliation. Taking the pledge provides a tangible way to demonstrate our commitment to this journey, and provides a means to hold ourselves accountable. -Lindy Digby, Executive Director of Kelowna Museums

Take Action
To pledge support for the Repatriation Call to Action, and to commit your institution to take action, click below:

I Support the Repatriation Call to Action
The BCMA talked with William Housty, a board member of the Heiltsuk Integrated Resource Management Department, about the items returning home with funding from the 2020 Repatriation Grant, how the process of repatriation heals the community and about making space in museums for ceremony.
We encourage institutions to check out this selection of Repatriation Policy examples from across BC and Canada. Use what you learn to form a policy that works in your institution, and which can be made publicly available to keep sharing and improving!
BCMA's Learning Resource Coordinator speaks with Chief Petra Munroe of the Maiyoo Keyoh Society about the importance of their 2020 Repatriation Grant, the history of their family headdress, and how The Exploration Place is supporting their work.
About the BC Museums Association
The BCMA thanks the Indigenous Advisory Committee for their leadership in creating the Repatriation Call to Action and their dedication and support throughout its creation and publication.
Since 1957 the BCMA has supported British Columbia's museum sector through professional development, advocacy, funding, and networking. In 2017, to mark the Association's 60th anniversary, BCMA Council unanimously endorsed the Rod Naknakim Declaration, named after Rod Naknakim of the We Wai Kai Nation. The Declaration encourages cultural institutions to work in partnership with Indigenous peoples to decolonize museums, archives, and cultural spaces, creating new opportunities for collaboration, increased respect, and repatriation. Shortly afterward, the BCMA established the Indigenous Advisory Committee to provide guidance to the organization and enhance the relationship between the heritage sector and the First Peoples.