There's an App for that! Going Mobile at the Museum of Anthropology
By Amina Chergui, Education Coordinator at the Museum of Anthropology
In 2021, the UBC Museum of Anthropology launched the MOA Multimedia Guide, a mobile application that offers a unique, self-guided experience through the Museum's galleries. Non-linear and free-choice, the Multimedia Guide spotlights key works from MOA's collections, supplemented by audio narration, video and photographs revealing the histories and knowledge these belongings and artworks hold. A major objective of this project was to centre the perspectives of those most closely connected to the featured works. While the curatorial voice has long been privileged in museum practice, our goal was to incorporate multiple points of view from different authorities, honouring the contemporary artists, knowledge keepers and community members who possess critical knowledge and experience.
Development of the MOA Multimedia Guide began in 2019. An interdepartmental team was convened and began compiling information about dozens of existing museum apps from around the world, consulting with other cultural organizations with mobile guides, and searching for technology companies experienced in building apps for arts and culture organizations. As we became better acquainted with the world of museum guides and apps, we sought to strike a balance between following established best practices and keeping true to what we know works well for MOA and our visitors.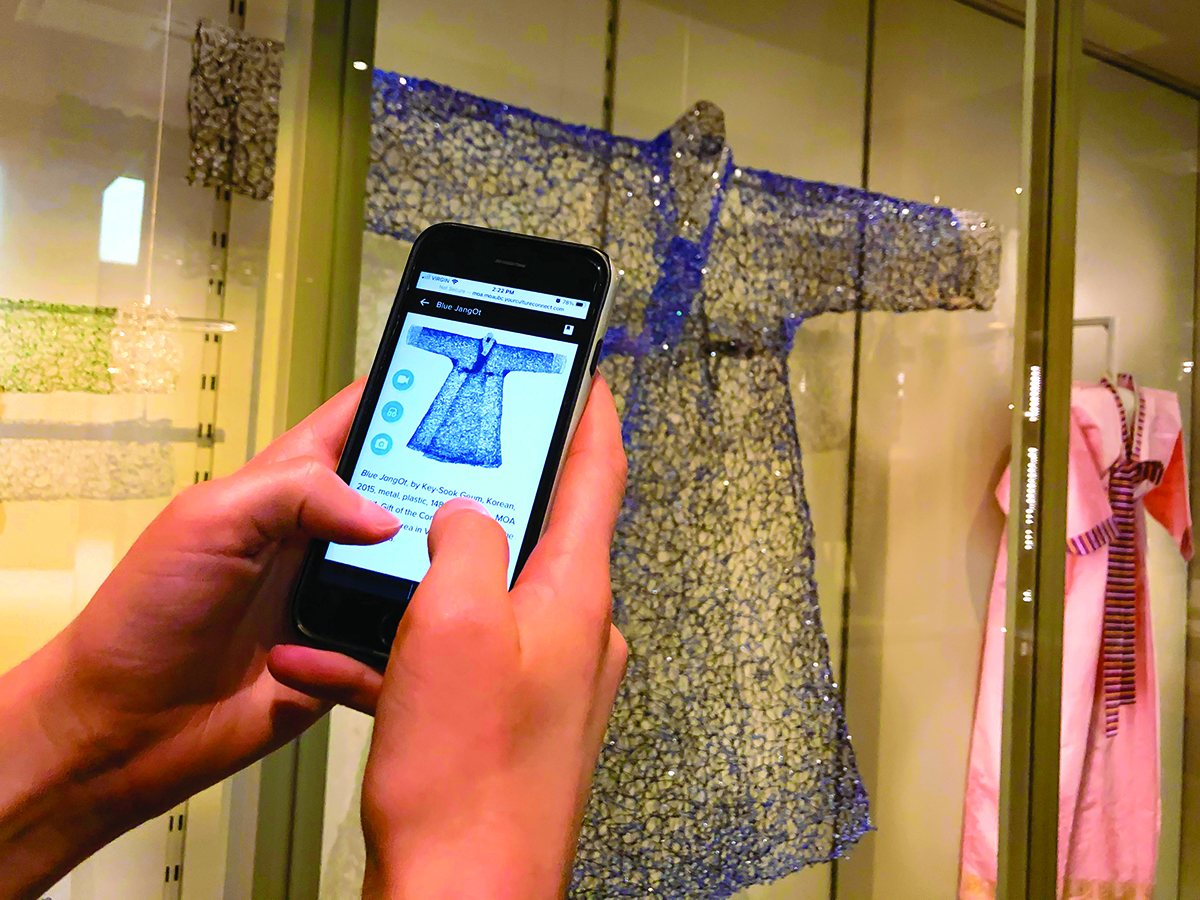 MOA Multimedia Guide. Photo by Anya Maves.
In 2020, content development began in full force. By taking a "multimedia" approach, we were able to expand beyond the traditional audio tour and make use of multiple content formats, creating a variety of access points into the experience. We sourced existing materials to contextualize the works, including historical photographs, films and records from archival collections including the Audrey and Harry Hawthorn Library and Archives at MOA. New media was also generated; many contemporary artists, knowledge keepers and MOA curators generously shared their expertise in interviews. All this content was layered strategically throughout the app, with an introductory narrative at each stop and "hotspot" points where users can dive deeper and access rich multimedia content. Closed-captioning, transcripts, alt-text and image descriptions were created to support blind and low-vision visitors and visitors who are d/Deaf, among many other people who benefit from such measures. The app's content was translated into French and Simplified Chinese, and we hope to further expand our linguistic offerings to better represent and serve the diverse audiences we welcome every day.
Developing the MOA Multimedia Guide has not been without its difficulties, and in-gallery wayfinding has proved especially challenging. Drawing visitors to stops within the existing aesthetic experience of MOA's galleries is no easy feat. Accessibility was a critical concern for our team since the app's inception, but there is still more work to be done to reduce barriers so all visitors can benefit from the guide. The COVID-19 pandemic presented unique challenges as well, with the bulk of content development taking place in the midst of mandated social distancing. As communities everywhere grappled with the impacts of the pandemic, organizing interviews and collaborating at a distance proved difficult at times. Yet the launch of the Multimedia Guide during the pandemic proved quite timely. While MOA's in-person tour guiding program was paused, the Multimedia Guide provided a safe way for visitors to enrich their in-gallery visit or to access the collections from home.
Though the MOA Multimedia Guide is not yet two years old, we have already begun expanding its content and envisioning new ways it can be of benefit. This past spring, the Indigenous Voices stream was launched, having been developed under the leadership of Damara Jacobs-Petersen (MOA Curator of Indigenous Programming). Indigenous Voices features intimate conversations between Damara and Indigenous artists, knowledge keepers, and museum professionals. Through their dialogues, they share unique perspectives and lived experiences that prompt listeners to challenge what they think they know about contemporary Indigenous artistic and museum practice. And this year, we are beginning the development of a new digital tour and accompanying curriculum resources, in collaboration with the Belkin Art Gallery, the UBC Department of Curriculum and Pedagogy, and the Musqueam Language and Culture Department. With support from the UBC Indigenous Strategic Initiatives Fund, this tour will provide contextual information about the outdoor artworks created by Indigenous artists and displayed on UBC's Vancouver campus. Voices of Indigenous artists and knowledge keepers will be privileged, and the placement of these works on unceded Musqueam territory will be emphasized and illustrated throughout.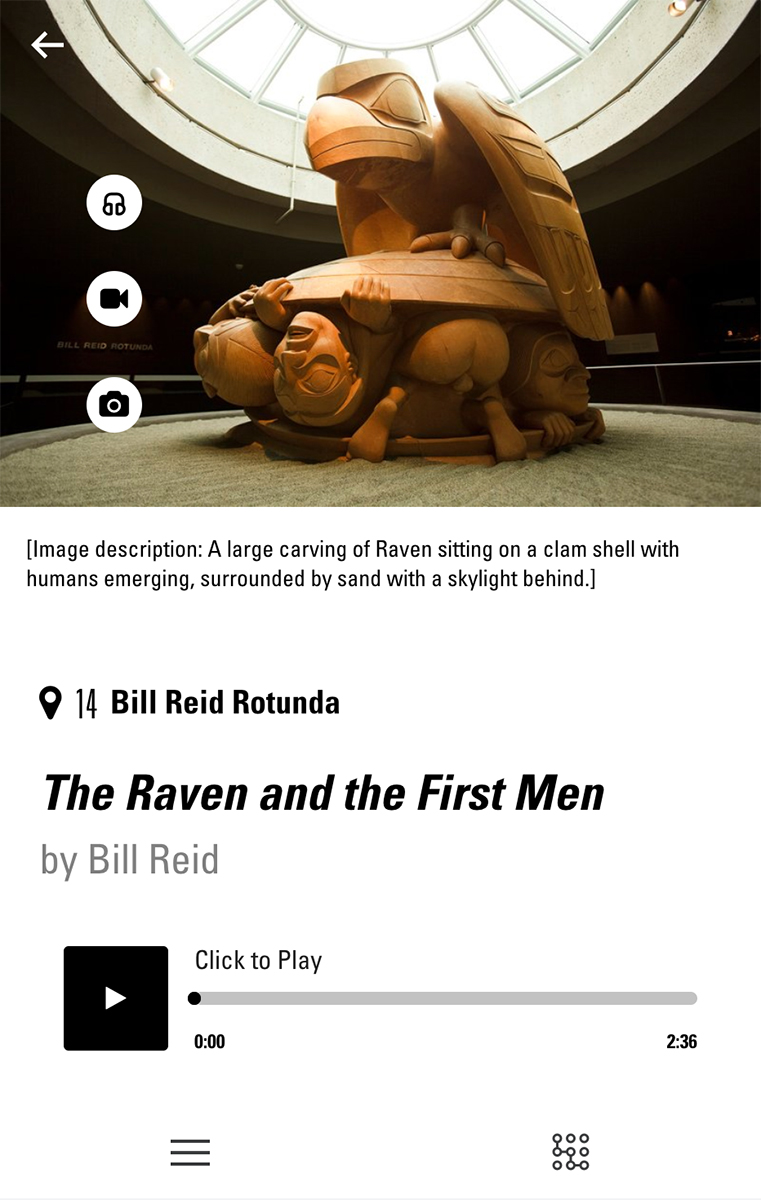 Screenshot of the MOA Multimedia Guide, featuring The Raven and the First Men by Haida artist Bill Reid (1980).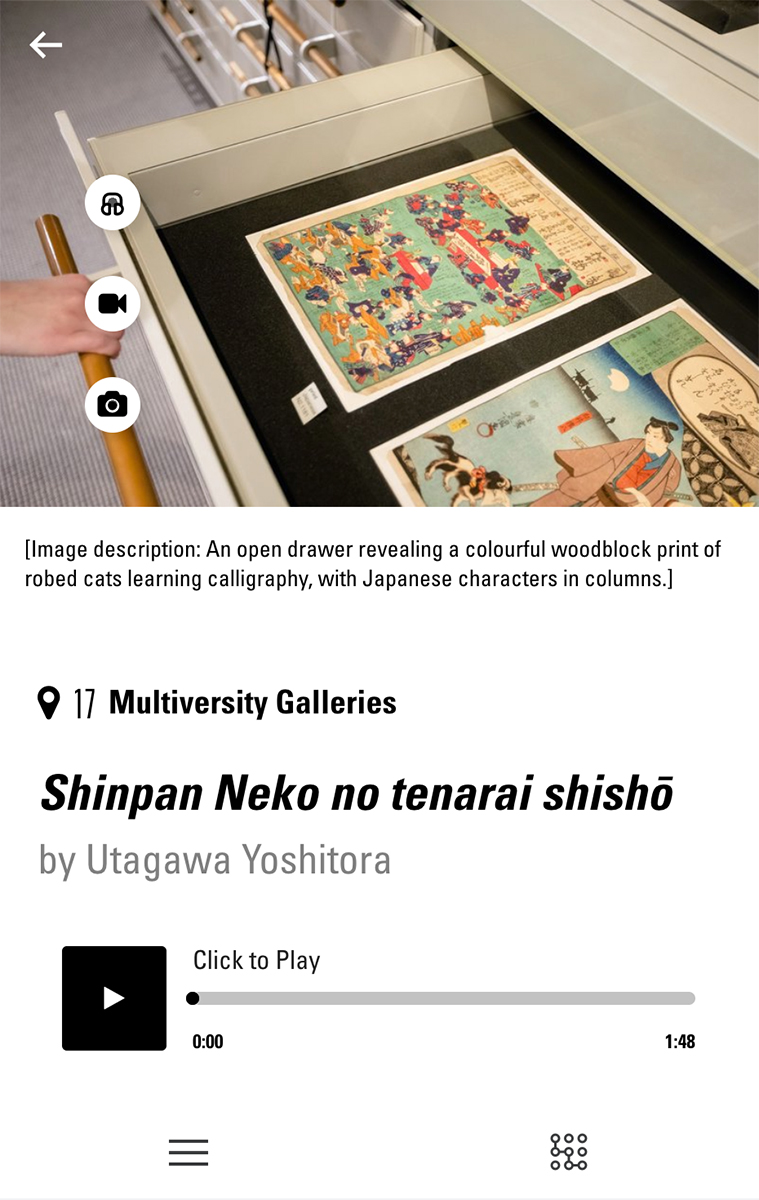 Screenshot of the MOA Multimedia Guide, featuring Shinpan Neko no tenarai shishō by Japanese artist Utagawa Yoshitora (ca. 1868–1875). Courtesy of the Museum of Anthropology at UBC.
Mobile apps offer innovative avenues for museum visitor engagement. If your organization is interested in going mobile, consider the following:
Choose your platform carefully; find a developer with experience working with museums that can offer flexible options to suit your unique needs.
Be realistic about the amount of labour such a project will require, from day one to launch – and beyond. Plan for your app's longevity and day-to-day maintenance.
Creating accessible digital resources requires attentive listening, humility, and a willingness to continue learning. There is no one-size-fits-all option for accessible design.
The MOA Multimedia Guide is available on the App Store, Google Play, or on your web browser at https://guide.moaubc.yourcultureconnect.com/.
Amina Chergui is a settler of Kabyle Algerian and Portuguese descent, living on the unceded territory of the Musqueam, Squamish and Tsleil-Waututh Nations. She is currently the Education Coordinator at the UBC Museum of Anthropology, and she holds a Master's degree in Museum Education.

Imaging Loving your CMS.
CatalogIt is a comprehensive, secure, and modern platform for cataloging and managing your collections and publishing to the web to share your objects' stories.
As a cloud-based CMS, CatalogIt reduces costs and empowers staff/volunteers to collaborate simultaneously- securely viewing and editing your records anywhere, anytime from mobile or desktop.
Included with the subscription is the CatalogIt HUB, an easy web-publishing platform for quickly and selectively publishing your collections, making them publicly discoverable and searchable.