"I didn't know Maple Ridge even had a museum…" is a comment we have heard over and over, and is a common refrain heard by so many community museums. Housed in small, old buildings off the beaten path, filled with domestic and industrial artifacts that everyone has seen before, and with a small operating budget that goes mainly to keeping the staff fed and housed, we have often struggled to find and maintain relevancy in our communities.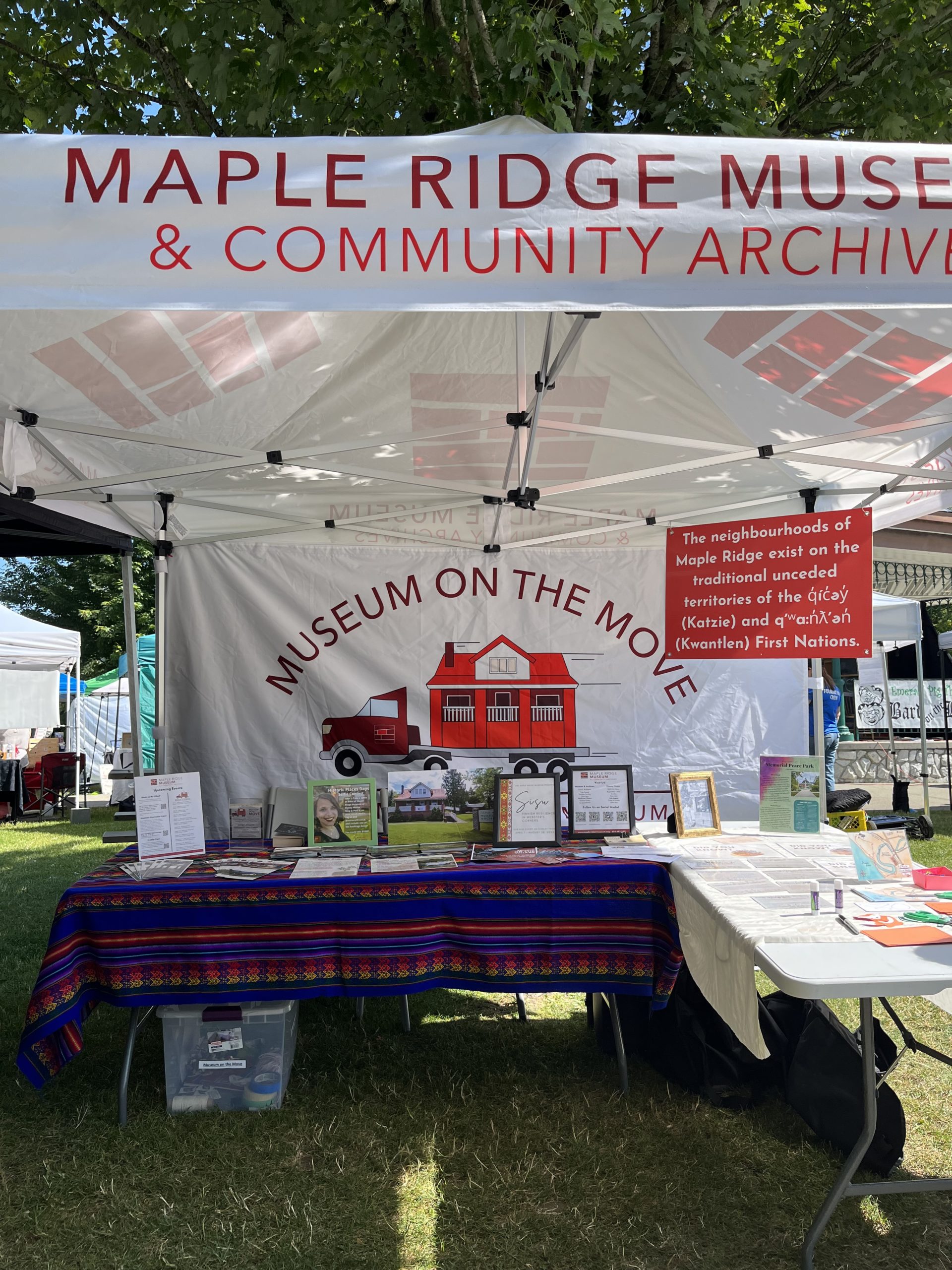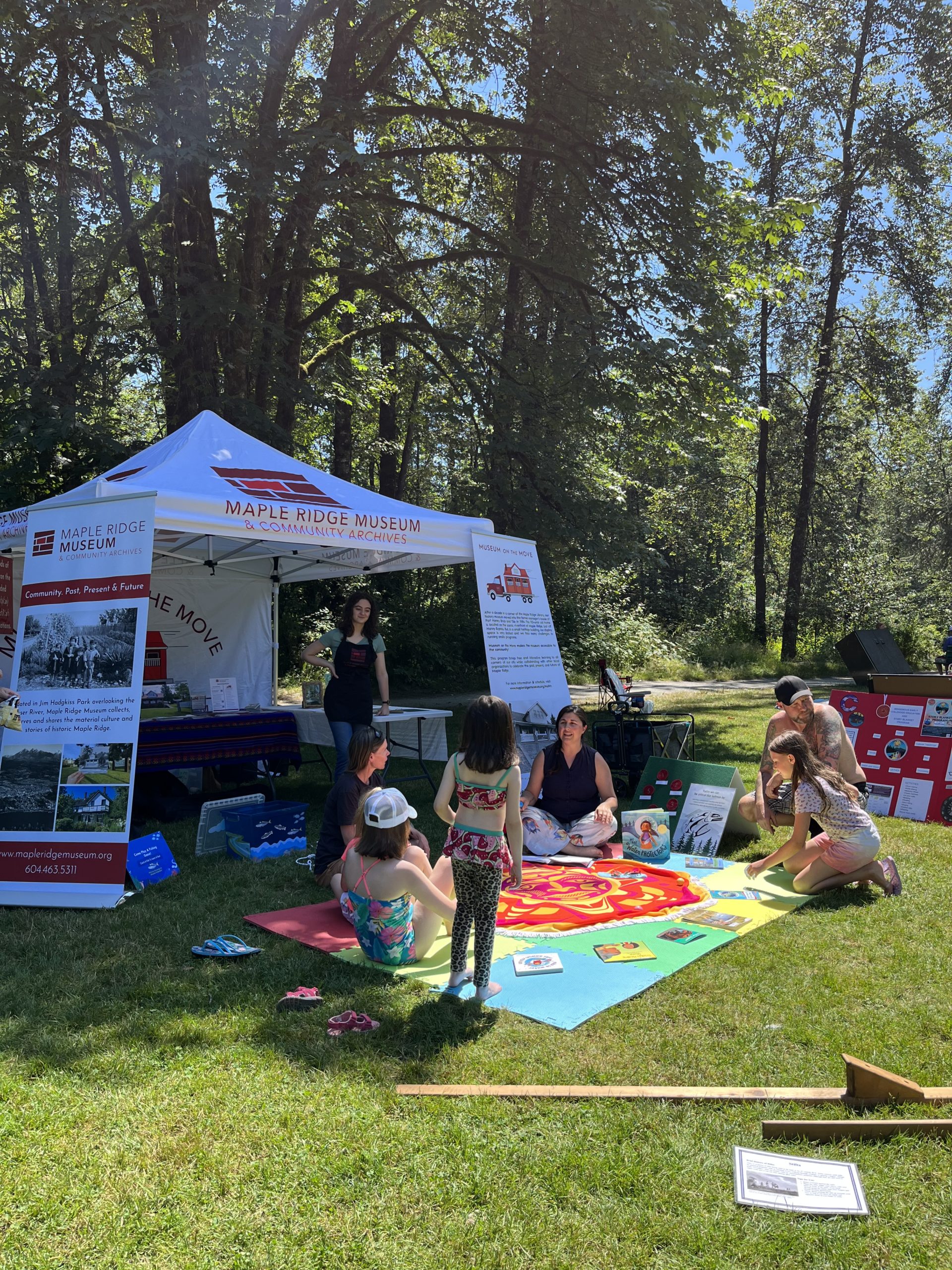 An example of Museum on the Move's basic set up, at the Haney Farmers Market on July 23, 2022. Museum on the Move made four appearances at the Haney Farmers Market throughout the summer.
Children enjoy Storyblanket, run by Kathleen MacDonald from the Fraser River Indigenous Society, at an event in partnership with Alouette River Management Society in Maple Ridge Park on July 20, 2022.
Museum on the Move was started as a response to that comment. Providing free programming, learning, and opportunities for community engagement, all it took was some planning and a tent. The concept was to create mini displays and show up at farmer's markets, city events, pop up at parks, and wherever we could go to connect with people. Our official launch was on April 23, 2022, at Maple Ridge's Earth Day event organized by the Ridge Meadows Recycling Society. By the end of 2022, we will have made at least 18 appearances around town on top of our other events and programming.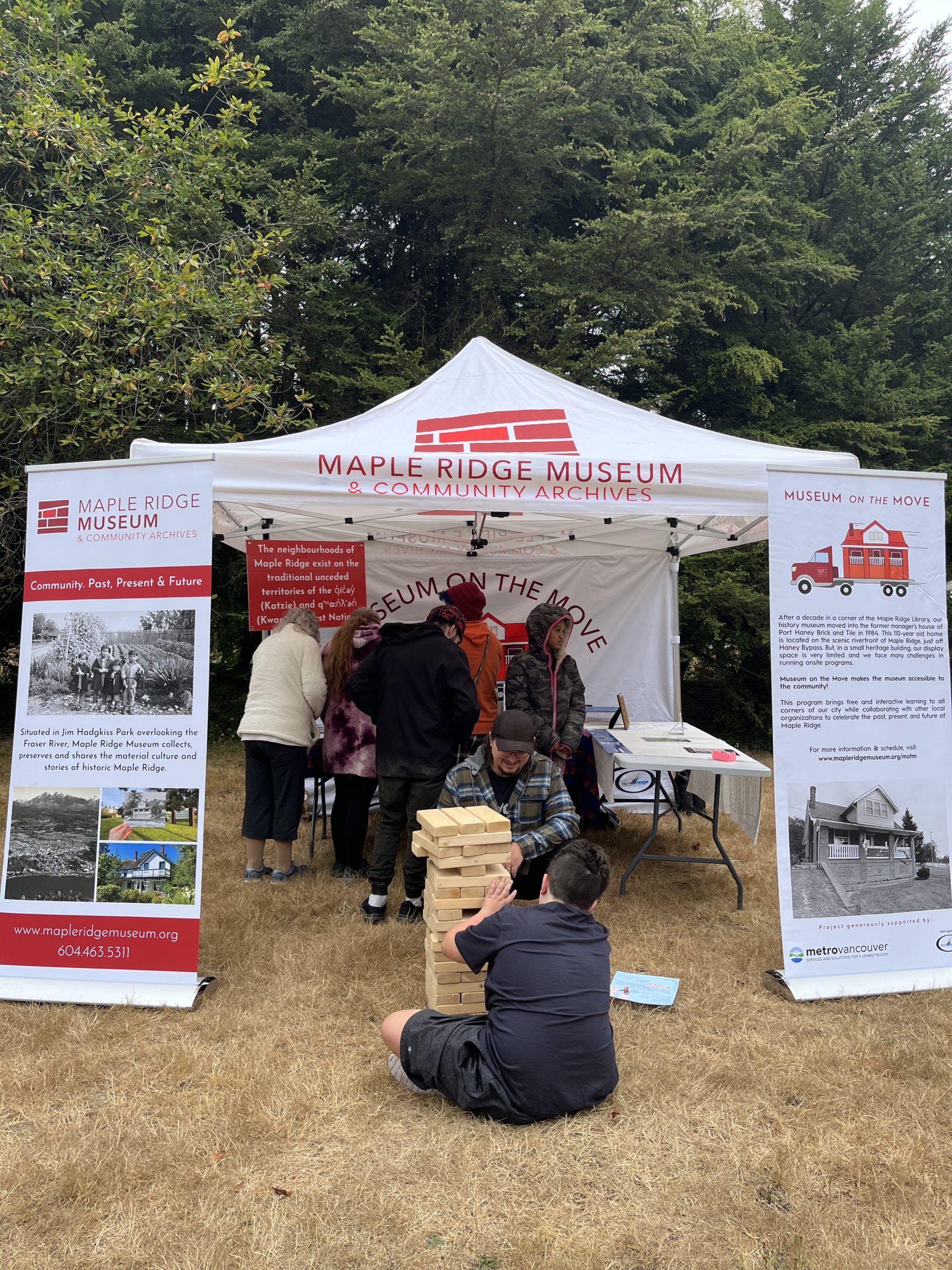 Visitors learn about the history of the Malcolm Knapp Research Forest in a partnership event with Wild & Immersive, who provide outdoor learning programs. This event was held on September 3, 2022 at the Malcolm Knapp Research Forest Arboretum.
As museums, our best shot at maintaining relevancy is to engage with our communities and provide the services that fit our communities best. This is a way for us to be more active in our community, engage directly with the public and gauge what they want to see from us. Through Museum on the Move, we partner with other community groups, participating in their festivals, coming up with a new event or program, or simply providing them with an additional platform and audience for their message. This program allows us to leave the confines of our limited, colonial space and provide information and education in a more neutral setting.
The response from the community has been very positive. People love that we are coming to them, talking about different topics depending on the theme of the event, or the neighbourhood in which we find ourselves. It has led to some really interesting partnerships with unexpected community groups that are not necessarily the first thing you would think of when you imagined a partnership with a museum. We are thrilled to be making a positive impact on our community, even if it is small.
Our next step is to adapt Museum on the Move for schools. We will be able to take our tent and set it up at a school, allowing for multiple classrooms to engage with the Museum and learn about local history in a new and exciting way. We are working with local teachers to make sure that this program will be educational and useful to both students and teachers.
We would like to thank Metro Vancouver and the BC Arts Council, whose financial support made the launch of this program possible. The City of Maple Ridge, particularly the Parks, Recreation & Culture department, has been incredibly supportive of all our initiatives. Lastly, thank you to our tight-knit, collaborative team at Maple Ridge Museum who make it all happen.
Abby Lizee is the Community Engagement Coordinator for the Maple Ridge Museum and Community Archives. She feels privileged to be able to work in her own community. She has a BA in Archaeology from SFU and has previously worked at Coquitlam Heritage.