Doors Open Richmond: Spotlight on Community Diversity and Engagement
By Golmehr Kazari, Cultural Program Leader, Richmond Museum
Doors Open Richmond (DOR) is a free annual event offering the public an opportunity to glimpse behind the scenes into facilities and services in the City of Richmond. The goals are to raise awareness of Richmond's cultural diversity and increase civic awareness. Through this, the event builds bridges between people of different cultural backgrounds and helps newcomers understand the services available in their new home.
The event is coordinated by the Richmond Museum and would not be possible without partnerships with local organizations willing to open their doors to share their stories, their services, and their passion for their community. Since 2008, the Richmond Museum has worked with over 200 partner sites, and more than 50% of sites have participated for five or more years.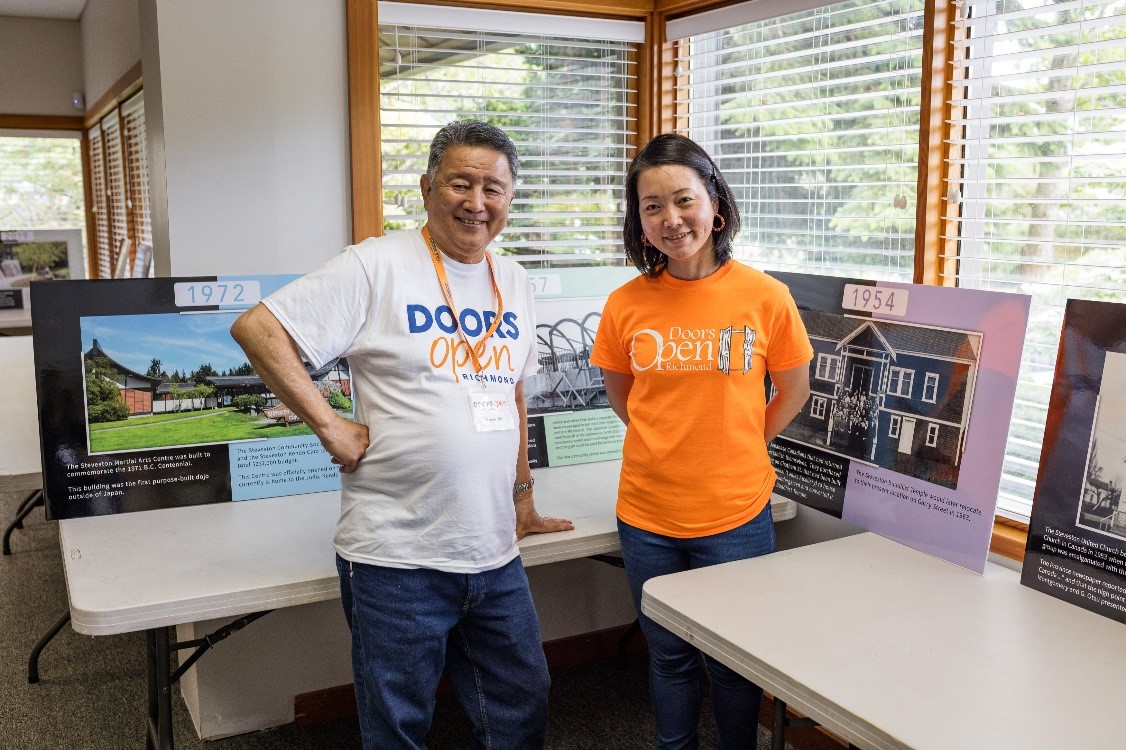 Visitors and participants explore Doors Open Richmond partner sites to learn about Richmond's diverse heritage, such as the Steveston Japanese Canadian Cultural Centre, Photo by Kai Jacobson, Richmond Museum.
As a testament to the event's success and the commitment of the partner sites, the event was re-imagined during the COVID-19 pandemic as an online event with about the same number of partner sites willing to quickly re-invent their programs as digital experiences. The event's digital content received more than 25,000 social media interactions. The event returned to in-person with a strong digital component in 2022. Over 10,000 visitors participated in the 2022 event during the weekend dates and visited partner sites in person.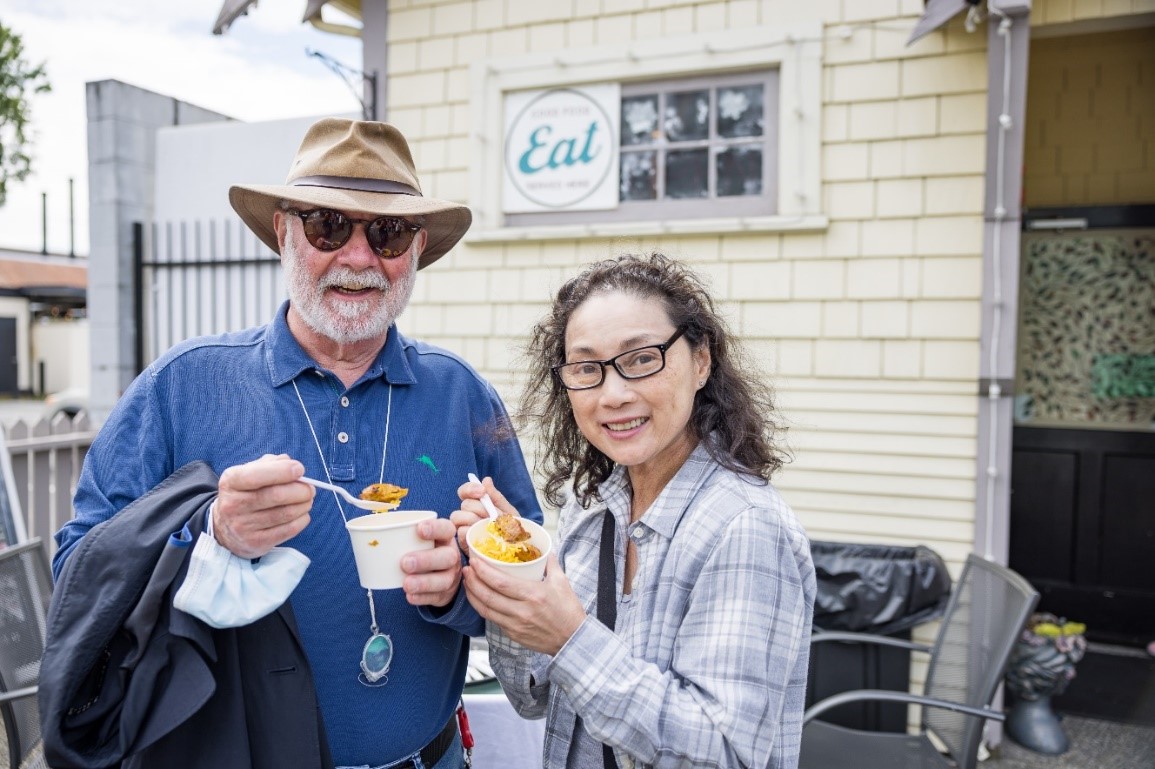 Two Doors Open Richmond 2022 visitors sampling authentic food while visiting the Anar Persian Cuisine. Photo by Kai Jacobson, Richmond Museum.
Since 2020, the event's purpose was refocused to highlight Richmond's cultural diversity. The Richmond Museum successfully established new relationships while working with existing sites to reframe their experiences highlighting the incredible diversity of Richmond. Doors Open Richmond celebrates Richmond's diversity by providing experiences that highlight the cultural heritage of the people and places in Richmond through perspectives of spirituality, food, culture, and heritage. The event format provides experiences that give a personal connection to a diversity of community organizations many people otherwise only see from a distance. The success of this approach is demonstrated by the addition of 28 new partner organizations between 2020 and 2022.
The impact of Doors Open Richmond is two-fold. First, the partner sites are able to share their cultural heritage through their own voices, and may not otherwise have this opportunity. This is particularly true for groups who feel that the public is unaware of their people and cultural or spiritual practices. Secondly, the impact is felt by the public who participate in the event. While most years the event is largely attended by Richmond residents, offering an online component has allowed for a greater reach, with many people participating throughout the Lower Mainland and even overseas. Also, the event has helped the Richmond Museum build crucial partnerships with cultural organizations within the city. Because the event is recurring, the relationships are maintained over time giving the Museum a wide network of cultural representatives to reach out to for advice when the opportunity arises.
Doors Open Richmond is a proven change-maker, as 91.3% of the visitors participating in the post-event survey believed Doors Open Richmond helped improve their understanding of the city and its cultural diversity. Event participation has increased year after year, with increasing diversity in community participants and partner sites. The event has also garnered greater visibility on social media. As a result, social media followers for the Richmond Museum and partner sites have increased, enabling the public to have ongoing interactions with diverse cultural organizations in Richmond. The in-person visits are also seeing an increase year by year. We are seeing an increased interest in participation in the event, both with partner sites and visitors.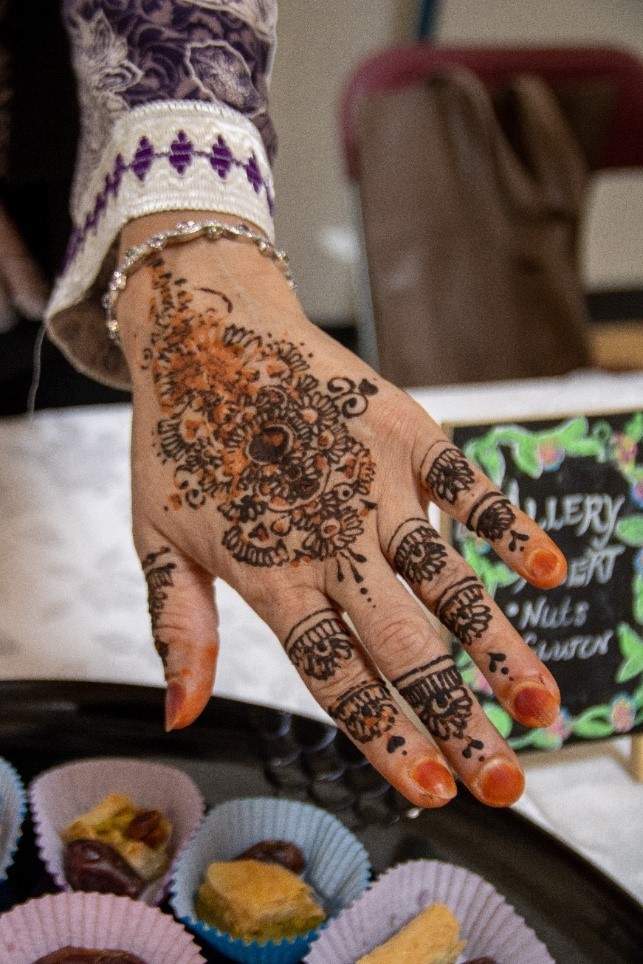 A Doors Open Richmond 2022 participant tries henna design on her hand at Richmond Jamia Mosque (Sunni Muslim Congregation). Photo by Nora Montiel, Richmond Museum
Additionally, it has been noticed by the event team and our returning partner sites that the demographics of the event's visitors have been changing, with more families with young children, seniors and intergenerational groups, as well as new immigrants with some language barrier which the event is planning to adapt to in the coming years.
For 2023 the Richmond Museum is planning to once again host a fully in-person event, and to grow its network of partner sites and expand access to these sites through a shuttle bus program, a volunteer ambassador program, and continued digital media programming. The anticipated outcomes for the 2023 event are to gain a greater understanding and respect for diverse groups and empower all individuals to contribute positively to the community. Our goal is to support Richmond and Lower Mainland residents to increase their participation in civic government and experience positive intercultural interactions that will reduce incidents of racism in our community.