Cecil Dawson: Standing in the Gap, was on display at the Museum at Campbell River until November 6, 2022.
The following is a conversation between Cecil Dawson, Artist and Hereditary Chief G̱ixkastallasame-gi of the Dzawada'enuxw First Nation, and Beth Boyce, Curator at the Museum at Campbell River, reflecting on the impact of the exhibit Cecil Dawson: Standing in the Gap.
The exhibit describes what it means for Cecil to 'stand in the gap,' to hold a place for those to come, to keep the position, prerogatives, songs, dances, and history alive for future generations. They were all at risk of being lost because of the impacts of colonization: the high population loss to wave after wave of pandemic, the deliberate persecution and erasure of Indigenous cultures, languages and lifeways through the residential school system, the enforcement of the Potlatch ban, and the many other laws and restrictions contained within the Indian Act. In the exhibit, Cecil interprets this hurtful history and its impact upon our society today through his artwork, and the stories he tells of the history of this coast from an Indigenous perspective.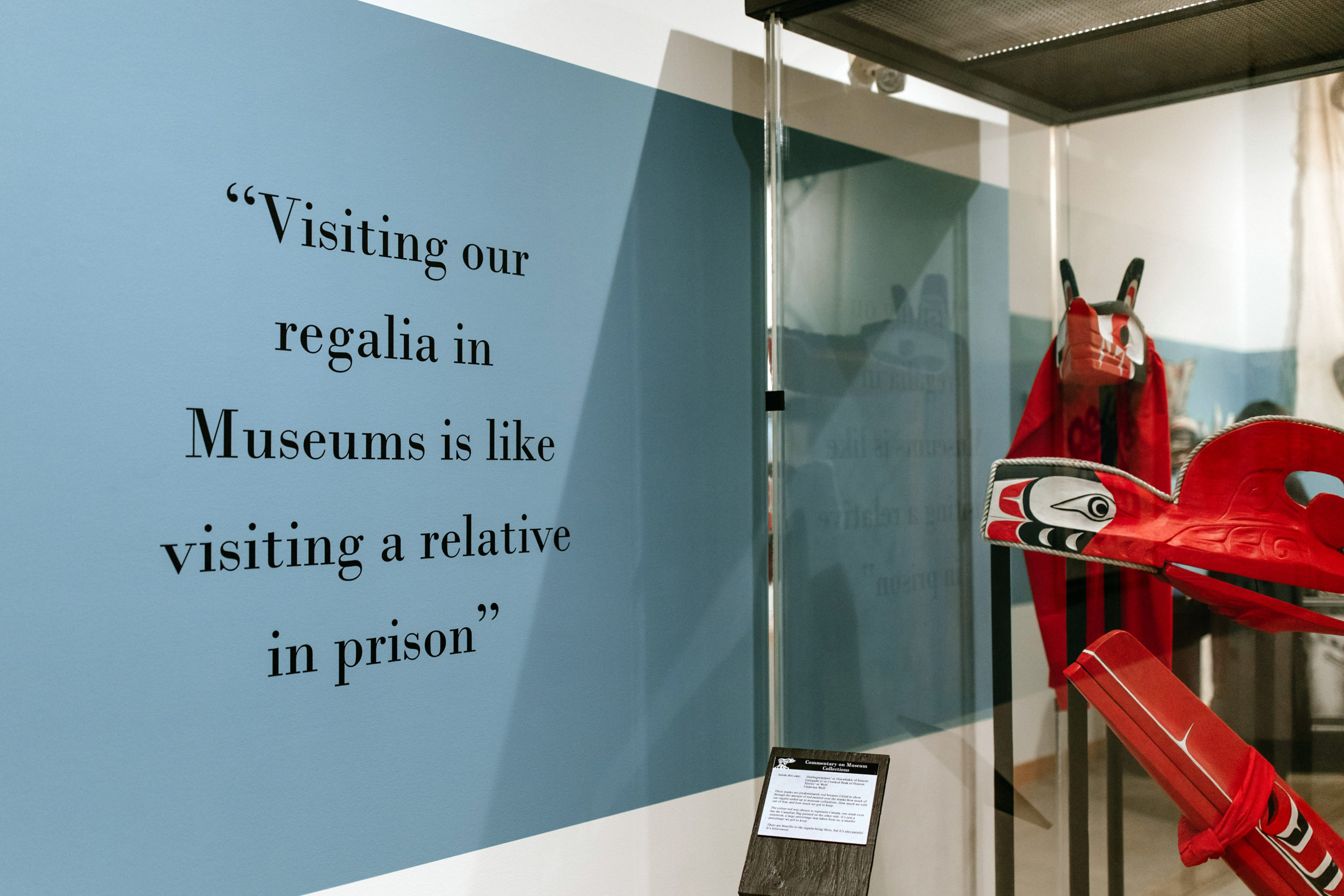 Photo Credit: Bluetree Photography, March 2022. This photograph describing what it is like for Indigenous community members to visit their family regalia in museum collections was shared widely on social media, striking a chord with those who saw it.
This photo was shared on the Museum's Facebook page in early April and to date (July 30, 2022) it has reached 75,964 people and has been shared 771 times.
Beth Boyce: Cecil, can you start by sharing what your goal was for this exhibit?
Cecil Dawson: My only goal was to give that generation a voice, my grandparents' generation. They suffered devastating losses, they lost their children, they lost their regalia, they lost their land, their language, and they couldn't respond, they didn't have a voice. But they told me their stories, so I wanted to give them a voice and share their story.
BB: How has this experience surprised you?
CD: What surprised me was on how many levels people have connected with the show. Those who have reached out to me have said they went back multiple times and gravitated toward different areas with each visit.
That it has been such a great teaching tool also caught me by surprise.  Growing up, we were always led to believe that our stories didn't matter.  But by telling my story unfiltered, and seeing how people have connected with it, that's kind of cool.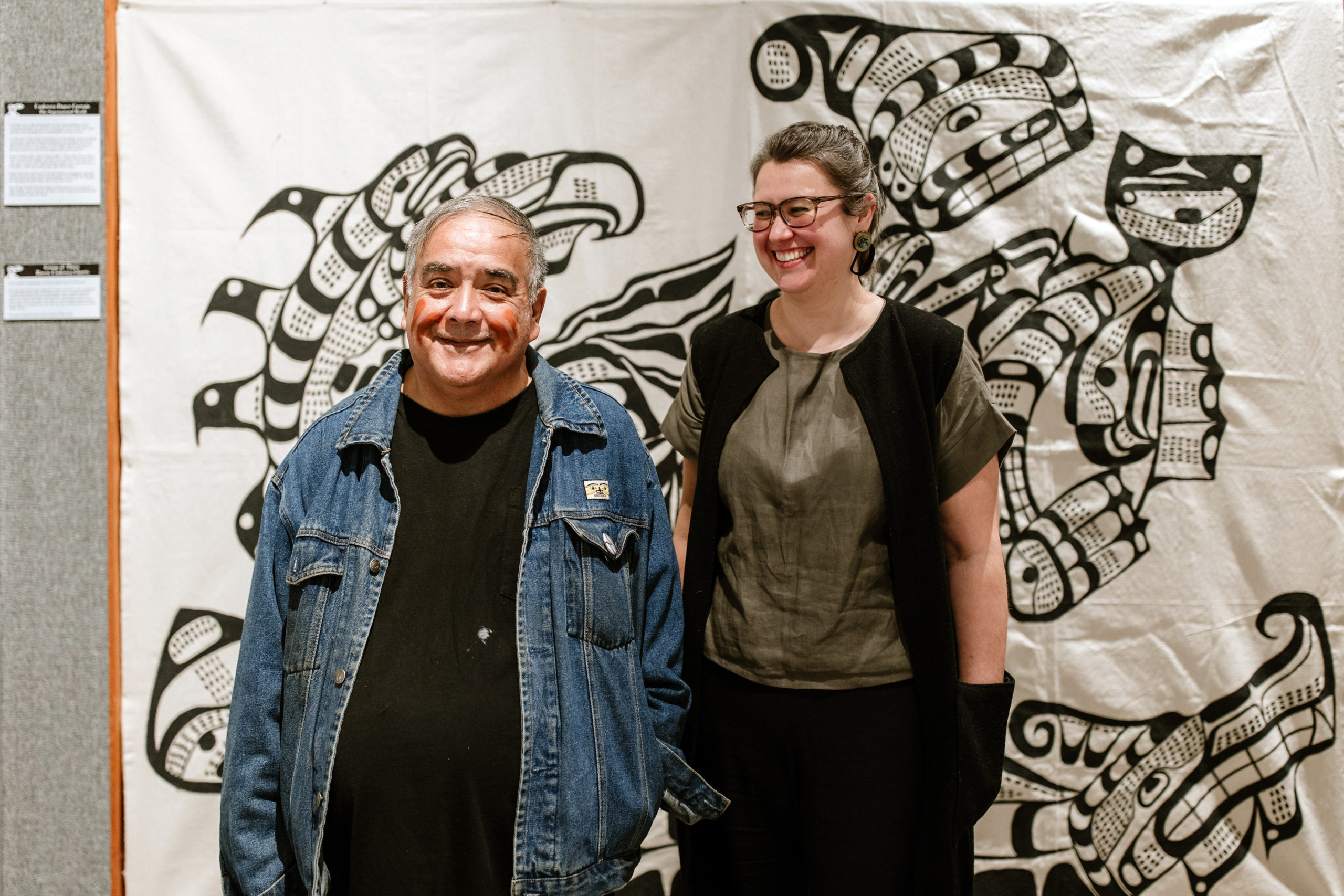 Photo Credit: Bluetree Photography, March 2022. Cecil Dawson and Beth Boyce at the opening for Standing in the Gap.
BB: Your words, "Visiting our Regalia in Museums is like visiting a relative in prison," have really struck a chord with a lot of people. Why was it important to share this statement in the show?
CD: Maybe it's an old cliché about museums, but so many people didn't know that we're still here. We got erased and relegated to collections in museums. But it is important for people to know that when Indigenous people go into a museum exhibit or a collection, they are in direct contact with their ancestors, their grandparents, their family, and all the stories that they have been told about those people and those things. And we do that, we still go there to visit with them.
Those artists, working in those times were knowingly doing it against the law, and I have huge respect for that. They are more than just my relatives, they are my heroes, and I get to do a show with them!
My Grandmother would go through the Hawthorn book with me when I was small, she had a hardcover copy and she would share those stories. When I was a teenager away at art school, I bought a soft-cover copy of the Hawthorn book, and it was such a comfort to me, it was home in abstract. I was blown away when MOA offered those things to be a part of the show.
[Cecil is referring to: Hawthorn, Audrey, Art of the Kwakiutl Indians and other Northwest Coast Tribes, University of British Columbia Press, Vancouver, 1967]
BB: Can you reflect on what worked and what didn't in the process of assembling the show?
CD: What worked well was us getting to understand each other and how we each worked; our process and our limitations. You gave me good direction, and we worked really well together. It was really a 50-50 split of the artwork and pieces from MOA, and then the layout and feng shui of it all.
Covid really hindered things in some ways but we still got through it. And for me there were no other distractions because of Covid, I could really just get down to it and get focused. One thing though, I was really on a roll toward the end, but we ran out of time.
BB: Yes, even though we had more time than I'd ever had on an exhibit, I would have loved to have even more time. Some of the most impactful elements in the show were the ones you added right before we opened. Covid was a funny influence because we couldn't meet in person very often, and we had to really limit the people at the opening…
CD: But the opening still had a lot of good response because it was online.
BB: Absolutely! And adding to that, we wouldn't have had the opportunity to do this show without the pandemic. Normally we have two years of exhibits plotted out, but with covid, we had to wipe the slate clean, so we were free to do this show with you. And because we couldn't meet in person, our weekly phone calls became our practice, and I think that really allowed for the show to develop so organically.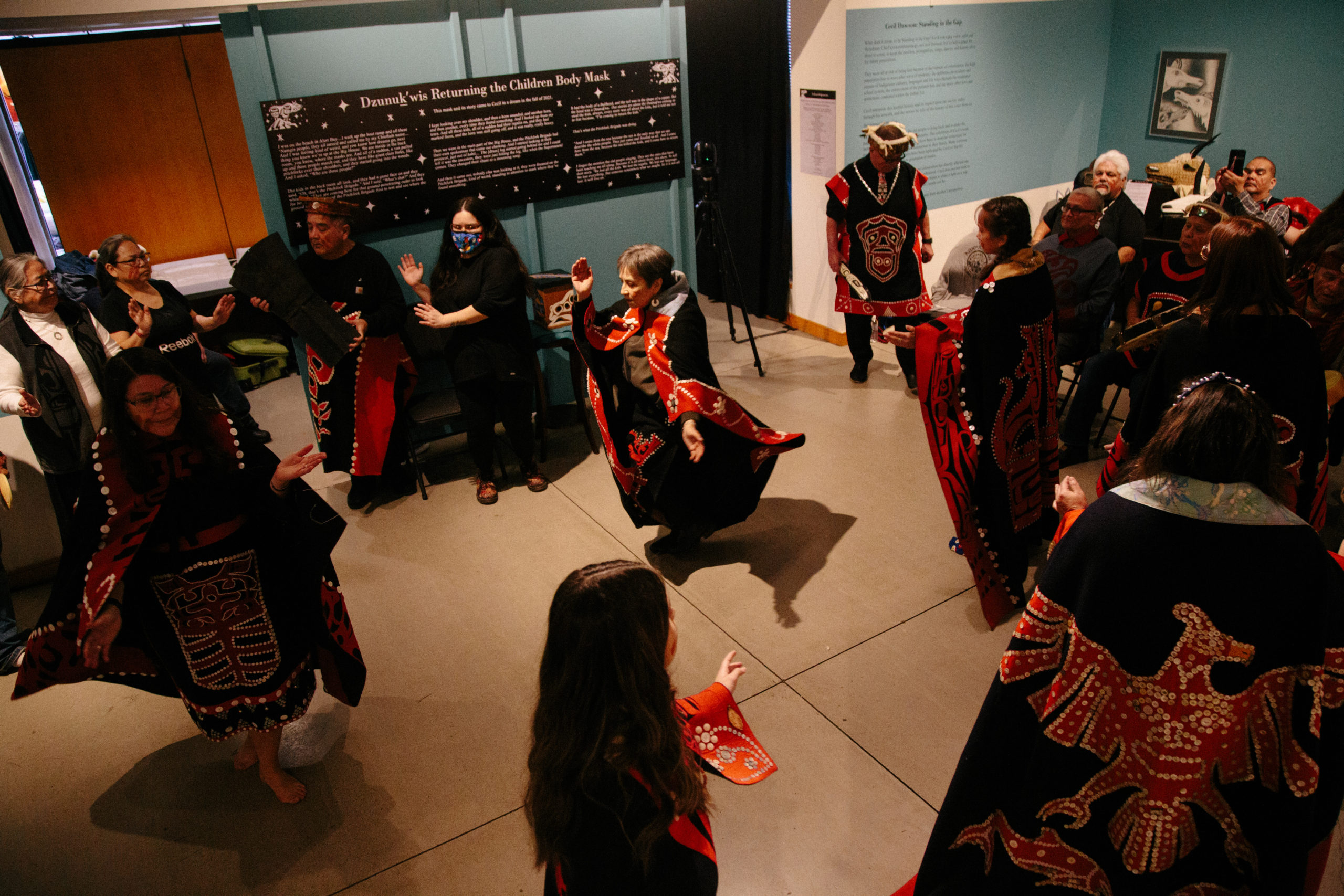 Photo Credit: Ben Altair, March 2022. A Ladies Dance as a part of the Opening Ceremonies for the exhibit.  You can see Cecil dancing with his family copper.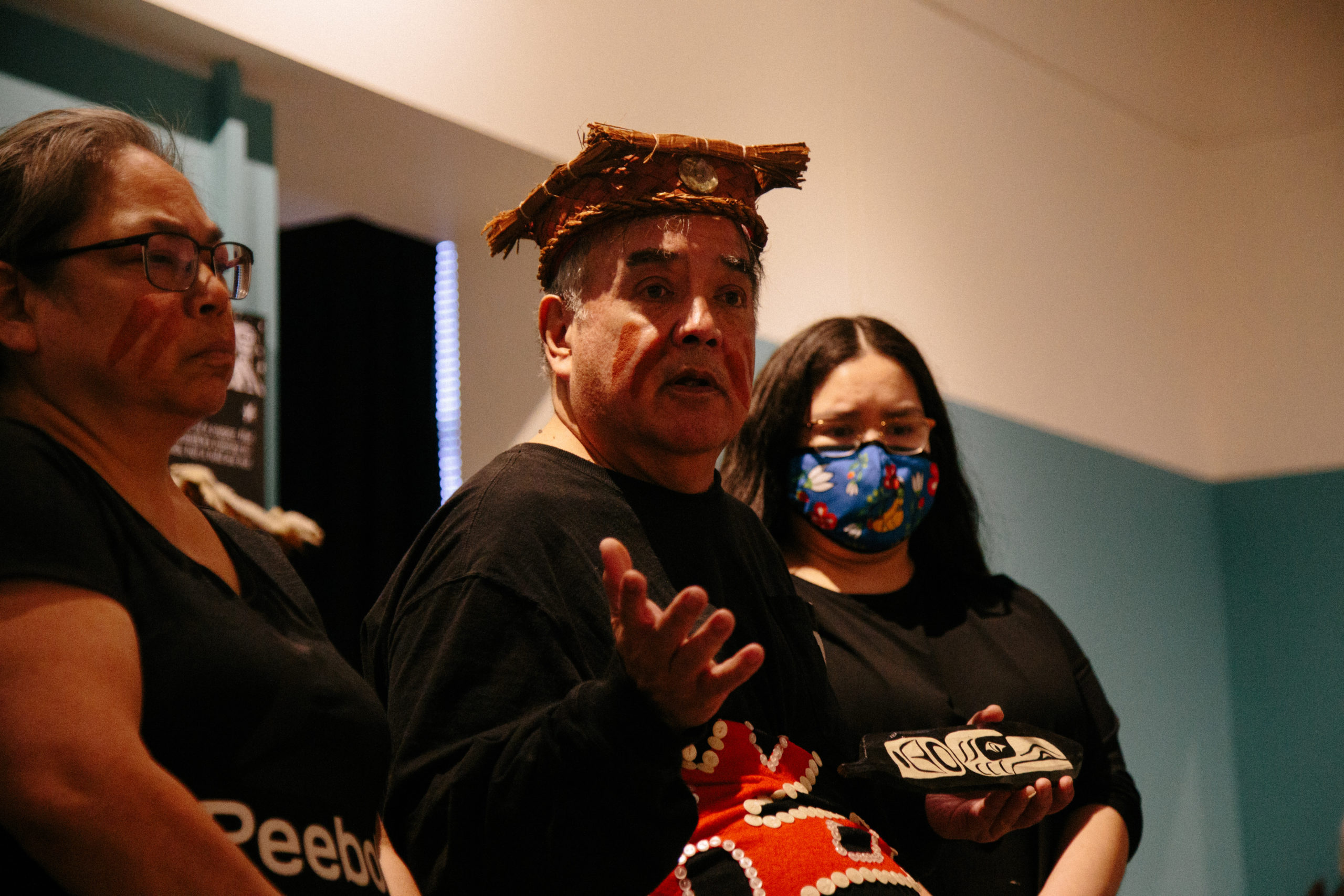 Photo Credit: Ben Altair, March 2022. Cecil Dawson speaking at the opening ceremonies, being supported by the Matriarchs of his family.
BB: Speaking of the Opening, can you talk about why it was important to start the show in that way? It ended up being a proper Potlatch although in a condensed form.
CD: We had to honour the Old People. The only way to show proper respect, and reverence of my immediate ancestors' journey in a way that they could understand, was through ceremony. Added to that, in my position [as a hereditary chief], everything I do has to be done in the proper way. We had to honour what had been repressed, what had been marginalized. It was really the only way we could have opened the show.
BB: To conclude our conversation, is there anything you would like to say directly to the staff of BC's Museums, what would you like them to take away from this exhibit?
CD: Hmmm, I think I would like to thank them for their awareness. There has been a changing of the guard. They were the prison guards in the past. The museums felt like an old boys' club, there were a lot of egos at play, but not so much anymore. Now we are working hand in hand, and it is different from before. The sincerity of it all, you can feel that, from you at Campbell River, from MOA, from the people at the [online Joint BCMA and Heritage BC] Conference in May. We are creating a better place and that message is resonating far. It's not just about the stories or the artworks, but about mutual respect, Maya'xala, that is the teaching.
It took all the courage in the world for me to come to the Campbell River Museum back in '95 to ask if we could use our family copper for our Potlatch, and I was met with open arms, I feel at home here.
Cecil Dawson

Cecil Dawson's early years were spent in Kingcome Inlet with his paternal Grandmother Louisa Dawson (née Coon) and fishing with his father from an early age.  He spoke only Kwak̓wala until he was nearly school aged when his family moved to Campbell River.  Weekends were spent in Alert Bay with his maternal Grandparents, James and Mary Dick, learning about his family history, their community connections, dances, songs and regalia, and other important cultural practices such as smoking fish, and carving cedar.
After graduating from High School he enrolled in the Kootenay School of Art in Nelson, BC.  Upon completion of the program, he began carving with his grandfather's knives and has never looked back. 
Today, Cecil is a Hereditary Chief, G̱ixkastallasame-gi, taking up his father's position at a Potlatch in 2015. He describes himself as a master painter who also carves. He has worked over many years to uplift his family, making regalia, and continuing to potlatch, his most recent was held in Alert Bay in August 2019. 
Beth Boyce

Beth Boyce is a third generation Canadian, her family immigrated to the west coast from Ireland, Scotland and Guernsey.  Growing up on the coast, she split her time between parents in Nanaimo and Prince Rupert. Beth completed a Bachelor of Arts in History from the University of Victoria, followed by a Master's Degree in Art Conservation from Queen's University, where she specialized in the treatment of archaeological waterlogged basketry and ethnographic artifacts. She has been privileged to work as the Curator for the Museum at Campbell River since 2013.
For more about Standing in the Gap, listen to Beth and Cecil's talk from the panel "Decolonization in Practice" at the BCMA and Heritage BC Joint Conference Act 1 in May 2022.

Imaging Loving your CMS.
CatalogIt is a comprehensive, secure, and modern platform for cataloging and managing your collections and publishing to the web to share your objects' stories.
As a cloud-based CMS, CatalogIt reduces costs and empowers staff/volunteers to collaborate simultaneously- securely viewing and editing your records anywhere, anytime from mobile or desktop.
Included with the subscription is the CatalogIt HUB, an easy web-publishing platform for quickly and selectively publishing your collections, making them publicly discoverable and searchable.