Update on the BCMA's Ongoing Commitment to Justice, Equity, Diversity, and Inclusion: May 2023
The BC Museums Association is committed to supporting justice, equity, diversity, and inclusion within the museum and cultural sector and in our own organizational practices. A key component of this commitment is being open and transparent with our community. We aim to provide quarterly updates about the steps we are taking to support justice, equity, diversity, and inclusion. If you have feedback or would like to share your thoughts, we encourage you to contact us at any time. To read our past updates, please visit this page.
Jump to: New Updates
The building and maintaining of relationships is a core component of equity. Relationships teach us, they challenge us, and they give us the opportunity to expand the impact of our work. On behalf of the BCMA, we thank our amazing network of members and partners for the time, energy, and ideas they invest in magnifying our collective work.
In 2023, the BCMA is working with the Haida Gwaii Museum to host a gathering for arts, culture, and heritage professionals, volunteers, and knowledge holders across the province from September 26-28. This gathering has grown, in part, out of the relationships we have had the honour to build with the Haida Gwaii Museum team over the past few years, culminating in the team coming to our 2022 joint conference in Victoria to present the closing keynote at the event. Through this event, we have had the privilege of getting to know and creating friendships with the amazing people who work in the museum and devote their lives to preserving and celebrating Haida arts, culture, and heritage.
It can be easy to view investing in equity, reconciliation, or decolonization efforts as "work," but it also offers rewarding, enriching, and life-changing experiences. Our relationships help to define our lives and are a source of inspiration and joy. Talking with arts, culture, and heritage professionals and volunteers who have prioritized equity and reconciliation speak of the friendships they've made, the life lessons they've learned, and memories of laughter, even when those journeys have also included anger or tears.
The 2023 gathering is themed "Kil 'láa – Kind Words." The gathering will be based on Haida values including respect, responsibility, asking first, and telling the truth. As we are learning through our work with the Haida Gwaii Museum, Haida values inform relationships between individuals and societies and centre the principles of respect, responsibility, interconnectedness, balance, seeking wise counsel, and giving and receiving.
If you are struggling to think of how to start or progress in better supporting equity or reconciliation in your organization and work, try thinking about who in your community you don't have a strong relationship with and how you could start to build one. Like any friendship, think about casual and welcoming ways to make the invitation – an invite to an event, an offer for a private tour, or a message complimenting an individual or organization on a project you've appreciated. Relationships make our lives rich and supporting equity and reconciliation is an opportunity to start life-long friendships.
---
Updates
Summer Equity Series
Recent BC Arts Council feedback has encouraged many arts and culture organizations in BC to focus on continuing their equity journeys. To support our sector in continuing our collective work in becoming more equitable and just, the BCMA is hosting a summer equity series featuring regular webinars, online workshops, and discussions.
Confirmed sessions:
June 15: Beyond Canada Day/ Colonial Holidays: Exploring Community-Responsive Alternatives

June 23: Are Museums Still Not Neutral? With Dr. Sharanjit Kaur Sandra

June 25: Rematriation with Taajuu Consulting
We look forward to sharing news about additional sessions as the details are confirmed later this month. Visit the Summer Equity Series page for the most up-to-date information.
To support our sector in continuing our collective work in becoming more equitable and just, the BCMA is hosting a summer equity series featuring regular webinars, online workshops, and discussions.
CARE Resources
We are proud to share our CARE (Candid, Actionable Reconciliation Education for Museums) resources. Developed in 2022, the CARE resources were informed by a statement made at a 2021 BCMA Indigenous Advisory Committee meeting that even well-intentioned actions can cause harm and that museums' attempts to take action in supporting truth and reconciliation are overwhelming many Indigenous communities.
The CARE resources offer museum, gallery, and heritage professionals a number of foundation-setting points of reflection as they think about taking on reconciliation work and relationship-building with Indigenous communities. It is imperative that settlers and non-Indigenous organizations take steps to redress centuries of injustice without relying on Indigenous communities and knowledge holders to be the sole drivers of change.
IBPOC Network
The BCMA held its first in-person Tea and Talk session during our November Joint Conference with Heritage BC. We received positive feedback from the approximately 30 attendees who also expressed interest in additional opportunities to engage and connect with one another in person.
The recent BCMA IBPOC Network Survey continues to generate valuable information about how the Network can better serve IBPOC professionals in our sector. BCMA staff continue to meet with the IBPOC Museum Professionals Network Advisory Group to improve and expand programming and resources based on this and other feedback.
We're continuing the development of a series of practical sessions around topics like community care and conflict resolution. The goal of these sessions is to provide space for attendees to discuss and practice tools that can be employed in the workplace. 
Lastly, the BCMA IBPOC Listserv continues to grow. If you would like to join an expanding network of IBPOC professionals, share resources, or seek advice, please consider signing up on our website.
We continue to strive to provide effective programming and safe(r) spaces for all British Columbians who identify as IBPOC/BIPOC museum, heritage, and cultural professionals. If you have any suggestions or questions about the IBPOC Network, please email Jazmin Hundal.
Governance & Leadership Symposium
On March 15 in Surrey, the BCMA brought together a small group of arts, culture, and heritage professionals and cultural knowledge holders to discuss and share ideas about the future of governance and leadership in our sector.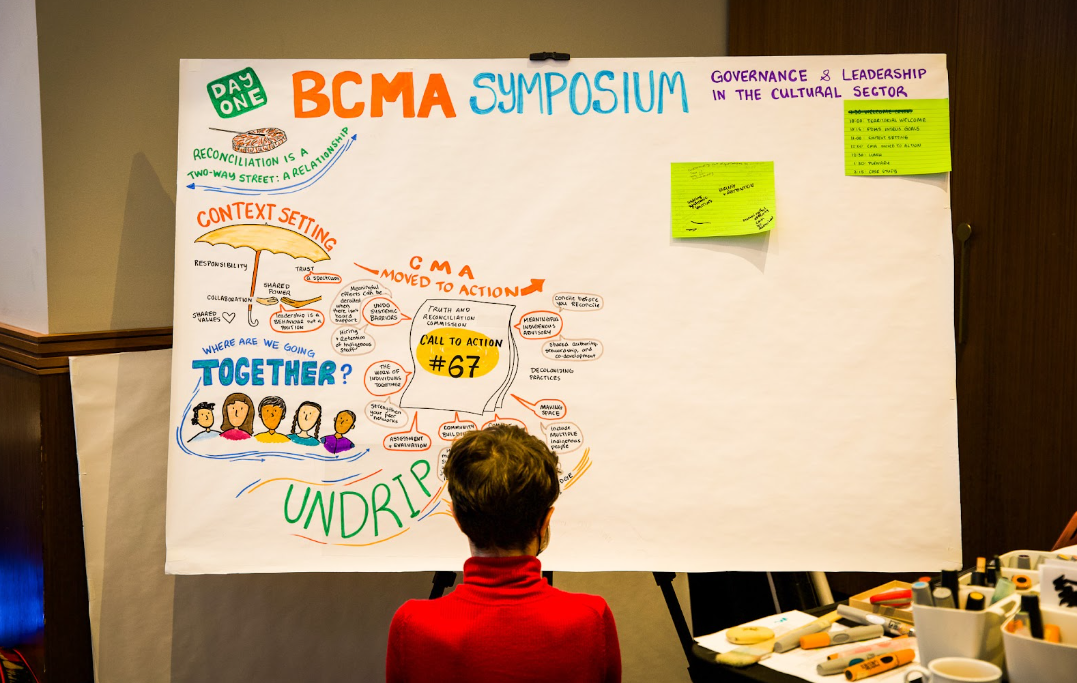 This event brought together arts, culture, and heritage representatives from across Canada to reflect on recent publications like the Governance Challenges and Opportunities in B.C.'s Small to Medium Non-profit Museums report and the CMA Moved to Action report to reflect on how our sector can better support equity at a governance and leadership level and also to have conversations that will help to inform the BCMA's new strategic plan.
BCMA to Become Living Wage Certified Employer
In April the BCMA Council unanimously approved a motion to support the BC Museums Association to become a certified living wage employer. Equitable compensation is integral for creating decent working conditions and the BCMA views this certification as an essential step towards demonstrating our values in action. At the same time, we recognize that a living wage should be the floor, not the ceiling for compensation and as an organization we strive to ensure that all of our staff are fairly compensated for their skills, experience, and contributions to the BCMA.
The BCMA is working with our Advocacy Committee to explore ways that we can support conversations around equitable compensation and decent wages with funders so that more museums, galleries, and heritage spaces can offer stable, sustainable careers.
Advocacy
One of the central strategic priorities of the BCMA is to advocate not only for the needs of our members, but for funding, legislation, and action that support long-overdue change in the heritage sector. Recently the BCMA has been able to advocate for the following changes and investments on provincial and federal levels:

Promoting Indigenous Self-Determination in the National Museum Policy:

The BCMA is currently collaborating with First Peoples' Cultural Council on a position paper that will advocate to federally elected representatives and the Department of Canadian Heritage to use the current review of the Museum Policy as an opportunity to redress past wrongs and legally recognize the autonomy of Indigenous communities to determine the policies that impact their arts, culture, and heritage. We also hope that provincially elected officials also read this position paper and use the ideas in it to shape legislation and policy at the provincial level as well.

Advocating for UNDRIP-Informed Changes to Archaeological Policy:

The BCMA coordinated a meeting between Green Party MLA and member of the Tsartlip village of the W̱SÁNEĆ Nation Adam Olsen and representatives from BC's archaeological repositories to advocate for UNDRIP-informed policies that support the on-going stewardship of archaeological items in the province. 
Animikii Partnership
The BCMA and Animikii Indigenous Technology are partnering to co-develop a new online course offering wise practices in reconciliation for arts, culture, and museum workers. There is no one path to creating meaningful, trusting relationships with Indigenous communities, so this online course will include interviews, case studies, and readings from diverse organizations that share educational successes and failures to empower museum and heritage professionals to reflect on their own practices, organizations, and community contexts.
Work on this online course began in the summer of 2022 with community and museum consultations happening in the fall and winter. The BCMA hopes to launch a beta version of the course in early 2023.
We gratefully acknowledge the financial support of the Province of British Columbia through the 150 Time Immemorial Grant Program and the BC Arts Council Impact Grant as well as the Government of Canada through the Museum Assistance Program's Digital Access to Heritage grant.
Honesty and transparency are a critical part of this work and we welcome our members' feedback on how we can continue growing and improving. If you have questions, comments, or thoughts, please contact us at any time. Alternatively, if you would like to discuss how the BCMA can support your organization's own justice, equity, diversity, and inclusion work, we would be happy to hear from you. This work will take time, but together we can use the transformative power of museums to reinvent our sector for the betterment of everyone.