This article proposes to explore how concepts from the corporate field can accelerate the integration of sustainability strategies in museums. For the better part of the past two decades, a good number of businesses have been engaging with sustainable development and social responsibility measures, with some players entering the playing field even earlier. From data collection and reporting all the way to social marketing, strategic planning, eco-responsible operations, inclusive and diverse workplaces, and sustainability and/or DEI managers, there are business concepts and strategies that should be of particular interest to museums as the latter face rapid changes within their operating contexts.
Sustainable development (whose activities are usually categorized under three pillars: economic, social and environmental), has increasingly become a central focus of museum-oriented initiatives such as annual conferences, associations and professional development opportunities. Regularly offered webinars and conferences on related topics are embraced by many so we might learn, and share with others, how to make the cultural and museum field more relevant to our audiences, more meaningful to our employees and more impactful in our communities. However, as many of our organizations continue to grapple with the impacts of COVID-19, an overwhelming digital transformation and the rise of new competitors—on top of long-standing operational challenges—when first faced with the added issue of sustainability, we search for to-do lists to see if- and how- we can quickly get started. Consider this recent list from Blooloop's Charlotte Coates, who refers to sustainability manager Sara Kassam's work at the Victoria and Albert Museum, among others:
Take stock and make a plan
Connect it with the mission
Get all teams on board
Find the easy wins for museums to be more sustainable
Build relationships
Eco architecture and sustainable museum refurbishment
Talk about sustainability.
You'll find many of these types of lists in the media, with more or less the same steps depending on where the emphasis is placed. But what does it look like when we put these steps into practice?
In the corporate field, we notice that what was once the purview of visionary leaders, is now rapidly becoming a standard, and if not, a reputational risk for the organization. While we must tread carefully when looking at examples of sustainability in the corporate field, weary of greenwashing, a deeper understanding of this trend can reveal passionate people and their effective tactics for change. We observe that in many museums and other cultural institutions, unless government-mandated, sustainability-related initiatives have risen from the grassroots level, largely stemming from the commitment of passionate individuals. Adding a management filter to these seemingly disparate efforts would structure, and help us better comprehend, the work that has been done and that is left to do. As a practical starting point for museums, I propose reframing five tried-and-tested organizational processes to implement a sustainability strategy.

Digital Planning for the Cultural Sector, Professional Development Certificate
Position your organization to thrive in a digital economy.
This micro-credential looks at ways technology is being used in the cultural sector and gives you the in-demand knowledge and skills you need to help your organization thrive in the digital economy. Embrace the opportunity that technology in the cultural sector can offer. BC residents are eligible for 25% tuition subsidy.
Shared Value
The concept of shared value, coined by Michael Porter and Mark Kramer, suggests that businesses and social causes can collaborate towards advancing common goals while creating value for their community. This allows both to bring their strengths to the table and amplify their efforts through partnerships built on mutual understanding and trust. The model was followed by the Brooklyn Museum in 2020, when it offered its spaces—sought after for the prime location and facilities—as central sites for Black Lives Matter protests. In Europe, Museums for Future encourages its members to do the same for Fridays for Future activists. Another collaborative product born of the shared value concept is Philadelphia Assembled, born from a collaboration between the Philadelphia Museum and partners from its communities: "an expansive project that tells a story of radical community building and active resistance through the personal and collective narratives that make up Philadelphia's changing urban fabric". In Canada, the Museum of Vancouver actively undertakes relevant projects that have overlapping goals with its community and partners.
Marketing
It's crucial to choose effective ways to communicate sustainability messaging, so that it's not only meaningful to our audiences and stakeholders but can also encourage changes in behaviour. That's where marketing comes in. One particular framework is the SHIFT model from Katherine White, Rishad Habib and David J. Hardisty, which places emphases on "social influence, habit formation, individual self, feelings and cognition, and [the] tangible" in communication strategies surrounding sustainability, to address possible roadblocks and increase the message's efficiency. With this in mind, it's not surprising that when asked, museum professionals often say that the following would help them with their sustainability strategy;
knowing what other museums are doing (social influence);
having tools to incorporate new ways of doing our work (habit formation);
embed sustainability into policies to frame, drive and positively reinforce behaviour (individual self);
know the purpose, facts and data driving this strategy (feelings and cognition); and
what are concrete examples or how can this thinking be applied (tangibility).
A great example of the SHIFT approach at work is the 2021 exhibition Plastic Heart, presented at the Art Museum at the University of Toronto. Through its innovative production (aimed at minimizing waste and carbon emissions), compelling presentations on the theme, and complimentary webinars and toolkits, it left a tangible impact on visitors, the gallery, its partners, the artists and the field alike.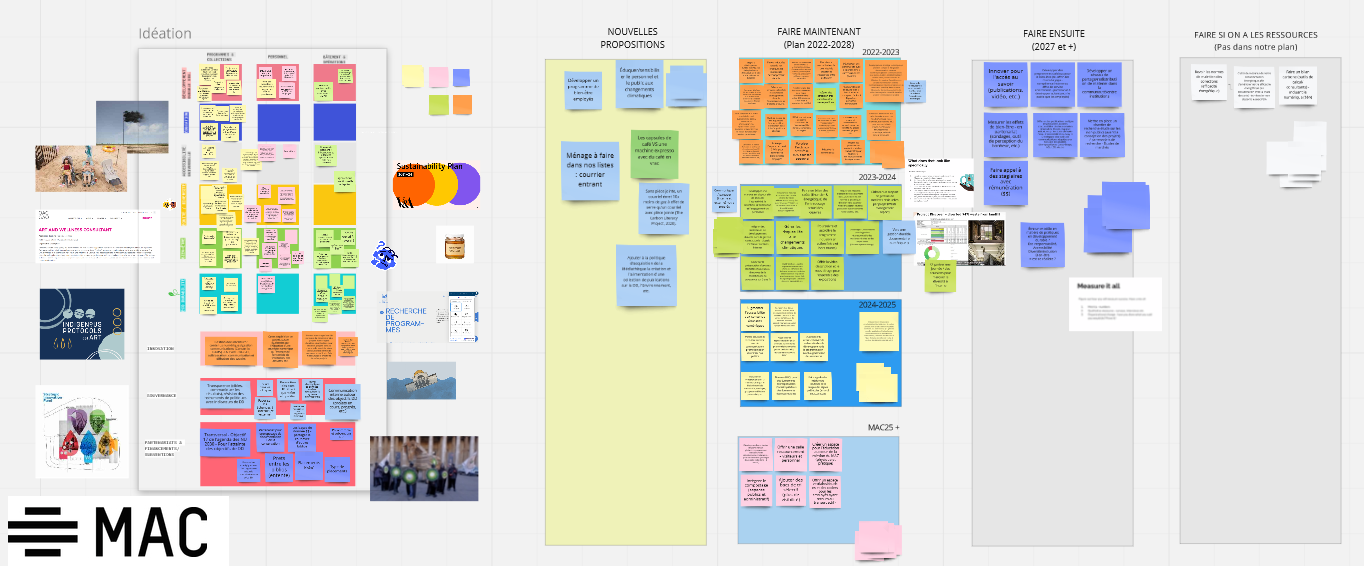 Miro board from employee workshops at the Musée d'art contemporain de Montréal towards a new sustainability plan.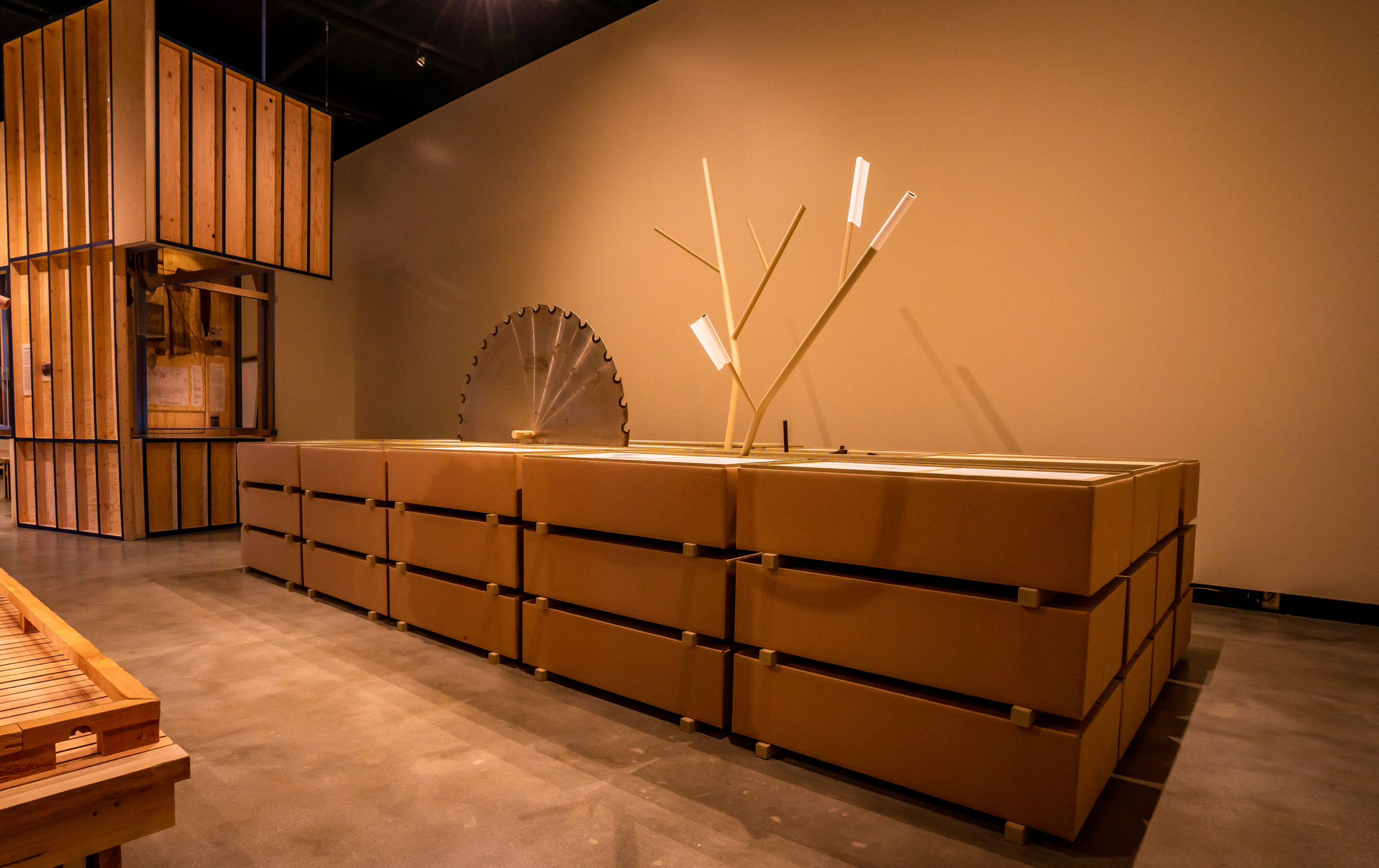 That Which Sustains Us at the Museum of Vancouver. Credit: Rebecca Blissett.
Change Management
Instrumental to implementing a sustainable development strategy, change management can be applied to the diversity, inclusion and equity field, as well as eco-responsibility and other transformational strategies. John Kotter's popular management framework consists of eight steps: "increase urgency, build a guiding team, develop the vision, communicate for buy-in, empower action, create short-term wins, don't let up and make change stick." Anyone who has been involved in major organizational changes understands why this type of phased approach, adopted at the right time and in incremental steps, is crucial for successful execution—as it can inspire buy-ins from stakeholders and (re)engagement from staff. To Elsa Boromée, sustainability coordinator at the Muséum national d'Histoire naturelle in Paris, her contribution is not to the transformation of the organization, but to the transformation of the individual jobs of her museum colleagues for a more effective and lasting overall change.
Data Collection and Reporting
Another aspect from the corporate ESG (environment, social and governance) field, sustainability and impact reporting, would prove to be advantageous for museums too. This practice demonstrates how sustainability messages, whether they consist of words or numbers, must be delivered in a medium that is understood by our intended audience. Both qualitative and quantitative data are powerful tools to garner employee support and reach decision makers. Data can also inform the foundation of a sustainability strategy, creating a baseline against which to measure and celebrate progress. As well, to adopt data-driven practices is to speak the language of our funders in outlining priorities and tracking them. It's worth noting here that more and more funding bodies are looking to shape their community investment and philanthropy strategies to fit under the UN's sustainable development goals or other ESG frameworks, such as the Sustainability Accounting Standards Board (SASB), the Global Reporting Initiative (GRI) or the Task Force for Climate-Related Financial Disclosures (TCFD); the last of these will be mandatory in Canada.
Networking
I am fortunate to have the opportunity to bring these concepts to my work at the Musée d'art contemporain de Montréal, while also recognizing that change is a slow process with a long journey ahead. But as we remember from Charlotte Coates's list, and as is evident from each of the steps above, intrinsic to adopting a sustainability strategy is creating the space to build relationships, an idea anchored in the work of Sara Kassam. Networking is also a crucial part of finding allies and potential partners. Nowadays, the breadth and depth of cultural networks for relevant exchanges have grown. Ki Culture's Ki Futures program, the Sectoral Climate Arts Leadership for the Emergency (SCALE) and the Centre for Sustainable Practice in the Arts are just a few associations helping to bridge the knowledge gaps. Conferences and professional development opportunities are also great initiatives to bring us together. Research outside the heritage and cultural field leads to even wider connections, and who knows, maybe a little innovation and resilience along the way.