Volunteer Spotlight: Ishbel Newstead
Accessibility Research at Museum of Surrey
By Sarah Dineen, Volunteer Co-ordinator at Museum of Surrey
As someone who likes to keep busy, Ishbel Newstead was devastated when the COVID-19 pandemic hit and Museum of Surrey was temporarily closed. Both an Ambassador and Education Assistant volunteer, Ishbel found herself missing the opportunity to interact with visitors, staff, and fellow volunteers. Wanting to contribute something meaningful to the community while following provincial health orders, Ishbel jumped at the chance to complete at-home research on accessibility opportunities for visitors who have low to no vision.
"When you think of the concept of accessibility, the focus tends to be on physical adjustments, such as ramps, to accommodate spaces for users in wheelchairs or walkers. During my career in special education, students with visual needs were often under-supported outside of a school setting. Accessing a tour of their local museum with a well-described narrative would help bring the exhibits to life," Ishbel said when asked about why she was excited to take on this project.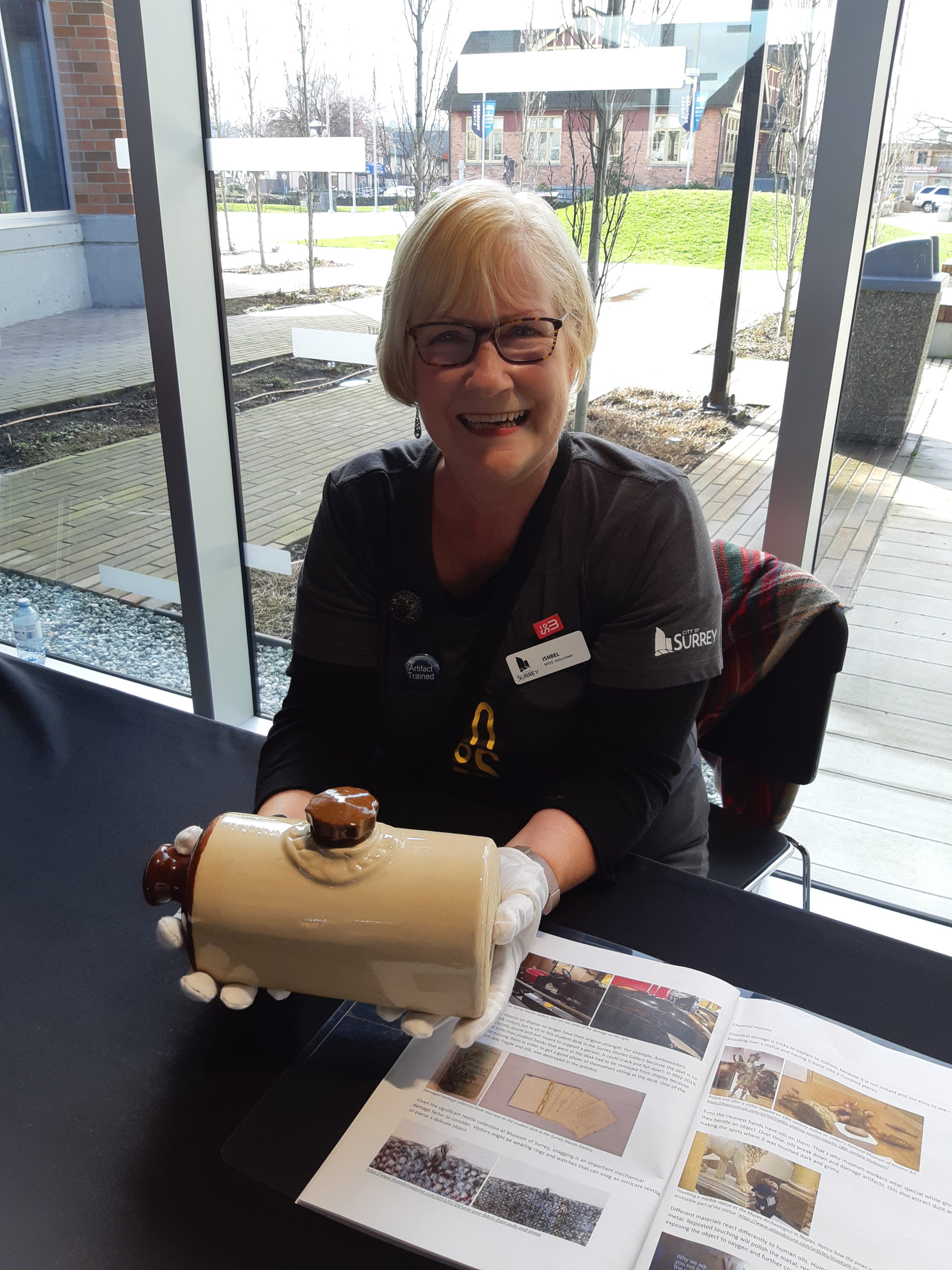 Ishbel Newstead assisting in the gallery Photo: Museum of Surrey

Ishbel began her research by attending virtual described audio tours of facilities around North America. She then reached out to the people who created these opportunities and ended up forging great connections. The accessibility coordinator at the Museum of Science in Boston, who is legally blind, invited Ishbel for a virtual tour of her home and spent two hours discussing personal and professional experiences as a person with no vision. The Henry Ford Museum of American Innovation in Michigan invited Ishbel to attend their description tours, which are Zoom meetings held every two months for those who are visually impaired to hear new exhibits being described. Some of her favourite tours included one of the Muppets and one on Tiffany diamonds.
Questions such as "What does it feel like?" and hearing guides describing objects in relation to the size of other, more common things (such as the size of a baby stroller) helped inspire new ideas for interpretation Ishbel hopes to utilize once volunteers return to the museum. Ishbel has compiled these experiences to put together drafts of descriptive audio tours of the permanent Surrey Stories Gallery at Museum of Surrey. She has utilized the technology called Matterport to create virtual tours of exhibits, to take measurements, and to describe fine details of objects in the exhibit that will be helpful for those who cannot experience it the way many of us are privileged to.
With over 250 hours of research and work put into the project, museum staff are grateful for Ishbel's dedication and passion. "We are so lucky to have dedicated volunteers like Ishbel," said Sandra Borger, Curator of Programs at Museum of Surrey. "The Museum of Surrey has implemented many accessibility initiatives over the last few years, including sensory friendly programming and spaces, reducing physical barriers, and updating washroom facilities. We plan on having staff and volunteer training on visual disabilities once COVID-19 allows in-person training, and hope to implement a described audio tour in the future. Ishbel's time and research is invaluable to the museum's goal of making our space a welcoming space for all."