Issue 282: Maintaining Momentum
We gratefully acknowledge the financial assistance of the Province of British Columbia

Winter 2021/22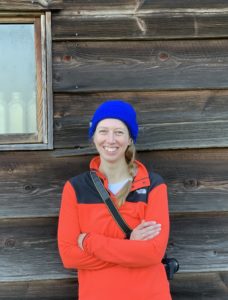 I want to take a moment to introduce myself, Leia Patterson, as the new Coordinator for Roundup, which will fall within my regular role as BCMA's Engagement Coordinator. Dr. Lindsay Foreman, the past Managing Editor, has so wonderfully left us a ship that nearly steers itself, and I am really proud to say that this has led to changes that include re-allocating funds to pay contributors for their work in writing and editing the stories we use in Roundup. At first, I was very excited to live out my childhood dream of being a journalist, but choosing the right theme for this issue of Roundup in the midst of our changing world was a challenge, and it took time for me to confidently move forward with one idea. In the end, picking a theme that provided an opportunity to be optimistic, to share truths, and forge paths forward felt like a good way to wrap up the feelings that I, and perhaps you, have been feeling and to look ahead in troubled times.
We asked members for stories that speak to the issues we have all been facing recently, and how they are continuing to centre those issues in their institutions to move forward. Perhaps your museum felt strongly about the under-representation of Indigenous points of view in the wake of the residential school burial site confirmations across the country. Perhaps logging protests, the Black Lives Matter movement, or the pandemic has been a central theme in your programming and planning. This year has been full of difficult conversations and we wanted to know how you are taking the year (or two) into review and maintaining momentum on the issues that matter most to you and your community.
I might be biased, but I think we have a great collection of stories here! I am so grateful to editor Kankana Basu for all her work behind the scenes on these articles.  I hope that they help spark conversations and invite dialogue that continues to gain momentum in our communities and our sector.
Thank you to everyone who contributed to this edition of Roundup – you bring the sector to life and I am honoured to share your stories!
Wishing you the strength that moves you forward,
Leia
Keep an eye out for information from these BCMA supporters in the articles!
Are you interested in supporting the BCMA? Learn more about opportunities to advertise with us here.

We are changing how people will learn about the past in the future

YOUR AD HERE
Highly customizable and mobile-optimized advertisements are a low-barrier way to increase awareness of your brand to the 1,000+readers in BC's arts, culture, and heritage community.

Store, Protect, Preserve
For more than 25 years H i-Cube and Spacesaver have been trusted to design, supply, and install storage solutions that preserve and protect collections to more than 45 museums in BC and the Yukon.
Check out our previous issue for more!
Roundup Issue 281
Issue 281 looks closely at where the organization and the sector has been, where it's currently at, and anticipates future foci. Join us in Celebrating B.C.'s Museums: Past, Present, and Future, and the people who work tirelessly to promote arts, culture, and heritage, diversity, equity, inclusion, and accessibility within their communities, and across the lands that we know today as the Province of B.C. and Canada. We hope this issue encourages you to reflect on your experiences as cultural consumers and/or professionals and compels you to choose a path that allows us all to move forward together in a good way.