BC Museums Association and Forager Education Win National Business/Arts Award For Innovative Learning Platform
FOR IMMEDIATE RELEASE
June 15, 2023
BC Museums Association and Forager Education Win National Business/Arts Award For Innovative Learning Platform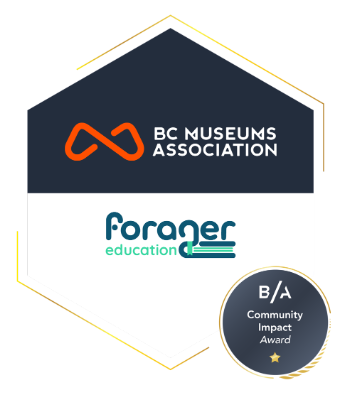 Victoria, BC – The BC Museums Association and Forager Education has been awarded the 2023 Business/Arts Community Impact Award for their online education platform, The VR Voyage Classroom. This national award highlights groundbreaking partnerships and innovative ideas driving artistic growth in Canada.
The VR Voyage Classroom brings immersive learning experiences into classrooms throughout British Columbia. This made-in-BC solution helps museums, galleries, and cultural institutions across the province more effectively market and sell online and in-person educational experiences directly to schools and teachers. Since its launch in 2022, the platform currently showcases learning experiences from 20% of all BC museums.
"The VR Voyage Classroom is a made-in-Canada platform that partners museums with educators across the country to make culture more accessible in every classroom," says Ryan Hunt, Executive Director of the BC Museums Association.
Bryce Mathew Watts, Program Director of Forager Education, adds, "We are excited to grow this platform and partnership to support new sustainable revenue sources for cultural organizations across the country."
Past winners of the Business/Arts Community Impact Award include Netflix for their partnership with Hot Docs, TELUS for their partnership with Green Thumb Theatre, and First Air for their partnership with the National Arts Centre. This is only the second time the award has been presented to a BC-based partnership.
The 2023 Business / Arts Awards Celebration is set to take place on Monday, October 16, 2023, at the Royal Ontario Museum in Toronto. For more information about the event and the honourees, please visit businessandarts.org/awards and for more information about The VR Voyage Classroom, please visit vrvclassroom.com. 
For more information please contact:
Ryan Hunt, BC Museums Association Executive Director
250.884.0499
About the BC Museums Association: 
Founded in 1957, the British Columbia Museums Association (BCMA) creates a bright future for British Columbia's museum, gallery, and related heritage communities through networking, advocacy, innovation, and professional development. Since our founding, the BCMA has grown to include more than 450 members in every corner of the province representing museums, art galleries, science centres, Indigenous cultural organizations, heritage sites, botanical and zoological gardens, cultural centres, conservation institutes, exhibition galleries permanently maintained by libraries and archives, and nature reserves.
About Forager Education
At Forager Education, we have a mission to innovate the education sector and provide professional curriculum expertise to cultural organizations searching for ways to better engage their collections in a classroom setting. We seek to build a cultural sector that has the skills and resources to promote the shared history housed within their collections.