Spotlight on Museum Ed
Virtual Community Connections: Uplifting Artists and Sharing their Talents through the COVID-19 Pandemic
q̓ʷɑt̓ic̓ɑ Phyllis Atkins, stɑl̓əw̓ Arts & Cultural Society with Lindsay Foreman, Roundup Managing Editor
stɑl̓əw̓ Arts and Cultural Society, formerly Coast Salish Arts and Cultural Society, was established as a not-for-profit organization in 2014 to support, uplift, and empower Indigenous artists to share their gifts throughout the Metro Vancouver region. Our work prioritizes the development of opportunities for artists of all traditional and contemporary Indigenous cultural practices to grow and share their skills, engage with and learn from other Indigenous artists and community members, and promote their work within the community and beyond.
We work collaboratively with the local land-based First Nations, urban Indigenous, and Métis communities and organizations to provide inclusive and relevant programs and support to artists and community members alike. Situated within Coast Salish lands of the q̓ic̓əy̓ (Katzie), q̓ʷɑ:n̓ƛ̓ən̓ (Kwantlen), Máthekwi (Matsqui), and se'mya'me (Semiahmoo) First Nations, we frequently collaborate with artists from these communities, and with the Lower Fraser Valley Aboriginal Society and the Waceya Métis Society, to deliver programming. We also have a strong relationship with the Langley School District, and support the Aboriginal Program within Langley Schools.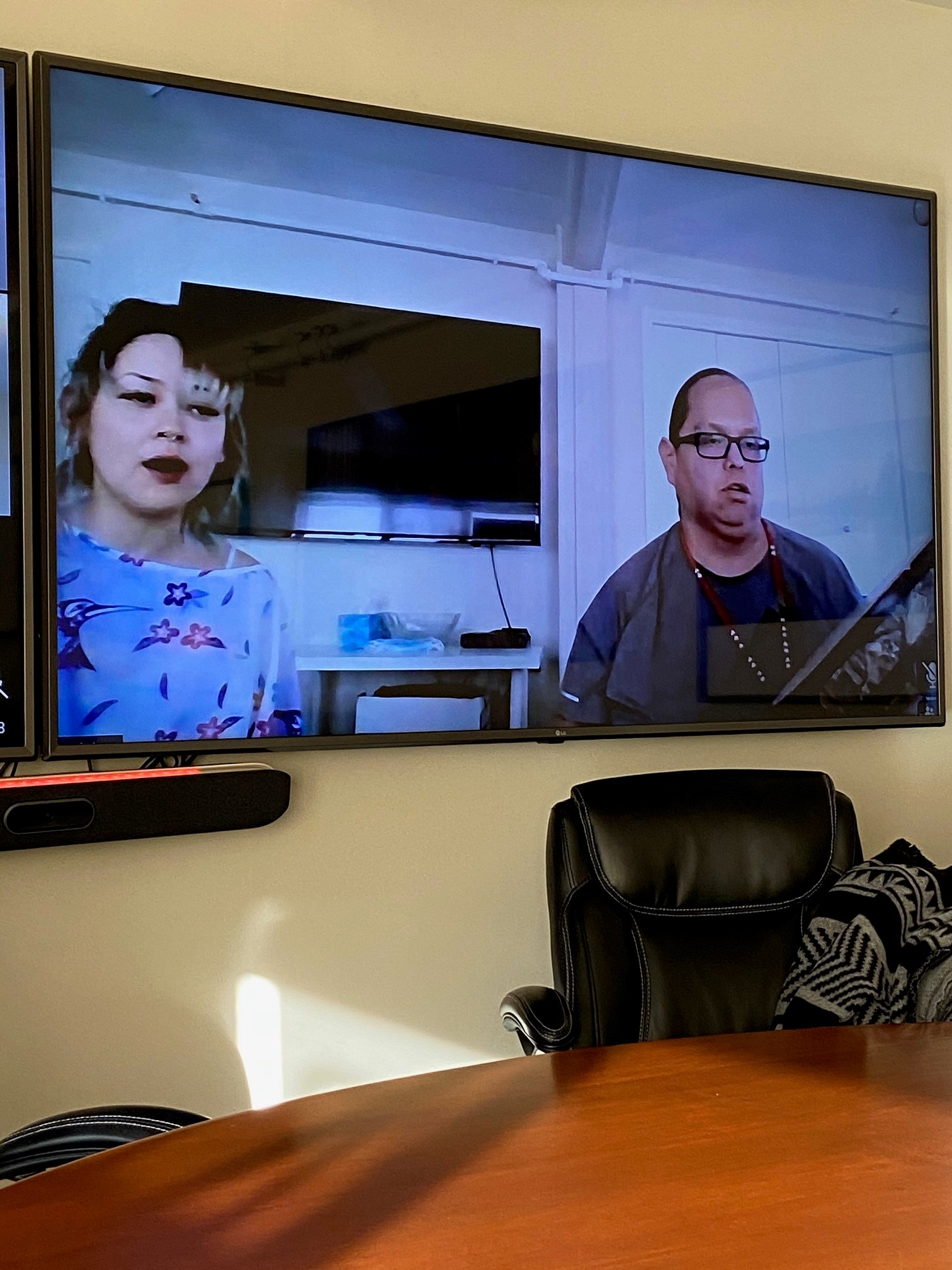 Rose Fillardeau and TsaTsomTun Dennis Leon singing/drumming at a stɑl̓əw̓ virtual gathering, 2021.
Photo credit: q̓ʷɑt̓ic̓ɑ Phyllis Atkins, stɑl̓əw̓ Arts and Cultural Society.
The work that we do at stɑl̓əw̓ is guided by the seven traditional laws passed down by our ancestors: health, happiness, generations, generosity, humbleness, forgiveness, and understanding. We welcome all those interested in learning about and practising Coast Salish arts and culture, to join us. Our goal is to create a better world for future generations by sharing our knowledge and practices and by celebrating and respecting the lands on which we live, work, and create.
stɑl̓əw̓ facilitates workshops and other cultural events to help revitalize traditional culture in our community and beyond. Transforming our workshops to a digital format over the past year has improved the accessibility of our programs, reaching Indigenous artists and communities across the world: we've had participants from all over B.C., Alberta, Ontario, California, and even the UK! Archiving these workshops online ensures that they are available to a broader audience through both space and time.
Each workshop, program, or event we deliver combines multiple art forms, encouraging community participation. Singing and drumming in our hən̓q̓əmin̓əm̓ and halq'eméylem languages are key components to our dancing, weaving, carving, visual arts, storytelling, videography, and cooking practices. We intertwine these practices in our everyday lives and encourage our community members to do the same.
stɑl̓əw̓ has offered virtual language and cooking lessons, and a variety of workshops and gatherings over the past year to encourage both mental and physical wellbeing through participation in traditional and contemporary art practices. Our organization has been fortunate to receive funding from the following sources to support this work: BC Arts Council, First Peoples' Cultural Council, Vancouver Foundation, Emergency Community Support Fund (distributed by Surrey Cares Foundation on behalf of Community Foundations of Canada), LiUNA! Local 1611, and Kwantlen First Nation Headstart.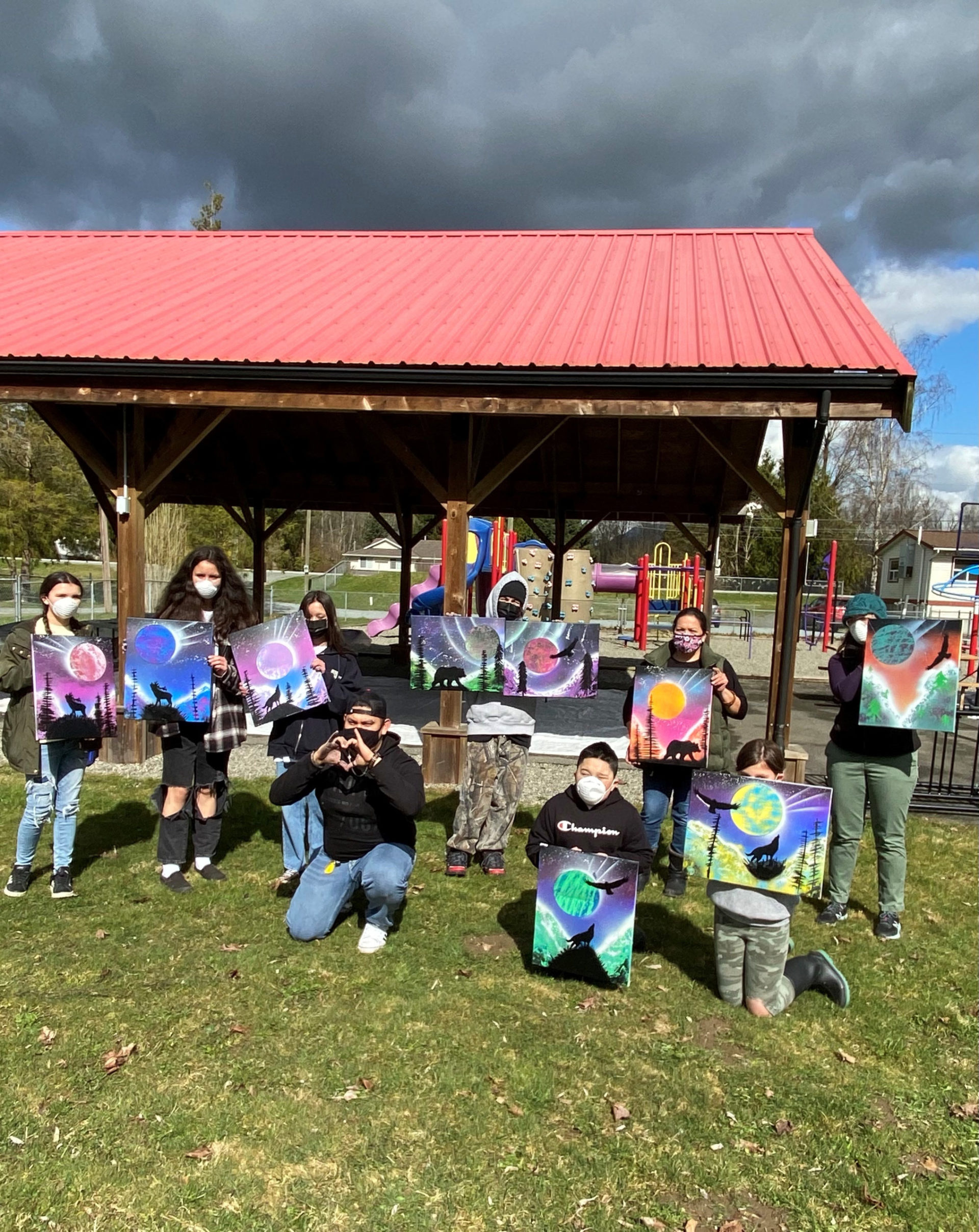 Youth spray painting workshop at q̓ʷɑ:n̓ƛ̓ən̓ First Nation with sɬə́məxʷ Rain Pierre, March 2021.
Photo credit: q̓ʷɑt̓ic̓ɑ Phyllis Atkins, stɑl̓əw̓ Arts and Cultural Society.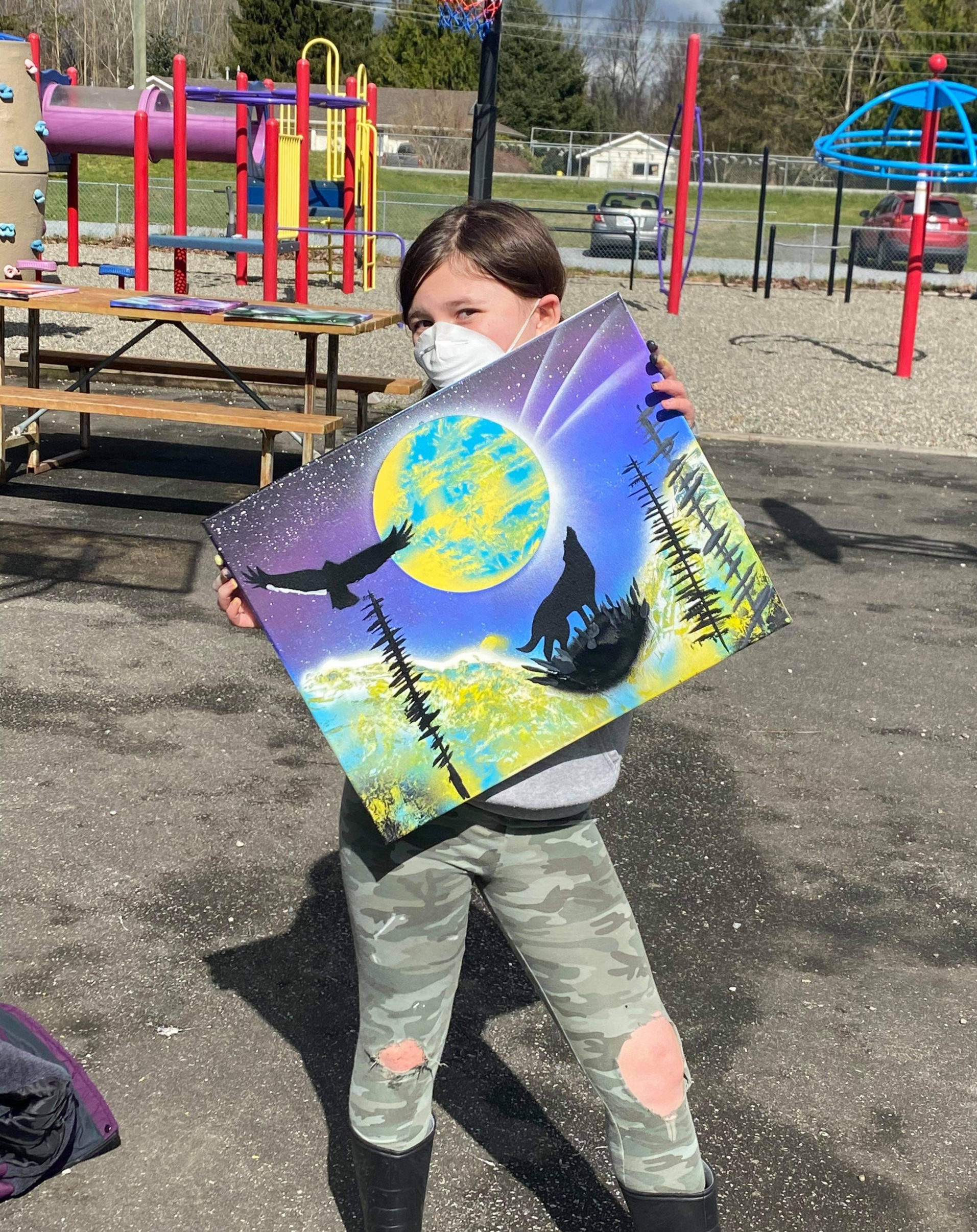 Emma W. sharing her painting from the workshop, March 2021.
Photo credit: q̓ʷɑt̓ic̓ɑ Phyllis Atkins, stɑl̓əw̓ Arts and Cultural Society.

Store, Protect, Preserve
For more than 25 years H i-Cube and Spacesaver have been trusted to design, supply, and install storage solutions that preserve and protect collections to more than 45 museums in BC and the Yukon.
Between early 2020 and the present, stɑl̓əw̓ has supported the following artists in sharing their gifts:
Cooking: Karen Gabriel
Singing and Drumming: Rose Fillardeau, TsaTsomTun Dennis Leon, Plaxulwit Michelle Saul
Beading: Chazlyn Brown, Una-Ann Moyer, Auntie Helen Carr, Ravina Morgan
Cedar Weaving: qoqwalem oles Hazel Gludo
Wool Weaving: Atheana Picha, θəliχʷəlʷət Debra Sparrow
Storytelling: Joseph A. Dandurand, sesmélət Fern Gabriel
Traditional Healing: šxʷne:m Deanna Miller, Carlyn Andres
Painting: sɬə́məxʷ Rain Pierre, Tiyaltwelwet Melanie Rivers
Pow Wow Dancing: Shyama-Priya Singh, David Whitebean
Traditional Language (hən̓q̓əmin̓əm̓ and halq'eméylem) Keepers: TsaTsomTun Dennis Leon, Auntie Helen Carr, sesmélət Fern Gabriel, Auntie Barbara Stewart
Natural Fibre Work: Patti Williams
stɑl̓əw̓ will continue to offer this variety of virtual programs to the public for the duration of 2021. We hope we will also be able to offer some programs in a hybrid format, following public health guidelines, with small groups coming together in person. Be sure to check out our social media channels (@stalewartsandculture @stalew_artsculture) for further details over the coming months!
Other initiatives currently in the works include the development of a skate park for local Indigenous youth, the creation of a variety of collaborative public art opportunities that showcase contemporary and traditional practises, a workshop series to support Indigenous artists with networking, marketing their skills, and identifying project work, and the return of our Pow Wow in the fall of 2022!
q̓ʷɑt̓ic̓ɑ Phyllis Atkins is a professional artist, founder, and co-owner of K'wy'i'y'e Spring Salmon Studio, established in 2005. Over the past three decades, she has worked on several art and public art projects throughout the Lower Mainland of B.C. Her preferred forms of expression include drawing, painting, and engraving. q̓ʷɑt̓ic̓ɑ has collaborated on a number of different projects, including as an illustrator for two children's books, ʔi ɬeʔ k̓ʷxet kʷθə ɬqelc̓, Let's Count the Moon and Totí:lt Q'ép, Learning Together, which teach children the hən̓q̓əmin̓əm̓ and halq'eméylem languages, respectively.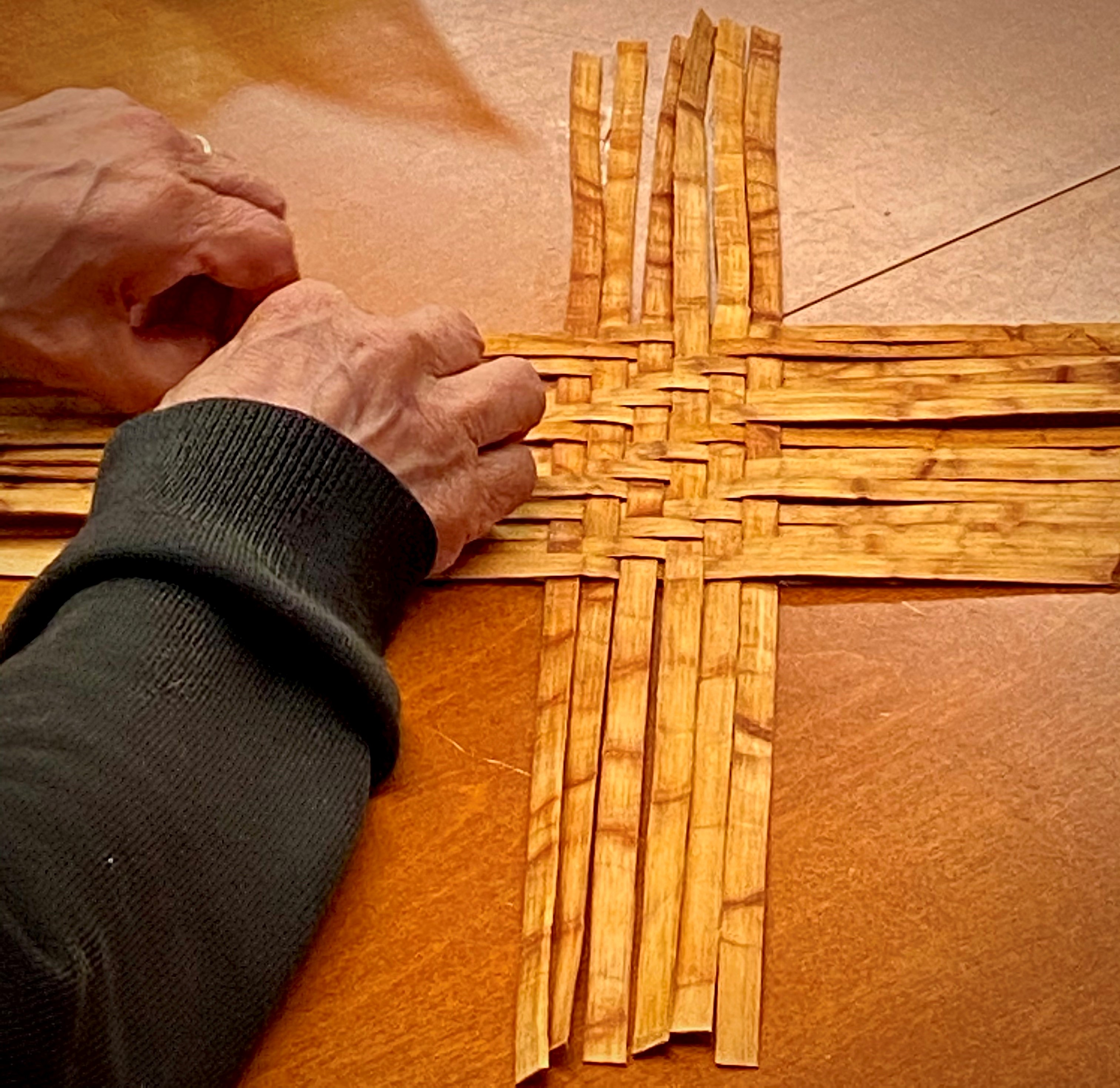 qoqwalem oles Hazel Gludo weaving a cedar graduation cap, 2021.
Photo credit: q̓ʷɑt̓ic̓ɑ Phyllis Atkins, stɑl̓əw̓ Arts and Cultural Society.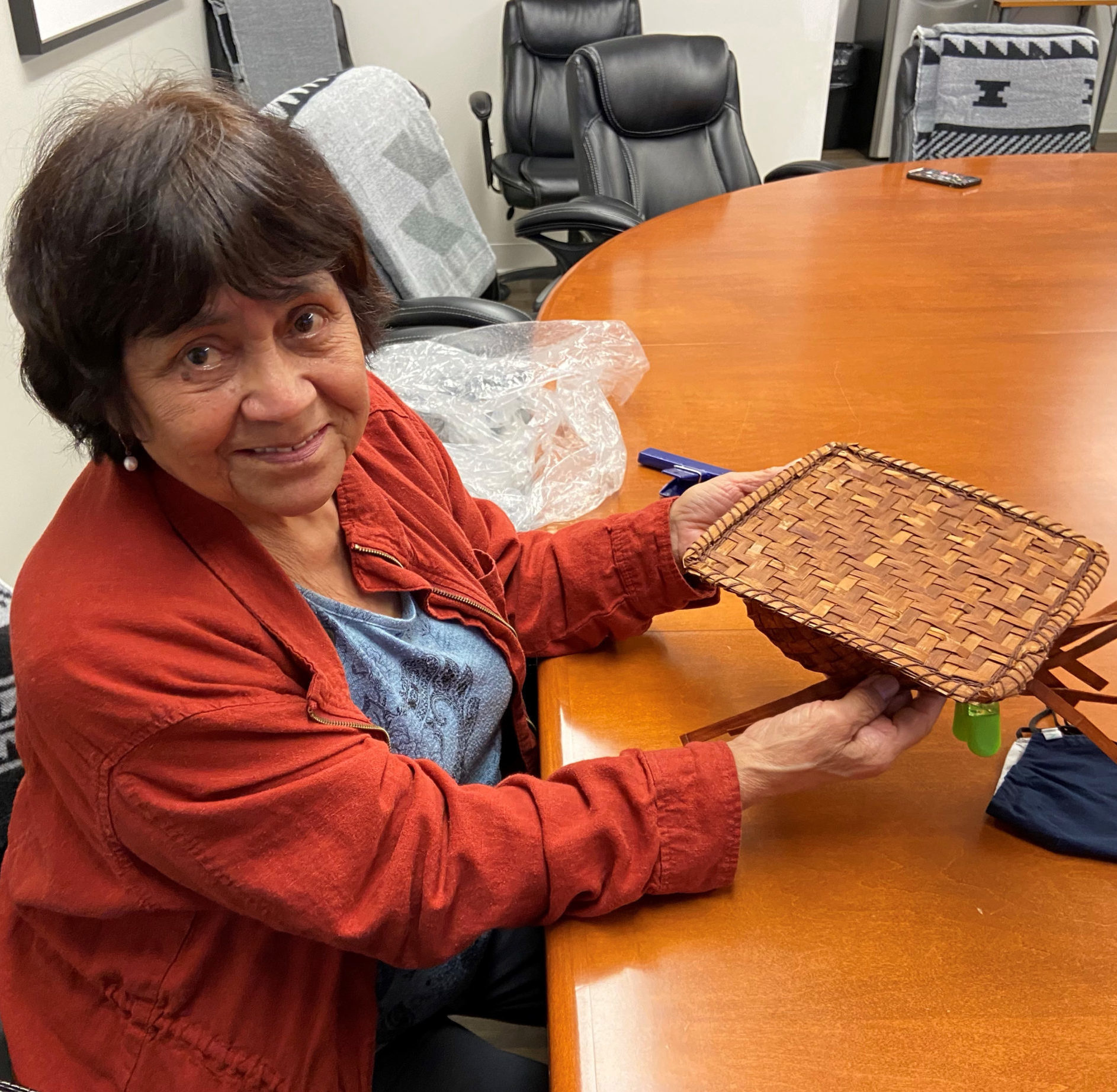 qoqwalem oles Hazel Gludo with finished cedar graduation cap, 2021.
Photo credit: q̓ʷɑt̓ic̓ɑ Phyllis Atkins, stɑl̓əw̓ Arts and Cultural Society.