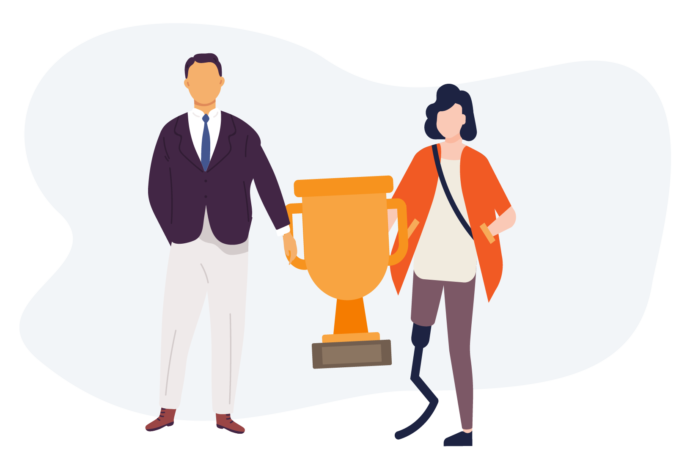 Since 1971, the BCMA has recognized cultural and heritage organizations for their excellence.
Service & Stewardship Award Recipients
2021
Colleen Palumbo, formerly of the Golden & District Historical Society, received a Distinguished Service Award which honours an individual who has made a unique and outstanding contribution on a regional, provincial, or national basis over an extended period of time. Colleen recently retired after 30 years of operating the Golden Museum and Archives. She nurtured the museum into a community-oriented, inclusive, accessible organization.
Sdahl K'awaas Lucy Bell, Haida Repatriation Committee, received the Museum Stewardship Award which recognizes an outstanding effort and contribution with a lasting impact to the sector. In her nomination, Bell was described as having "rocked the entire world of the GLAM sector on the West Coast [causing] a ripple effect to enact meaningful change and motivate others to be enactors of change."
2020
Barbara Bell, Head Archivist at The Greater Vernon Museum and Archives – in recognition of her lifetime of service and tireless dedication to inspiring and engaging others. Her many hours spent volunteering and mentoring are remarkable and she has made a significant impact on a whole generation of museum workers.
Julie Fowler, Executive and Artistic Director of Island Mountain Arts – for her significant contributions in a wide range of arts & culture organisations across BC and in recognition of her demonstrated incredible energy, commitment and hard work. The committee was impressed by the scope of her impact, not just on the festival she created but on all the artists and performers the festival has helped bring to prominence.
2019
Ian Thom – For over 30 years of service in senior curatorial positions at the Vancouver Art Gallery and Art Gallery of Greater Victoria.
2018 
Marl Brown – Fort Nelson Heritage Museum
2017
Gary Mitchell – Provincial Archivist Emeritus
2016
George Harris – For years of work, through Two Rivers Gallery, to develop the careers of northern-BC artists and to bring internationally-renowned artists to northern BC.
2015 
Jennifer Iredale – Retired director of the province's Heritage Branch.
---
Award of Merit Recipients:
2021
Award of Merit: Excellence in Social Action.
Adrienne Silver and the team at Stó:Lō Aboriginal Skills & Employment Training (SASET) received the Award of Merit: Excellence in Social Action. SASET makes it possible for museums to engage Indigenous youth in a transformative way and be the change through hiring practices. SASET creates positive social impact through the generous method of reciprocity in their work; not only do they provide funding, but they provide ongoing support to all parties and ensure that they build relationships with the organizations they fund.
 Award of Merit: Excellence in Community Engagement
The Reach Gallery Museum and contributors received the Award of Merit: Excellence in Community Engagementfor SEMÁ:TH XO:TSA: Great-Gramma's Lake storybook. Key contributors include: Thetáx Chris Silver, Xémontélót Carrielynn Victor, Kris Foulds, and Laura Schneider. The Reach's Semá:th Xo:tsa project, in partnership with Stó:lō collaborators, resulted in the publication of a children's book, exhibition and community programs about the drainage of Sumas Lake in 1924. The project renounces the celebratory settler narrative to focus on the enduring and profound impact drainage had on the lives and livelihood of the Stó:lō people.
Award of Merit: Innovative Practice
University of Victoria and Partner Organizations received the Award of Merit: Innovative Practice for Landscapes of Injustice, a partnership of museums, community, and academics that sheds new light on the history of racism in Canada.  Partner organizations include: Canadian Museum of Immigration, Japanese Canadian Cultural Centre, Nikkei National Museum, Royal BC Museum, University of Alberta, University of Winnipeg, Simon Fraser University, Vancouver Japanese Language School and Japanese Hall, National Association of Japanese Canadians, Library and Archives Canada, and Ryerson University.

The Bateman Foundation received this year's People's Choice Award for their Wellness Program which supported the mental wellbeing of their community by providing free therapeutic art programming. Facilitated by art therapist Kaitlin McManus, the programs were aimed at helping those experiencing anxiety and depression in the wake of COVID-19 by allowing participants to express themselves through mindful art making.
The following Honourable Mentions were also awarded by the BCMA Awards Committee:
The Pacific Museum of Earth for pivoting so successfully during the COVID-19 pandemic, expanding their reach, and becoming a role model to larger institutions.
Sncewips Heritage Museum for celebrating Indigenous culture and heritage through fun, fresh, and engaging online video content during the COVID-19 pandemic.
The Council of the Haida Nation, Haida Gwaii Museum, and School District 50 for their iPads for Elders program which helped equalize access to technology among the islands' senior citizens.
The Museum of Anthropology & Contributing Artists for Playing with Fire: Ceramics of the Extraordinary, an exhibition that brought attention to social, economic, political issues and challenges. Contributing artists include: Judy Chartrand, Gathie Falk, Ian Johnston, Glenn Lewis, Bill Rennie, Brendan Tang, Ying-Yueh Chuang, Jeremy Hatch, David Lambert, Alwyn O'Brien, and Debra Sloan.
2020
Award of Merit – Exhibitions
Two Rivers Gallery and Independent Indigenous Curator Rose M. Spahan received the Award of Merit, Excellence in Exhibitions for their exhibit, Redress: Sacred Obligation – Indigenous Voices on Reconciliation.  "Redress was a very important exhibition that focused on residential schools and the impact they had on Indigenous people across Canada for well over a hundred years. Their impact is deeply felt to this day. Rose Spahan, and the Two Rivers Gallery team, including myself, are thrilled to receive this award in honour of the twenty-two artists whose work was incorporated into this exhibition and the countless Indigenous people for whom these stories resonate. Many in our community worked with this project and we are very grateful for their support," says co-curator George Harris, Two Rivers Gallery. The exhibition featured work by Mike Alexander, (Anishnaabe); Kristy Auger, (nêhiyaw [Plains Cree]); Crystal Behn-Dettieh, (Dene/ Carrier); Margaret Briere, (Coast Salish); Liz Carter, (Kwakwaka'wakw); Lee Claremont, (Mohawk, Six Nations); Joane Cardinal-Schubert, (Blackfoot, Kainai); Waabi Makoohns- James Darin Corbiere, (Anishinaabe); Emily Dundas Oke (Cree/ Métis/ Scottish); TEMOSEN- Charles Elliot, (T'sartlip); Karen Erickson, (Métis/ Cree); Pat Gauthier (Secwepmec [Shuswap]); Monique Hurteau, (Muskowekwan/ Cree/ Ojibway/ Métis); Carla Joseph (Métis/ Cree); Keith Kerrigan (Haida); lessLIE, (Coast Salish); Lou-ann Neel, (Kwakwaka'wakw); Carey Newman, (Kwakwaka'wakw/ Coast Salish/ English/ Irish/ Scottish); Jennifer Annaïs Pighin, (Lheidli T'enneh/ Wet'suwet'en/ French Canadian/ Italian); Lenard Paquette (Cree/ Métis); Patricia June Vickers, (Ts'msyen); and Lawrence Paul Yuxweluptun, (Coast Salish/ Okanagan). The progressive and fundamentally artist-driven nature of exhibition development and engagement exemplifies the transformative potential of museums and galleries.
Award of Merit – Community Engagement
The Museum of Surrey received the Award of Merit, Excellence in Community Engagement for their three-year engagement with the Punjabi community in Surrey, BC. The exhibit Being Punjabi: Unfolding the Surrey Story is a wonderful example of an exhibit curated in a collaborative manner, that brought community stories to a broader audience and generated a heartfelt interest in a unique and vibrant culture by foregrounding, prioritizing, and empowering the community as co-curators and programming leads "The Being Punjabi exhibit project was unique because it presented the unfiltered voices of community members, as gathered, rather then just taking into consideration feedback from community," Colleen Sharpe, project leader and Curator of Exhibits, Museum of Surrey. "Being Punjabi: Unfolding the Surrey Story invites continued dialogue about what it means to be Punjabi in Surrey – past, present and future. The exhibit is a tribute to Punjabi community members who came forward to share their stories. Above all, it is an invitation to celebrate diversity in Surrey, and a call to challenge the assumptions we make about each other."Community contribution included The Punjabi Advisory Committee, Balbir Gurm, Ranbir Johal, Raj Lally, Moninder Lalli, Steven Purewal, and Sharanjit Kaur Sandhra;  exhibit text writers: Steven Purewal, Moninder Lalli, Ranbir Johal, Sharanjit Sandhra, Balraj Kahlon, Balbir Kaur Gurm, Naveen Girn,  Bob Mann, Charan Gill, Balkaran Singh, Kal Dosanjh, Raj Thandi, Saira Kanwal, Anita Lal, Fauzia Rafique; audio storyteller Lady B (Bali K Deo); and the many dozens of community members and artists who lent items for the exhibit and participated in video interviews.
Honourable Mention – Impact and Engagement
Touchstones Nelson: Museum of Art and History, received an Honorable Mention for Impact and Engagement for their exhibition A Mountain Biking Retrospective. This exhibit responded to an unexplored yet vital part of the community's identity and contemporary cultural development. "Touchstones Nelson Museum, and the entire mountain bike community of Nelson and area, are thrilled to receive this recognition. Thank you! The list of individuals, trail builders, riders, local mountain bike stars, community groups, mountain bike associations throughout the Kootenays, artists, filmmakers, historians, and businesses that contributed to this exhibition is exceptional—it was truly built by those who created this history, and further form the mountain bike culture today. A special thank you to Darren Davidson, Deb MacKillop, Freeride Entertainment, Sacred Rides, NRG Enterprises, the Nelson Cyclin Club, and Pinkbike," says Astrid Heyerdahl, Curator of A Mountain Biking Retrospective and Executive Director of Touchstones Nelson: Museum of Art and History. The exhibit was multi-faceted and strategically executed. This museum understood its community and stimulated museum interest by exploring an activity many in the community embraced wholeheartedly.
2019
Award of Merit – Exhibitions
Wild Things – Museum of Vancouver and Nature Vancouver
Award of Merit – Community Engagement
Cross-Cultural Strathcona Walking Tour and the 17 partner organizations that made up the working group
Award of Merit – Excellence in Collections
Vancouver Holocaust Education Centre's new collections management database
Honourable Mention – Impact and Engagement
"Húy̓at: Our Voices our Land" interactive website (www.hauyat.ca) is the result of eight years of collaboration between Heiltsuk First Nation and researchers from several institutions.
Honorable Mention – Sustainability
The Cannery Cat's Collection exhibit celebrating 125th anniversary of the Gulf of Georgia National Historic Site
Honourable Mention – Excellence
Luminocity – Kamloops Art Gallery (tie)
BOOM! – Britannia Mine Museum (tie)
2018
Award of Merit – Exhibitions
The Reach Gallery Museum – Grand Theft Terra Firma
Award of Merit – Community Engagement
Nikkei National Museum – Honouring the 75th anniversary of Japanese Canadian Internment
Award of Merit – Excellence in Collections
Mayne Island Museum under the auspices of the Mayne Island Agricultural Society – Digitizing of John Aitken's work
2017 
Award of Merit – Exhibitions
Fernie Museum – An Immigrant Story: The Rise and Fall of Emilio Picariello
The Exploration Place Museum + Science Centre – Hodul'eh-a: A Place of Learning
Award of Merit – Community Engagement
Musqueam Indian Band and UBC Museum of Anthropology – xʷməθkʷəy̓əm: qʷi: l̕qʷəl̕ ʔə kʷθə snəw̓eyəɬ ct, Musqueam: Giving Information About Our Teachings
Museum Stewardship and Service Award
Costume Museum at Government House (originally nominated for Award of Merit – Community Engagement)
Innovation Award, sponsored by NGX Interactive
Carl Schlichting, Museum of Anthropology at UBC – for creative and innovative development of mounting technology
Distinguished Service Award
Gary Mitchell – BC Archives (retired)
Honourable Mention – Impact and Engagement
Surrey Art Gallery – UrbanScreen Projecting Art After Dark (originally nominated for Award of Merit – Community Engagement)
2016
Chinese Canadian Artifacts Project – For the 16 museums across BC who came together to make their Chinese Canadian holdings publicly accessible in an online database.
Sikh Heritage Museum National Historic Site – For four years of innovative programming and exhibits recognizing and raising awareness of Sikh heritage and history in British Columbia and Canada at the Gur Sikh Temple.
The Residential and Indian Day School Art Research Project – For gathering and sharing the personal stories behind student-produced art at Residential and Indian Day Schools.
2015 
UBC Museum of Anthropology, Vancouver – UBC Museum of Anthropology curator Pam Brown and the exhibition team for the "Claiming Space: Voices of Urban Aboriginal Youth" exhibit.
Vernon Public Art Gallery – for the successful Okanagan Print Triennial.