2022 BCMA Annual Awards
CELEBRATING THE TRANSFORMATIVE POWER OF MUSEUMS
Join museum, gallery, and heritage professionals and volunteers from every corner of British Columbia for the BCMA Annual Awards.
The Awards portion of the evening will directly follow the AGM on October 19, 2022 and will be open to the public for viewing through Zoom. Institutions and individuals will be recognized for their embodiment of excellence in the province's museums, galleries, and heritage sector, who dedicate their careers to making a difference in their communities, and who challenge us to never stop growing and evolving. 
Since 1971, the BC Museums Association (BCMA) has recognized British Columbia's museums, art galleries, Indigenous cultural centres, historic places and other arts, culture, and heritage organizations for their excellence in special projects, programs, exhibits, initiatives, and innovation.
Distinguished Service Award
Distinguished Service Awards recognize an individual (or individuals) who has made a unique and outstanding contribution to the museum, gallery, archive, or heritage community on a regional, provincial, or national basis. The Distinguished Service Award recognizes a contribution made over an extended period, and not for a short-term or single project.
Winners:
Winnie Cheung
Pacific Canada Heritage Centre – Museum of Migration Society (PCHC-MoM)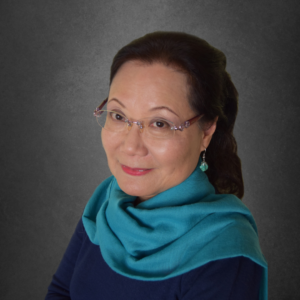 Winnie Cheung is a community leader and a strong advocate for marginalized and racialized youth. Her work has had far-reaching impacts on equity and inclusion in the province and across Canada, and her projects continue to transform our understanding of Canada's history from past to present. She volunteers her time to mentor and support young people in several non-profit and charitable endeavours as a board member, volunteer, and executive director, and continues to serve these roles even in retirement. As an educator, mentor, and social justice advocate, Winnie has put her anti-racism knowledge into practice by building more inclusive organizations where Indigenous, Black, and People of Colour (IBPOC) can find a home for their ideas and passion projects.
Winnie's contribution and positive impact to Pan-Asian arts and culture spans many decades. She is an international and intercultural educator, art lover, history buff and published writer in English and Chinese. She has been a bridge, building together disparate communities for intercultural understanding and collaboration. In the past 11 years as a founder and volunteer E.D. of the Pacific Canada Heritage Centre – Museum of Migration (PCHC-MoM), she has preserved and shared migration stories and was instrumental in forming partnerships with other organizations such as the Burnaby Village Museum, the Nikkei National Museum and Cultural Centre, Laurier Institution, UBC Asian Canadian and Asian Migration Studies, SFU Centre of Dialogue, Asian Canadian Writers Workshop (ACWW), and Vancouver Asian Heritage Month Society (VAHMS).
Winnie is always on the lookout for ways to acknowledge the transformational potential young people can have on society. She knows that her work will continue to build a better and brighter future, and her tireless commitment to change motivates everyone around her to do the same.
Photo credit: Catherine Clement
Dr. Tzu-I Chung
Royal BC Museum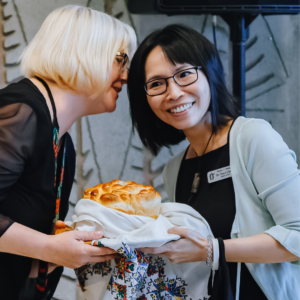 Dr. Chung's critically-informed practice and diverse experience with community-engaged research is trailblazing new pathways for culturally democratic spaces in the museum and cultural heritage sector. Dr. Chung's work is focused on innovative museum practice to co-explore the heritages of the diverse peoples in the province. Dr. Chung works to convene, support and preserve the complex histories of diverse cultural groups. Her goal is the transition of interpretive authority from museums to communities, and by doing so, "refocusing the museum as a space and facilitator for intercultural dialogues, cultural transmission, diverse forms of learning and social cohesion."
"For over a decade, Tzu-I has led the development of new community-based intercultural and multicultural initiatives that have guided the work of major departments across the Royal BC Museum. She has consistently facilitated critical interventions and led multi-initiative legacy projects based on cross-sectoral partnerships. As a community builder she has co-fundraised and co-developed with community partners the Chinese Canadian Legacy Projects, Punjabi Canadian Legacy Projects and South Asian Canadian Legacy Projects – cultivating people's strengths, articulating needs and leveraging resources." -Janet MacDonald, Emeritus Educator, Royal BC Museum
"Dr. Tzu-I Chung contributed enormously as co-lead in development and implementation of the South Asian Canadian Legacy Project in partnership with the Royal BC Museum. The South Asian Studies Institute at the University of the Fraser valley is indebted to Dr. Chung for her vision, steadfast support, guidance and leadership for innovation required to build heritage legacy with BC's South Asian Canadian communities. Over the last six years Dr. Chung traversed seven BC regions helping build a strong sense of South Asian Canadian settlement history and in building a remarkable legacy of heritage work that will support future work." -Dr. Satwinder Bains, South Asian Studies Institute, University of the Fraser Valley
Photo credit: Mel Grisak/Royal BC Museum
Changemaker Award
Previously called the Museum Stewardship Award, the Changemaker Award recognizes an outstanding effort and contribution with a lasting impact to the future of museums, galleries, archives and/or heritage resources fields.
Winner:
Sammy Chien 簡上翔 (Chimerik 似不像)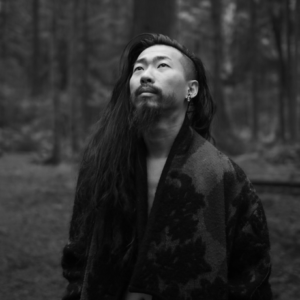 A large part of Sammy Chien's work centres on creative connections with the community that's unconventional and boundary pushing. With over 400 creative engagements (including mentorship, teaching and presentations) he's actively shifting the power of storytelling, empowering underrepresented voices and raising awareness on the complex topics of intersectionality, radical inclusion, expanded technology and spirituality.
Sammy's nomination notes, "[His] ongoing mission is to create, engage and inspire works, platforms and activities that fosters interdisciplinary, intercultural and transnational collaborations through new media, digital technology, performance and multifaceted forms of art… With a focus on sourcing the creative energy from the state of gratitude, love and joy, he believes that each individual can expand our potential as a collective to have an energetic ripple effect to the sociopolitical, artistic and spiritual impact to humanity at large."
Photo credit: Joey Chaos of Bad/Good
Honorable Mention:
Carolyn Butler-Palmer, "See-Jane-the-Artist Project"
Department of Art History and Visual Studies, University of Victoria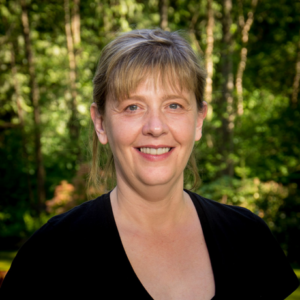 Carolyn Butler Palmer's "See-Jane-the-Artist Project" warrants recognition for contributions to the training of museum professionals and opening up opportunities for women artists. Gender equity is at the heart of the "See-Jane-the-Artist" project, which links issues of gender equity to those of representation and takes its name from the Geena Davis Institute's "See Jane Campaign". As historian Anne Dymond has argued, Canadian art galleries manifest gender bias in their programming, noting that "less than 25 percent of the contemporary exhibitions at…major galleries" focused on women.
In 2014, before the initiation of "See-Jane the Artist," programming about women artists at the Legacy Gallery came in at about 10 percent. Since 2015, solo women artists' exhibitions at the Legacy Gallery have risen to over 25 percent. The "See-Jane-the Artist" project has also positively impacted UVic's art collections with an increase of 600 percent in Ellen Neel's artwork holdings and two percent of that of Elizabeth Yeend Duer. This work helps to promote and preserve these women's cultural expressions for future generations.
Awards of Merit
The Awards of Merit recognize an individual, institution, project, or initiative for an outstanding recent innovation or creative achievement in any area of the museum, gallery, archive or heritage field in British Columbia.
Award of Merit – Excellence in Community Engagement
This Award of Merit recognizes a recent outstanding success in community engagement, as demonstrated by ongoing participation of new audiences, new partnerships with community organizations, supporting needs of the community, etc.
Winner:
Chinatown Storytelling Centre
A Vancouver Chinatown Foundation initiative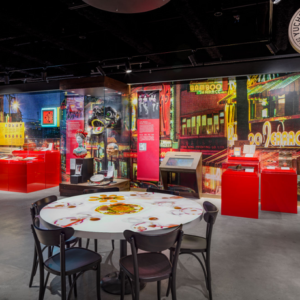 The first permanent space of its kind in Canada, the Chinatown Storytelling Centre (CSC) is preserving Chinatown's histories and boosting local revitalization through outreach, education, and public programs.
With its innovative focus on storytelling and living heritage, the CSC has played an instrumental role in documenting and sharing the stories and memories of the neighbourhood as well as providing a vital space for intergenerational community building.
For decades, Chinatown's stories, memories, and cultural heritage have been slipping away. The CSC is a groundbreaking institution in its focus on storytelling as a living form of heritage, not to be frozen in time, but to be activated and embraced as a community-engaged practice for all.
Photo credit: John Sinal
---
Award of Merit – Social Impact
This Award of Merit recognizes the significant contribution of an organization advocating for the advancement of an important social cause such as reconciliation, social justice, inclusiveness, accessibility, sustainable development, climate action, wellness, etc.
Winner:
Museum at Campbell River and Cecil Dawson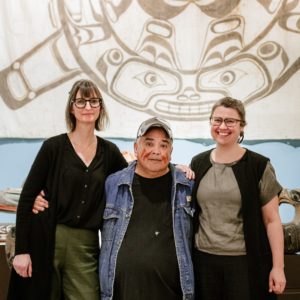 The Museum at Campbell River and Cecil Dawson, hereditary chief and artist, joined hands to share one family's colonization experiences that enfold contemporary social issues.
Located in the unceded territories of the Liǧʷiɫdax̌ʷ First Nations, the Museum at Campbell River recently opened the temporary exhibit "Cecil Dawson: Standing in the Gap". Co-curated by Cecil Dawson and Beth Boyce, Cecil's history was captured through an Indigenous lens and addressed timely contemporary social issues including the impact of pandemics and the burial sites of children uncovered at residential schools across the country.
It also addressed the role that museums have played in colonization and their role in the pursuit of (re)conciliation. This theme was explored in collaboration with Heidi Swierenga of the Museum of Anthropology (MOA) and was supported by MOA's Collections Access Program, which ensured that Cecil's family regalia, which he had only previously encountered in his grandmother's book, could be present.
Cecil Dawson notes the importance of this initiative at the exhibit opening, "I've just been emphasizing the significance of this moment. This gathering. This happening. That it is important for us to create spiritual space when we have ceremony. When we get together as human beings. Seeking something better for all.
Pictured:  Heidi Swierenga from MOA, Cecil Dawson, and Beth Boyce from the Musuem at Campbell River.  The image was taken during the opening event for the exhibit by Bluetree Photography
Honorable Mention:
BC Archives, Genevieve Weber
Royal BC Museum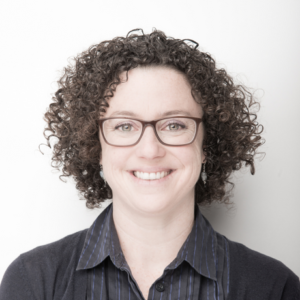 In 2019, the BC Archives acquired the records of the Oblates of Mary Immaculate, a religious order that operated ten residential schools in British Columbia. Using Article 31 of the United Nations Declaration on the Rights of Indigenous Peoples as a guiding principle (Indigenous peoples have the right to maintain, control, protect and develop their cultural heritage, traditional knowledge and traditional cultural expressions, as well as…their intellectual property over such cultural heritage, traditional knowledge, and traditional cultural expressions), the inclusion of community members in the processing of the records has been prioritized by Archivist, Genevieve Weber. As she continues the work at the BC Archives to make residential school-related records accessible, community engagement will remain the top priority.
---
Award of Merit – Innovative Practice
This Award of Merit recognizes a recent outstanding innovative and/or creative achievement in any and all aspects of an organization's practice. At the heart of our communities are people who actively push boundaries, challenge conventions, and exemplify innovative ways of thinking, seeing, and doing. Creativity and innovation will be measured in respect to the nominated museum's own capacity and history; it may reflect an all-new approach to museology in general, or it may reflect an individual museum doing something it has never done before.
Winner:
Rungh Redux
Rungh Cultural Society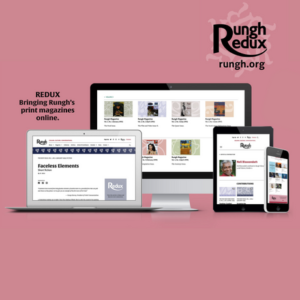 Rungh Redux is an innovative archival web project that activates South Asian art histories from the 1990s and relates to present day IBPOC art and artists. Rungh Redux is a unique attempt to activate an archive and serves to inform artists, educators, cultural workers, and members of the public that racialized artists in British Columbia, and across Canada, have been creating both "community" and "professional" art for over 30 years. These histories would be lost or inaccessible if the Rungh Cultural Society had not embarked on a multi-year project to find, restore, digitize, and then create the interactive Rungh Redux web platform.
Producer/Curator: Zool Suleman
Web/Data Interactive Design: Frank Hangler, Plot +Scatter, and Rob Golbeck, Handcoded Web Services
Design: Simone Wharton, Milène Vallin Editorial
Project Lead: Amina Creighton-Kelly
Honorable Mention:
Multimedia Guide | Museum of Anthropology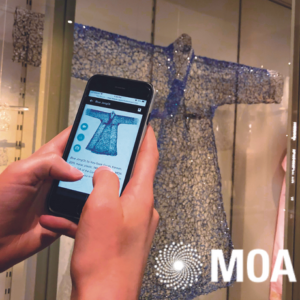 The Museum of Anthropology's Multimedia Guide exemplifies innovation in the area of digital engagement, using mobile technology to enrich visitors' experiences and deepen learning about artworks and cultural belongings.
More information coming soon. In the meantime, check our their website!
RSVP to attend the Awards Showcase on October 19, 2022
Hear form winners about their projects and ideas for the future of museums.