Show that museums matter – Send a letter to your MLA and BC's new Premier
Advocacy letter templates, social media images, and resources to help make our sector's voice heard
-Updated December 7, 2022
British Columbia has a new Premier and on December 7 a new cabinet was announced, naming Lana Popham as the new Minister of Tourism, Arts, Culture, and Sport. Now, more than ever, it is critical that museums, galleries, and heritage organizations make our voices heard and let these critical new representatives know that museums matter. 
The BCMA is calling on all our members as well as any interested arts, culture, and heritage professionals/volunteers to use the template below to write to their local MLA and CC Premier Eby (premier@gov.bc.ca), the office of the Minister of Tourism, Arts, Culture, and Sport (TAC.Minister@gov.bc.ca), and Parliamentary Secretary for Arts and Film Bob D'Eith (bob.deith.MLA@leg.bc.ca). 
Jump to:  MLA Letter Template  Webinars  Resources
MLA Template Letter
Download the following template to reach out to your representatives to advocate for the arts, culture, and heritage sector. Need help finding your MLA? Search by using your postal code on the BC Legislature website.
Want to talk about why museums matter in your community?
Download these social media promotional images!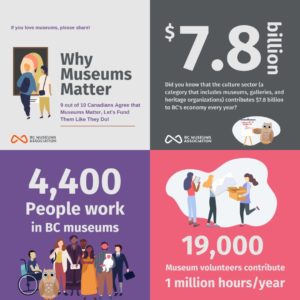 The following letter from the BC Museums Association was sent to the new Minister of Tourism, Arts, Culture, and Sport on December 7, 2022.
The Honourable Lana Popham
CC: Premier David Eby
CC: Parliamentary Secretary Bob D'Eith
Dear Minister,
On behalf of the BC Museums Association (BCMA) and our 450+ members in communities large and small across the Province, I want to welcome you to your new position with the Ministry of Tourism, Arts, Culture, and Sport, and outline some of the key opportunities and issues facing our sector. Given your significant experience as an advocate for our sector as the 2013 opposition critic for Tourism, Arts, Culture, and Sport, we feel that our sector is very fortunate to have your leadership guiding the Ministry.
Since 1957, the BCMA has worked with museums, galleries, cultural heritage organizations, and Indigenous cultural centres to ensure the overall health and vitality of BC's cultural sector. The Association has enjoyed a productive working relationship with the Province of BC, partnering to offer $7.6 million in funding for 221 grants in 150 communities to mark Canada's Sesquicentennial in 2017, co-developing a $500,000 repatriation grant in 2020 that has helped more than 50 First Nations to find their stolen cultural belongings and begin to return them home, and administering annual BC Family Day funding that has provided 200+ grants to museums to offer free programming each year.
On the Impact of BC's Museums:
British Columbia, despite having the third largest population of any province in Canada, has the second most number of museums in the country. BC's museums are so varied that even the term "museum" is misleading, given that our sector includes art galleries, science centres, aquariums, Indigenous cultural centres, heritage sites, vivariums, and more. BC museums hold nearly 12 million objects in the public trust, care for numerous irreplaceable built heritage sites, offer in-person and online educational experiences to more than 700,000 students each year, and create more than 4,400 jobs in communities large and small.
Despite challenging public conversations about the value of museums over the past year, data shows that museums are a smart investment, help to create better-informed communities, and provide space to explore challenging and long-overdue conversations. Each $1 invested in the cultural sector (a sector in which museums play a large part, but that also includes the arts), provides a $4 return on investment through job creation, building infrastructure, and tourism. In British Columbia, the cultural sector is a massive economic driver and despite BC investing less in culture than other provinces for decades, culture creates more jobs in BC than in any other province. The economic impact of the cultural sector in BC is $7.9 billion, larger than the impact of agriculture, forestry, fishing, and hunting ($5.8 billion) and utilities ($6.3 billion). This is similar to that of accommodation and food services ($8.0 billion) and mining, quarrying, and oil and gas extraction ($8.2 billion). The economic impact of the cultural sector is six times larger than the economic impact of the sports sector in BC. Museums are vital to the health of BC's tourism sector, with nearly 70% of all tourists in BC choosing to visit a museum, gallery or cultural organization on their trip.
Museums, galleries, and cultural centres function as essential "third spaces" (spaces that are neither work nor home) in communities and are hubs for exploring history, heritage, and culture.  A recent survey found that 89% of Canadians trust science centres and museums for science-related information. In an era of fake news and online misinformation, museums play an essential role in helping communities understand important issues. Museums and heritage spaces help communities reevaluate our shared histories and understand difficult truths about the history and colonization of the lands we now call Canada – without truth, there can be no reconciliation and museums have a critical role to play in helping communities understand truths about our history. 
Arts, culture, and heritage experiences have been shown to empower youth, especially at-risk youth, to succeed in school, in work and in later life – 85% of Canadians believe that arts education assists in the emotional and intellectual development of children and consider it a good reason to support the arts. People who attend arts activities have been shown to be significantly healthier, have lower anxiety and be less likely to experience depression – this is especially as we live through overlapping crises from pandemics, to climate change, to global turmoil, as Canadians are reporting higher than normal levels of stress and anxiety. Museums are integral to building strong communities, creating safe places to live, and fostering cross-cultural empathy and understanding.
Where BC's Museum Sector is Today:
The museum sector, as well as the arts and culture sector more broadly, currently finds itself in a uniquely challenging and unpredictable time. The COVID-19 pandemic greatly reduced visitor rates over the past three years and even as public health orders have been lifted. A 2022 federal survey found that only 10% of Canadians have visited a museum, gallery, or heritage site in-person since 2020. COVID relief and recovery grants, like those offered by your ministry through the BC Arts Council, have been essential to ensuring that museums can keep their doors open and their staff employed during the single largest visitor downturn in our lifetime. Early on in the pandemic, a joint study from the BCMA and Heritage BC found that 1 in 4 museums and heritage organizations in the Province feared closing permanently during the pandemic, and through provincial and federal support, we have avoided this terrible outcome.
In addition to living through an unprecedented pandemic, our sector is now responding to some of the highest rates of inflation in the past 40 years. In order to keep up with the cost of inflation over the past year, the BC Arts Council budget would need to be raised from $39.61 million to $42.38 million. With no inflationary increases on the horizon, it is like every single artist, cultural professional, and heritage organization that receives BC Arts Council funding has received a pay cut this year. Our sector is recovering from nearly 20 years of the Province of BC investing less in culture than any other province in the country. While our sector is deeply appreciative of the actions the Province has taken to remedy this chronic underinvestment, the compounding impact of COVID, high inflation, and a general affordability crisis threatens to erase any gains we've made in the past five years.
Emergency preparedness and response is another looming issue for museums. After wildfires destroyed the Lytton Chinese History Museum and Lytton Museum and Archives in 2021, museums, galleries, and heritage sites are more keenly aware of the ever-present risk that climate change poses to our shared heritage. We commend the Province for programs like the Community Economic Recovery Infrastructure Program (CERIP) and the BC 150 Time Immemorial Grants for providing significant investments in new heritage infrastructure and climate mitigation projects, but since both of these grants were oversubscribed by tens of millions of dollars, there continues to be significant unmet demand in the sector. 
In partnership with Heritage BC and the BC Heritage Emergency Response Network (BC HERN), the BCMA has launched an Emergency Response and Recovery Fund to mobilize salvage and recovery teams to museums and heritage sites in the event of climate emergencies, but this fund is a bandaid on a crisis far too large for any one organization to solve. BC museums hold tens of millions of items, hundreds of millions of archival records, and innumerable archaeological objects in their collections. Climate change puts unimaginable numbers of irreplaceable heritage and cultural items at risk. With limited surplus collections storage space across the province, the museum sector has little to no ability to safely re-house even a fraction of these objects during emergencies. As the past two years have shown repeatedly, catastrophic climate events are our new normal – museums need the support of all levels of government if we are going to protect our shared heritage from destruction.
Lastly, and critically, we urge the Province to continue its support for the repatriation of Indigenous cultural materials. Dan Smith, founding member of the BC Museums Association's Indigenous Advisory Committee and a member of the Wei Wai Kum First Nation in Campbell River stated that "True, meaningful and lasting reconciliation must include the return of our ancestors back to the Nations where they were taken from. We must work together to realize this, and in doing so free our children and their children from the sacred obligation we have for finding our ancestors and bringing them home."
If museums want to begin to repair the harms they have caused, our sector must embrace a comprehensive approach to repatriating (in other words, "returning") the ancestors and belongings held captive for generations. These journeys home are truly profound moments to celebrate and offer an opportunity to create a whole new context in which to tell stories in, and of, our museums. While the repatriation funding offered by the Province in 2017 and 2020 made a tangible impact on communities across the province, British Columbia has a moral obligation to establish dedicated, reliable, and accessible repatriation funding that centres the autonomy of Indigenous peoples. The 2020 Repatriation Grants had more than twice as many requests than available funding and since nearly half of the funds went to repatriation research, this means that even more communities have identified the location of their belongings and ancestors and are ready to bring them home.
By funding repatriation, the Province of BC takes tangible action in supporting reconciliation and helps begin to heal the wounds caused by the theft of belongings and ancestors. As the BCMA stated in our presentation to the Standing Committee on Finance in 2021, even a modest annual grant of $500,000 to support repatriation would be world-changing for communities that want to heal wounds that have been left open for nearly two centuries.
How We Can Work Together to Build a Brighter Future:
The health of the arts, culture, and heritage sector is vital to helping British Columbians recover from the pandemic (both economically and emotionally) and in helping our communities make paradigm shifts in becoming more resilient, equitable, and just – but we need the active partnership and support of the Government of British Columbia to make this happen. 
We stand at a crossroads – we can rise to the challenges facing our communities, or we can surrender to the apathy of the status quo. Museums, and the arts, culture, and heritage sector more broadly, are the creative soul of our communities and can work in partnership with all levels of government to not only imagine a better future but to build it. On behalf of the BCMA, I look forward to working with you and the Ministry of Tourism, Arts, Culture, and Sport to support the success of BC's museum sector and to build a better future that works for everyone.
I would love the opportunity to speak with you further about BC's museum sector and would welcome a meeting once you've settled into your role.
Sincerely
Ryan Hunt
Executive Director
BC Museums Association
Webinars
Want to level up your advocacy efforts even more? Check out these past webinars.
There are hundreds of museums across the province and the vast majority of them receive some form of investment from local governments. Building strong relationships and lasting partnerships with local government officials is the first step on this path for support.
How to build successful culture and heritage organization partnerships with local governments and advocate for your institution within a municipal context. Panelists: Charlayne Thornton-Joe, City of Victoria Councillor Mayor Suzan Hewat, Village of Kaslo Tracy Calogheros, The Exploration Place