On June 30, 2021, as a heat dome pressed over most of British Columbia, much of the village of Lytton burned to the ground. Thousands of invaluable archives and cultural objects were lost from the Lytton Museum & Archives and the Lytton Chinese History Museum. Within four weeks, the White Rock Lake fire had blanketed the north Okanagan in smoke so heavy, it burned your eyes and throats if you were outside too long.
Of particular concern to us was the O'Keefe Ranch, a historic site near Vernon and home of the Greenhow Museum. During the pandemic, staff and volunteers of the Museum & Archives of Vernon (MAV) had been working with the O'Keefe curatorial committee and volunteers to help curate, organize, and care for parts of the O'Keefe collections and archives.
On the morning of Saturday, August 7, most of Vernon was placed under an Evacuation Alert. The fire was even closer to O'Keefe Ranch, however. So, rather than wait for an official Evacuation Order, the curatorial committee decided to evacuate valuables from the ranch immediately. Vernon Museum would be the safest destination.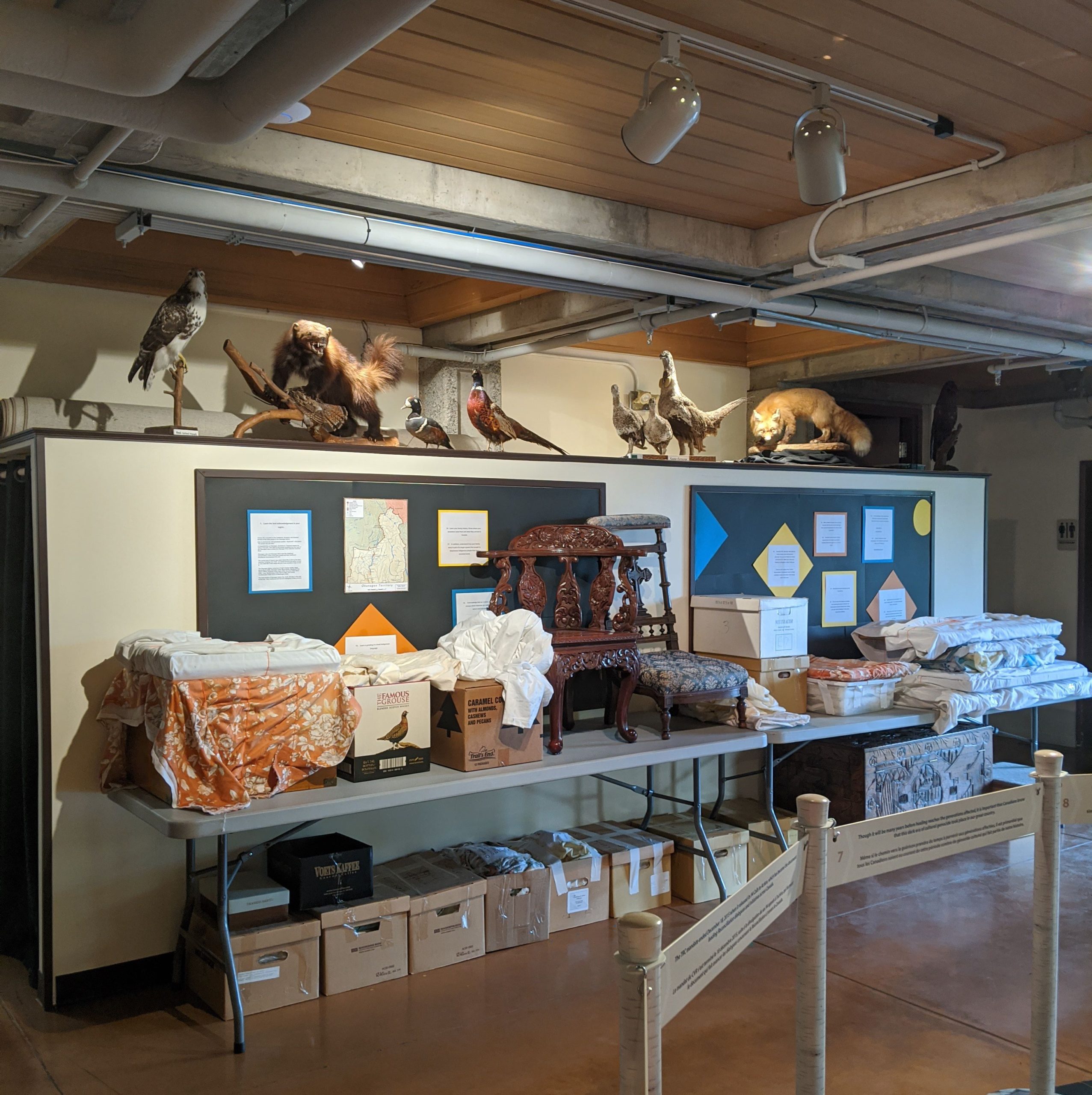 Items from the O'Keefe Ranch Collections and Archives, evacuated to the Museum and Archives of Vernon during the Rock Lake Fire, August 2021.
Happily, they did not come to the task empty-handed. O'Keefe past curator Carla-Jean Stokes had prepared a disaster plan, including a list of priority items to evacuate from each building. The committee and volunteers got straight to work. They broke into teams to dismantle displays, pack and carry boxes, and then Tetris them into vehicles. All original archival materials (fonds, photographs, etc.) and research files were loaded up. So were computers, donation and accession files, and any other documentation pertaining to the collections. Since the only cars available were those in which the team had arrived, heavy furniture, vehicles, and other large objects had to be excluded.
Additional considerations also made for quick but difficult decisions. Certain items—including a hundred-year-old music box—were left behind, as the damage they might have incurred during transport outweighed the risk of loss through fire. Marisa Parker-Hinz, MAV's Collections Registrar and Digital Archivist, says of the process, "It felt a little surreal—to be coordinating the evacuation and to be responsible for leaving items behind, especially when that decision could mean that it would be left to the fire." Finally, O'Keefe Ranch staff and the Vernon Fire Department set up sprinklers around the buildings. Fire department personnel came on site to spot embers. After that, everyone hoped for the best!
In the end, the O'Keefe Ranch was spared the fire, with its collections and archival items being returned in early September. "A priority list is crucial," Parker-Hinz offers, having taken away valuable lessons from the community response to this emergency. "Have packing materials on hand. Make sure that you have access to keys for all the buildings and rooms. Plan the evacuation ahead of time, including people, vehicles, and contact information. Designate an evacuation destination—and evacuate while you can!"