On June 15, 2021, the Province of BC is moving to Step 2 of its Restart Plan. This new stage will allow BC residents to travel throughout the province, participate in larger outdoor gatherings with family and friends, and offers new Public Health Orders (PHOs) for indoor gatherings. Public safety and health protocols such as mask-wearing and physical distancing remain in place and are mandatory in Step 2.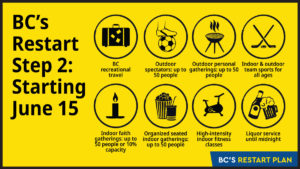 Important takeaways for Step 2:
Physical distancing and masks continue to be required in public indoor settings and workplaces
If your staff, volunteers, or any visitors feel sick, they should stay home and get tested immediately
Indoor seated organized gatherings up to 50 people with a COVID-19 Safety Plan
Outdoor seated organized gatherings up to 50 people with a COVID-19 Safety Plan
Continued return to the workplace
Small, in-person meetings allowed
Employers must continue to have a COVID-19 Safety Plan and daily health checks in place
You may notice that the Step 2 guidelines say, "Consultation with the sector begins for next steps on indoor and outdoor organized gatherings." At the moment, the BCMA does not yet have specific guidelines for the museum & culture sector from the Province, though we are in contact with peer organizations and our partners in government and will share any sector-specific news as they become available.
We also encourage members to participate in the BSAFE online health and safety training program that is being offered through Go2HR (https://www.go2hr.ca/training-education/bsafe).
Given that COVID-19 cases are consistently trending down and vaccination rates are ahead of schedule, it seems likely that Step 3 will start as planned on July 1. Step 3 will bring significant changes to PHOs, including potential changes to mask recommendations and social distancing. We recommend that if you have questions regarding Step 2 guidelines, to default to your existing safety plan until revised Step 3 guidelines are shared in the coming weeks. As always, we encourage members to email us with their questions regarding the PHOs and we will pass these questions along to the Province.
If there is support and resources that the BCMA could provide at this time, please do not hesitate to reach out. 
If you are looking for COVID-19 resources, the BCMA has curated the following relevant links (past webinar recordings are available free of charge to BCMA members):
If you would like to connect with your peers for fun, informal conversation during this trying time, consider attending Watercooler Wednesdays (the first Wednesday of the month) or Museum Manager Mondays (the third Monday of the month).