Museums, galleries, and heritage organizations may choose to require guests to show their BC Vaccine Card before entering. The BC Museums Association has created this brief walkthrough of how to download and start using the BC Vaccine Card Verifier app.
Organizations have two options for checking BC Vaccine Cards. The Province of BC recommends the most secure option is using the BC Vaccine Card Verifier app. You can also verify proof visually. Whether using the app or checking visually, the guest will also need to produce one piece of photo ID. You don't need to check ID for youth aged 12 to 18. 
Accepted forms of valid government photo ID, for example:
B.C. driver's license or BC Services Card

Passport
Please note, some people will have names on their BC Vaccine Cards that do not match their government-issued photo ID. You may also ask for a secondary piece of ID and can use discretion. We encourage members to keep in mind many people, for example, people from the trans community who may be transitioning, may have different names on their BC Vaccine Card and photo ID – make sure that you inform staff and volunteers who will be checking the cards that they can use their discretion.
In our testing, default camera QR code readers on iOS and Android devices do not successfully read BC Vaccine Card QR codes. We also downloaded a handful of free QR code reading apps and were unable to successfully read them. We do not recommend using other QR code reading apps for this.
We recommend downloading the official BC Vaccine Card Verrifer app. You can download the BC Vaccine Card Verifier app from the Apple App Store and Google Play Store. The app is free to download and works on smartphones and tablets.
In our testing, this app scans BC Vaccine Cards incredibly fast and reliably and does not need a connection to the internet to work once downloaded.
The Province of BC has detailed instructions for downloading and using the app here: https://www2.gov.bc.ca/gov/content/covid-19/vaccine/proof/businesses#app 
If guests express concerns about personal information being included in the scan, the Province of BC states that no personal information aside from whether someone has had one, two, or no recorded COVID-19 vaccinations is shown in the app. We have tested the app and below you will find a screenshot showing what the app user sees (please note, the names have been removed in this screenshot).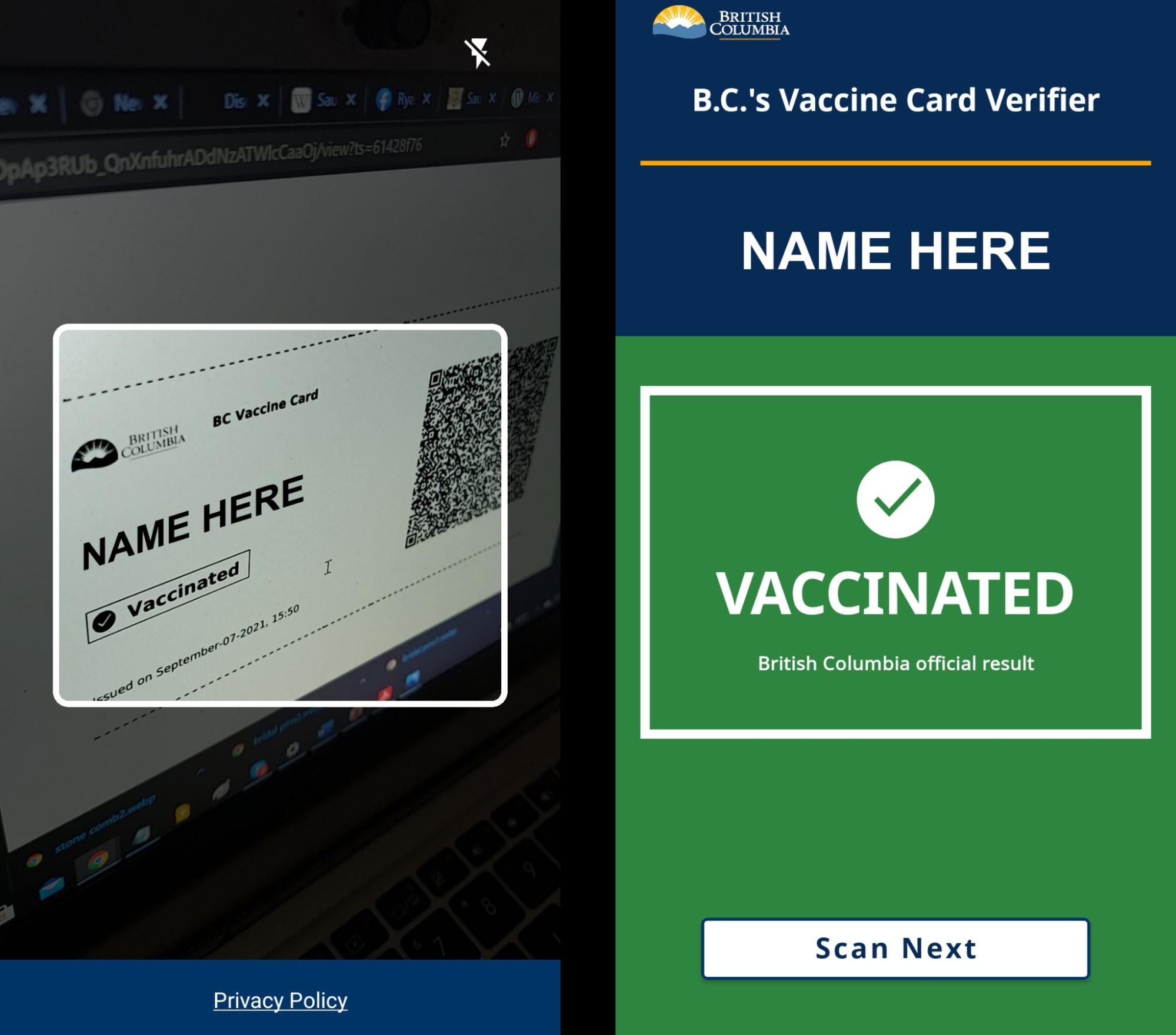 The Province has created a printable PDF with examples of BC Immunization Records as well as Canada-wide Immunization Records.
The BCMA is offering a free webinar in partnership with Go2HR on September 29th, Walking the Tightrope: Balancing Challenging Customer Interactions with Positive Guest Experiences.