Museum Education Toolbox
The B.C. Museums Association gratefully acknowledges funding support of this project

Basic Guide to Museum Education Programming: A Tool for Small Museums
Author:

Natalie Zacharewski, MA
Acknowledgments and Special Thanks to:
Tom Long, Public Interpretation Coordinator at Fort Edmonton Park, Sophia Maher, General Manager of Nanaimo Museum, Anissa Paulsen of the BC Arts Council, Laura Nichol, Volunteer and Community Engagement Coordinator at Fort Edmonton Park and the countless educators on the frontlines of museum work.
Note from the Desk:
Just like learning, the field of museum education is always changing. The British Columbia Museum Association is committed to creating practical, easy-to-implement resources that inspire, invoke and move with the direction of your museum.
This is a living document. Please contact the BCMA with suggestions, comments, case studies, and stories of success. We are excited to see how you use this Toolbox!
Contents
Why is Museum Education Important?
Planning for Successful Museum Programs
Community Partnerships, Collaborations and Working with Stakeholders
Effective Delivery of Tours and Programs
---
Overview
This tool is meant to help managers, coordinators, front-line staff (educators) and volunteers design structured programs into/surrounding an exhibit or overall small museum and how to build a lesson plan/program outline for a structured program.
Structured programming can include: school programs, adult programs, youth programs, early learning programs, birthday parties, daycamps, overnight programs, family programs, tours and more
*This does not include special events, regular gallery attendance operation (also known as unstructured interpretation) and other curatorial duties.
Often Museum Education is cross-referenced as Interpretation. For the basis of this tool, we will use the terms interchangeably for larger concepts, and specify adaptations when necessary.
Our Goals:
Help staff and volunteers at small museums understand the keys to creating and executing successful museum programming, specifically:
Identifying different types of programs and activities that work
Understanding needs of different audiences and tailoring activities to each;
Implementing a program plan template at your institution.
Provide sample activities as applicable to test out at your institution
---
Why is Museum Education Important?
Museum Education can be understood as: in the broadest sense, any museum activity pursued with a view of facilitating knowledge or experiences for public audiences. The vision of education is in fact a vision of the museum's mission and purpose as a whole.
(The Museum Educator's Manual, 2nd Edition, 2017)
From a subjective lens, education programs can:
Fulfill the mission, vision, values of a museum/exhibit/culture institution
Foster connections for & within the community
Encourage stewardship of the collection
Engage with diversity of thoughts, demographics, stories and experiences
Develop meaningful, impactful connections with cultural, natural and human history
Challenge preconceived notions of events, narratives, thoughts and experiences
From an objective lens, these programs can
Generate revenue for an institution
Build new audiences for museum attendance
Engage repeat visitors in different museum experiences
Create jobs for community members (including youth)
Stimulate community connection for volunteers, which promotes health and wellness
Educators use their museum's collection to build meaningful, emotional, thought-provoking learning connections with their visitors.
The American Alliance of Museums formed the Education Committee in 2005, who developed 'Excellence in Practice: Museum Education Principles and Standards':
Accessibility

Focus on Audience and Community
Diversity of Perspectives

Accountability

Excellence in Content and Methodology

Advocacy

Advocacy for Audiences
Advocacy of Education
Dedication to Learning
---
Interpretation
Museum Education and Interpretation are intrinsically intertwined. Interpretation is the vehicle, set of tools, presentation style that combines teaching with discovery to create personal connection. According to the National Association of Interpretation, interpretation is a mission-based communication process that forges emotional and intellectual connection between the interests of the audience and meanings inherent in the resource.
Freeman Tilden (1883-1980), often known as the 'Father of Interpretation' developed these 6 Guiding Principles for Interpretation:
Relate: Any interpretation that does not somehow relate what is being displayed or described to something within the personality or experience of the visitor will be sterile. (compare, contrast, make it personal)
Reveal: Information, as such, is not Interpretation. Interpretation is revelation based upon information. But they are entirely different things. However, all interpretation includes information. (help the visitor discover something new)
Provoke: Interpretation is an art, which combines many arts, whether the materials presented are scientific, historical or architectural. Any art is in some degree teachable. (inspire profound thought or action)
Arts: The chief aim of Interpretation is not instruction, but provocation. (employ multiple learning styles)
Holistics: Interpretation should aim to present a whole rather than a part, and must address itself to the whole picture rather than any phase. (give the resource context – the bigger story)
Appropriate: Interpretation addressed to children (say up to the age of twelve) should not be a dilution of the presentation to adults, but should follow a fundamentally different approach. To be at its best it will require a separate program. (consider the audience)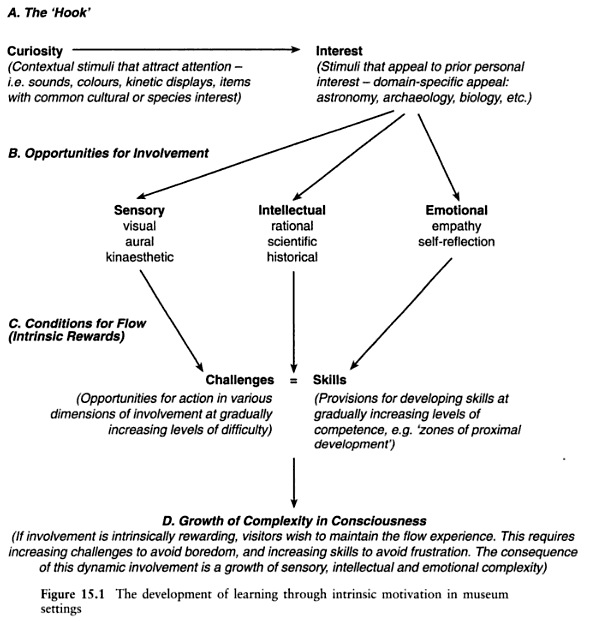 ---
Object-Based Learning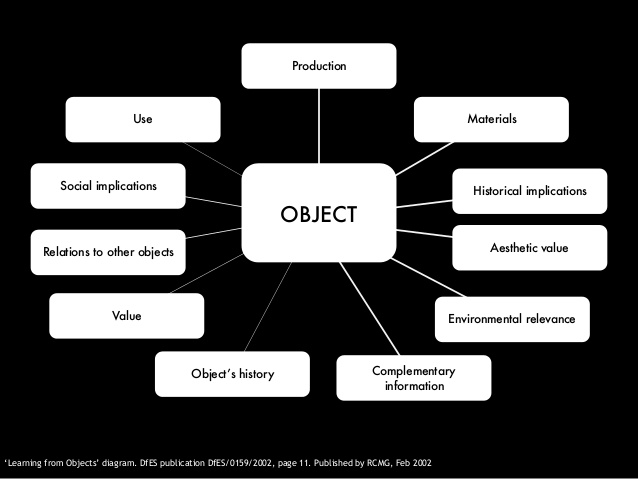 The DfES Museums and Galleries Education Programme publication Learning Through Culture summarizes the different questions or learning pathways leading from an object in the diagram below.
'Learning from Objects' diagram. DfES publication DfES/0159/2002, page 11. Published by RCMG, Feb 2002
What is Object-Based Learning?
Object-Based Learning (OBL) is an interactive, personal and explorative form of learning. By using the objects from the collection, the Museum Educator asks intentional questions to facilitate a visitor's deeper learning.
The aim of OBL learning is
To act as a focal point for an activity.
To stimulate discussion on a topic.
To consolidate a learning point.
To explore meaning.
To explore function.
The students, during and after the activity will:
Use all their senses.
Examine objects as 'text' and as 'evidence'.
Draw conclusions by handling and observing.
Develop an understanding of the object by examination of evidence.
Critically evaluate the object in a given context.
What an Interpretation, with OBL, Could Look Like:
Before You Get Started
Decide on what you want the outcomes to be – e.g., conversation starter, investigation, comparison, idea generation.
Choose a space in the gallery/museum that will allow for conversation – this could be a corner of an exhibit, a specific classroom, or if you have a visitor's centre
Make sure you know all of the other events happening in the museum that day, including busy times, to avoid competing for the visitor's attention
Before you get started, make sure your water bottle is full and you have eaten! Self-care is critical to program success
Speak with your curators or collections technicians ahead of time – you would not want to build a whole program surrounding an object that cannot be handled, will soon be taken away for restoration, is damaged etc. – they are often a great source for background knowledge on every object in the collection, which could spur further activities or new directions
Know what your bigger picture is – the objects within themselves are tied to a larger concept. Make sure you know how you will tie this exchange into the bigger picture
Once the Visitors Arrive
Stress there is no 'right' or 'wrong' answers throughout the activity
Ask them if they need a bathroom break, water, food before you get started to avoid interruptions
Let them know what they will be seeing and discussing so they know what to expect
Use words like 'investigate', 'explore, 'reveal' or 'detect'
Keep your questions open (think inquiry)
Take suggestions and make them work
In the Midst of It
During programs, it's important that your role is to facilitate.
Choose 5-7 questions ahead of time, but know you may not get to all of them – the theme of the activity is to explore the group's and individual's interest rather than direct the learning
Question Suggestions:
What does this object make you think of?
How do you think this object was made?
Where do you think this object came from?
How do you think this object was used?
Tell me how this object feels, smells, looks
What kind of life do you think the people that used this object lived?
Wrap-Up
Tie to the bigger picture
Don't forget to make it personal – this will evoke emotional memory to not only the object, but the larger narrative surrounding the story.
---
Planning for Successful Museum Programs
The 3Rs
You want your museum to be the 3 R's in the community:
Relevant
Relevant = To your community (are you creating programs that will be meaningful to your community?)
Example: Can you host an event to celebrate big 'life' events in your community? Eg. anniversary or milestone date?
Your community is the backbone of your museum, and your museum should be the backbone of your community. If you are not creating programs that engage your visitors, as many visitors as possible, then you are not serving your community. Your museum must be relevant – if we are not being relevant, there is not a reason to develop a program.
Relevance is a key that unlocks meaning. Before you get started; there are several key things to keep in mind:
Relevance is an exercise in empathy – understand what matters to your intended audience, not what matters to you.
Be careful about misconceptions of relevance. These can look like:
We believe what we do is relevant to everyone
We believe that relevance is irrelevant – people will be attracted to our work for its distinctiveness
Keep in mind regardless:

All programs should be connected to your museum's mission.
Responsive    
Responsive = To needs, desires of your visitors (are you engaging visitors prior to and/or after their visit to gain feedback?)
Example: Have you spoken (in-person, over online surveys etc) with visitors on a daily, weekly, monthly basis to find out how you can serve them better?
Working with Indigenous/First Nations, Métis and Inuit Communities
In 2008, the Truth and Reconciliation Commission was created as a component of the Indian Residential Schools Settlement Agreement. Its mandate is to inform all Canadians about the cultural erasure that occurred in Indian Residential Schools (IRS). The Commission documented the truth of survivors, families, communities and anyone personally affected by the IRS experience. Institutions such as government entities, corporations, education spaces etc are being called upon to enact, lead and exemplify a 'decolonized' space; removing barriers of accessibility, exclusivity and institutional racism.
Working with local Indigenous communities, whether it be directly or through an associated organization is critical to building exhibits, programs and educational experiences which features FNMI content and narratives. Before you begin this important work, there are several resources that can be useful in becoming versed and prepared in the narratives, histories and worldviews.
A Land Acknowledgement is a formal statement that recognizes the unique and enduring relationship that exists between Indigenous Peoples and their traditional territories (http://www.lspirg.org/knowtheland/). These are increasingly becoming a regular part of opening statements and introductions in schools, lectures and other settings. Consider opening your education programs with a land acknowledgement to recognize the sovereign territory of the First Nations, Métis and Inuit peoples that your museum is situated on.
Check out these examples:
University of British Columbia
"I would like to acknowledge that we are gathered today on the traditional, ancestral, and unceded territory of the Musqueam people."
Camosun College
"Camosun College campuses are located on the traditional territories of the Lkwungen and W̱SÁNEĆ peoples. We acknowledge their welcome and graciousness to the students who seek knowledge here."
BC Museums Association
"The BC Museums Association (BCMA) office is located on the traditional, unceded lands of the Lekwungen peoples (Songhees and Xwsepsum Nations). We respect past, present, and future Indigenous stewards and recognize that we are uninvited guests on this territory."Check out Nk'Mip Desert Cultural Centre https://nkmipdesert.com/
Here are some useful resources:
Indigenous Ally Toolkit (Montreal Urban Aboriginal Community Strategy Network)
National Centre for Truth and Reconciliation – University of Manitoba
Peers, Laura. Playing Ourselves: Interpreting Native Histories at Historic Reconstructions.
Lanham, MA: Rowman & Littlefield Publishers, 2007.
*See Works Cited and Resource section for further recommendations on research and resource material.
Reflective
Reflective = To successes, failures and emerging trends (are you consistently looking to improve your programs?)
Example: Are you 'relatively' versed on museum trends on the past 5 years? Keep up to date be connecting with fellow museum workers through outlets like the LMME or BCMA's Watercooler Wednesdays.
How Do You Get To Know Your Audience
Pro Tip: Data is your friend!
Data surrounding visitor trends will assist you in justifying to your management, board and team members why certain programs will work, or not work. Check out Colleen Dilenschneider, author of the website 'Know Your Own Bone' focused on market research and the behavioral economics surrounding cultural organizations. Colleen is also the Chief Market Engagement Officer at IMPACTS Research & DevelopmentSurveys – This can be prior to a potential visit, or after a visit. Surveys are a clear, data-driven analysis of visitor likes/dislikes, and where you need to take your programming next.
Surveys can be done in person (paper) or online (using a free survey generator like Survey Monkey https://www.surveymonkey.ca/)
Advisory committees – These are ongoing, set groups of people that provide advice on a slightly wider range of topics. Advisory committees could be on education programs in general at the museum, or future exhibits you wish to bring in. They could be volunteer, honorarium-based or fully compensated.
Focus groups – These groups are often focused on an individual objective. They are often deliberately selected for that purpose, and meet 1 to less than 5 times to elicit discussion on a particular area of interest
Piloting, and failing – You need to try things to ensure they will work both on paper, and in the field – and sometimes a failure can result in a more positive learning outcome! Don't be afraid to take risks, and support your team members as they do as well.
What does piloting and failing look like? How can you fix it and learn from it?
You have just developed a new program and invite a class to come and participate and give you feedback. During the program, the students seem disengaged with the information you are teaching, you run out of supplies for an activity and the teacher wants to end the program early. You will receive negative feedback from the teacher, how do you respond and what are your go-forward steps?
Answer:
Following the LEAD model of Customer Recovery;
L = Listen
Allow the teacher to fully explain what happened and what her concerns were
E = Empathize
Demonstrate understanding of how things failed. This does not necessarily mean apologizing, but emphasizing with the faults of the situation. Repeat information back to the teacher to demonstrate understanding
A = Amaze with Alternatives (or Action Plan)
Communicate how their feedback will be used to make improvements. This could be: changing the program activities, being better organized, reflecting on training for staff or revising the entire program. Work collaboratively with the teacher on what could be possibilities.
D = Document
It is important to record our improvement moments. Not only does documenting assist you in the particular situation, but it allows us to reflect on future program plans.
---
Audiences
Each visitor, regardless of age, is unique – and has a unique reason for coming to the museum. Being mindful of these visitor types and motivations will assist you in building programs for a diverse audience (such as a multi-generational audience)
Today's Museum Visitors:
Explorers motivation curiosity: desire touch and feel
Facilitators motivation needs of others: desire to bring others to experience the Museum
Experience Seekers motivation seeing and experiencing a new place: desire behind-the-scenes tours
Professionals/Hobbyists
motivation specific knowledge-related goals: desire in-depth attention in areas of interest
Rechargers motivation find knowledge: desire contemplative, restorative experiences
What are their Motives/Needs?
Recreation relaxed, unstructured, playful
Sociability being with others, shared activity
Learning new, exercising curiosity, discover, understand, contemplate, reflect, practice
Aesthetic sensory, focused activity, sense of delight or disquiet
Celebrative observing, honouring, sharing, connecting
Issue-oriented encountering, engaging, local, global
Teaching to Age Groups
Keeping in mind visitor types, motivations/needs, Museum Educators need to keep in mind the general age group of the program they are designing. Visitors who are preschool age are going to experience a program differently than those who are teens or older adults. Be mindful of language, tone, message and content when you are tailoring your program for a particular age group
Teenagers and Adults
The presence of these age groups changes the goals, delivery and outcomes of your programs – one size does not fit all! Refer to these tips when developing experiences for teens and adults.
Teens (ages 12-18):
Involve social media and technology (develop and hashtag, have 'Instagrammable' moments and allow teens to have their cell phones with them during the program)
Focus on goal-oriented, outcome-based workshops or experiences
Provide food if able, especially if the program occurs after school
Connect collections/exhibits to modern-day challenges
Diversity and inclusivity should be a theme throughout your program
Be project-based with guiding questions
Allow for creativity, collaboration and a hands-off approach in terms of direction/instruction from the educator
Program Ideas:
Long-Term
'Young Curators' or 'Junior Volunteer' program
Teen Artist/Curator in Residence
Teen Ambassadors for your museum or new exhibit
Supportive peer community meet-ups
Short-Term
Drop-In programs on Friday nights
Blogs or guest authors, social media takeovers
Easy hashtag that can easily be re-Tweeted
Application-Based
Internships, work experience and co-op placements to prepare for post-secondary school
Mentorship programs matching with staff and trusted volunteers
Design/contribution-based competitions
Adults
Adult Programs: Not just tours – Museum Education trends lately strongly suggest that tours are not the way adults (or kids!) are engaging with information in current world.
Keep experiences diverse, encourage social media interaction, inquiry-based and casual.
Be mindful that adults have different stages of life

Young Adults
Adults with (or without) young families
Middle aged adults
Retirees
Seniors
Research and be mindful of the audience within the 'adult' age group you are working with.
Consider how and when using technology/social media – some may be more comfortable with engaging in this format than others
Focus on dynamic experiences – what is unique about your museum? Showcase the individuality of your site and look towards skill development for participants
Build community in your program through conversation – avoid over-structuring the event and not allowing relationships to form because there is no time for discussion
Connect collection and themes within your exhibit to ongoing issues and real-world controversy
Consider the time of day when adults may be available to visit – this could mean offering a program later into the evening than your typical opening hours
Program Ideas
Museum Happy Hour ('Cocktails with the Collection')
Yoga in the Galleries
Costuming Lecture and Demo
'Adults Only' Behind the Scene tour
Build Your Own "Insert Skill-Based Object" workshop
Concert Series
Art based workshops (pottery, wall hangings, candle making)
Food based workshops (specific to your site – think historic recipes, the science of fermentation, looking at diverse cultural cooking)
Real Examples from BC
Check out Adult Programs at the Royal BC Museum for inspiration with programs such as 'Museum Happy Hour' and 'Night at the Museum – Adults Only'
Family Programs/Multi-Generational Programs
Interacting and programming for families differs considerably from other 'age groups' as families are attending with multi-generational learners. It can be challenging to write a program for everyone, but you can create a learning experience for everyone.
Keep these key elements in mind when building your multi-generational learning experience
Multi…
Sided = So families can cluster around an exhibit
User = Interaction allows for several sets of hands and bodies
Outcome = Observation and Interaction are sufficiently complex to foster group discussion
Modal = appeals to different learning styles and levels of knowledge
Readable
Easy to understand segments
Accessible
Comfortably used by adults and children
Relevant
Cognitive links to existing knowledge and experiences
Use these characteristics to build your multigenerational family program. Keep in mind the many learners that will be present at these programs and you may have to navigate different learning styles at different points throughout the program.
Real Example from BC:
Check out Nanaimo Museum Family Programs, offered regularly throughout the year
http://nanaimomuseum.ca/whats-happening/family/
---
Community Partnerships, Collaborations and Working with Stakeholders
Consulting your community is vital for creating unique and diverse programming. The process to developing these relationships takes time, patience and mindfulness – be prepared for an investment that could take months and years to cultivate.
Firstly, let's define a few terms:
Stakeholder: A person or group that has an interest in something. For a museum purpose, this could be a program, direction, site, event etc.
Partner: A defined recorded relationship between a group/individual with an organization. The relationship is mutually agreed upon, often with clear outcomes.
Think of it like this – A partner is often a stakeholder, but a stakeholder does not necessarily have to be a partner. The formality and mutual exchange of goods/services differs these roles.
Collaboration: A joint effort of two groups or more on an initiative. Collaborations can be formal or informal, but it is recommended that the collaboration is recorded and documented to allocate proper acknowledgement to all groups involved.
Consultation: The act and process to formally gain knowledge and discuss such knowledge. Any consultation should be recorded, and should receive some kind of compensation (whether it be monetary, hosting, professional development, relationship building acknowledgement etc.)
Compensation: Partners and stakeholders should be compensated for their time, knowledge, and expertise. If you are able to, set a fee structure up beforehand. If you are unable to cover consultation fees – be sure to communicate that at the beginning of the process.
Think about developing your community partnership, collaboration or consultation in a Phased Approach. This will help you identify progress in your journey, and where things may be stalling.
Phase 1: For Both of Our Benefit
Enter into a partnership with a group that aligns with your museum's MVV (mission, vision, values), along with your partner's MVV: this will ensure that from the start, your goals are mutual in the larger scope
Be open to your partner's needs, and be flexible to changing with your partners direction (within reason)
However always be clear on what your needs are, so the relationship is continuously mutual
Be cautious: Partners can be advocates for your institution, but also a risk. Research the organization/individual thoroughly before entering into any discussions. Partners may come with their own agendas that can derail your work and as a partner they become representatives of our institute – poor behavior on their part can tarnish your museum.
Phase 2: Signing on the Dotted Line
Clarify roles and responsibilities IN WRITING
The written agreement can be referred back to throughout the process, or changed with mutual understanding if needed
Phase 3: Setting Expectations
Be clear with what is possible, what timeframes, what resources will be needed
Be accurate and do not over-promise, this can lead to disappointment and a partner not wishing to continue the relationship
Terms of agreement can be helpful in keeping both groups on track throughout a process
Phase 4: Execution
Communication: communicate more than what you believe you should. This will demonstrate a desire be aware of all aspects of the project, and your commitment to it
Maintain the relationship throughout the execution phase, it can become easy to focus too much on the action at hand, try to keep a consistent eye on the relationship maintenance throughout the project
Expect all aspects of the project to take longer than you think they do, and that is ok! Working collaboratively towards a positive outcome often results in a more timely process, but it will equal a better partnership in the end
Phase 5: Debrief
Always allow time for debrief and follow-up at the conclusion of the process
Don't just evaluate the project at hand, but the overall relationship with the partner, the big picture the relationship is crucial for future collaborations
If the project and partnership was/is successful, consider other opportunities (different projects, co-training) to engage the partner. This will illustrate a desire to maintain an active relationship
Be ready to hear negative feedback about their experience as well. Both stakeholders and partners have often the most honest and invested thoughts to the success of your program/project which can manifest in very honest feedback. Don't be alarmed or disappointed! They only want your goals to succeed.
Real Example from BC:
Check out Fort Langley National Historic Site for oTENTik camping experiences
---
Timelines
Here is a general guide on when you should be planning and posting programs for booking and registration. This is just an example and may not reflect the reality of our organization or community. Ensure your registration open and closing dates are clearly listed and easy to find for your target audiences. Along with registration timelines, consider what your cancellation policies may be and how you communicate those with teachers and community members.
School Programs – 1 academic year ahead of time (e.g. for school programs September 2021- June 2022, the programs should be planned and posted by June 2021).
This is because teachers may book and plan 1 year in advance as per their principals' budget and timeline. Ensure you have communicated the cut off date for changes to school program bookings. Some places use a two-week out policy.
Group Programs (Youth) – 1 year to 6 months in advance.
This is due to group leaders (such as Scouts, Brownies, international visits etc) needing to submit their plans for review.
Daycamps – 6 months in advance.
Adults may start planning their Spring Break and Summer Daycamp plans 6 months ahead of time to avoid registration disappointment. Be ready that some will register right away on opening day, and others will wait until the last minute if plans change (including the morning of camp!)
Registered Programs – 3 to 4 months in advance. (This could be family programs, adult programs, early learning programs and tours).
As 'ticketed' (or public is registering individually/as a family) are more flexible with each guest's schedule, this type of program will most likely be the shortest window of planning and promoting. This kind of program can be repeated.
Homeschoolers – Group dependent.
Homeschool students operate on a different and individual schedule that is dictated by their own homeschool setting. As each region varies GREATLY, reach out to your local homeschool co-operative and allow them to share their own field trip timelines and expectations for the year
Real Examples from BC
Check out the Gulf of Georgia Cannery National Historic Site for their Girl Guide Badge Programs
---
Funding and Budget
Money makes the world go 'round, and how do we combine the important of museum programming with cost-effective operations?
Here are some key questions to ask yourself, and your board/management team before you price out a program:
Is there a consistent external funding source we can access (eg. grant funding, endowment, corporate sponsorship, school district)
Are these programs meant to 'pay for themselves' (eg break even with all cost considerations) or are they meant to profit? How much profit are they meant to gain?
What are the market competitors? (eg other museums, attraction sites, cultural centres near your museum), what are they doing program-wise and how much do they cost?
Will we provide transportation to our museum (eg bussing) and/or will there be the option for educators to come to the classroom? This will affect school program pricing considerably as bussing can be cost prohibitive to some groups
Will this program by led by volunteers or paid educators?
Budgets – How to Price Out a Program
As museums are increasingly questioning how to create sustainable revenue streams, each museum will have different expectations surrounding if/how much a structured program will generate money. It is important to discuss with your management team/board what they expect structured programs to function as.
Don't forget to factor in prep and clean up time! (Especially if the programs are being delivered by staff/volunteers who are only at the museum for the time the program is running). Here is an example of how to 'roughly' price out a structured school program:
School Program – 2 hour program for Grade 4 class
$80 – 4 hours x $20/hour – Staff Hours (Education Interpreter) – 1 hour prep time, 2 hours program time, 1 hour of clean up time = 4 hours
$15 – Supply Cost
$30 – Administrative Cost (booking system use, office supplies, etc)
________________
$125 – Suggested Cost (Price to Schools)
You may not turn a profit in the first year of hosting your programs. Evaluate continuously whether the program needs more time to build momentum or whether it needs to be cancelled and re-visited.
When setting a school program cost, consider how other museums or institutes charge for their programs and whether they charge a lumpsum or based on the number of program participants. A total program cost of $125 will look very high compared to places that are charging $5 per student (even when the total revenue may be the same).
When setting a registered program budget, you may need to set a 'go/no-go' date regarding registration and the amount of revenue needed to cover the cost of the program.
---
Staff Resources
Whether your museum is operated by paid staff or volunteers, staff resources are critical in planning what your institution can realistically achieve. Each museum will vary widely in their staffing structure, but there are key things to remember when working with a team (staff or volunteers).
Do
Conduct a hiring process – posting for the position, CV review, interview, check references, offer. Seek diverse candidates.
Provide a job description (and stick to it!) as much as possible
Ensure mandatory training – manuals, in-person workshops, shadowing opportunities, ongoing professional development opportunities
Provide ongoing evaluation – make a schedule of planned evaluations and stick to it
Set individual goals with staff/volunteers to help them succeed in their current and future roles
Identify/encourage leaders and effective succession plan
Don't
Only hire people you know
Add additional responsibilities without a conversation with staff/volunteer or another position posting that truly reflects what the role requires
Ignore concerns or feelings of lack of confidence – focus on building training tools and resource to encourage independent teaching excellence
Leave evaluation season in the indeterminate future – staff/volunteers respond to set benchmarks in their schedule of improvements
Forget your staff and volunteers all have different goals – it is your job to support each and every one as individuals
Keep every and all information in your own head/records – if you need to step away from your role (either planned or unplanned), have a succession plan where you have cultivated leaders on your team
There are several grant funding structures that financially support museums in their seasonally and year-round staffing.
Programs need stuff. Regardless of how low-key or audience-driven a program is, you will need a supply list. This also helps the Educator leading the program to get organized and feel prepared prior to the program's start-time. It should provide instruction on how to organize the materials following the program's end.
Top 10 Tips for Supply Management
1.Always Know Your Inventory – running out of a supply could mean a negative visitor experience, or an educator needing to make quick decisions with mixed results to conduct the program. Set a schedule so you are always on top of what you need or use a short checklist completed after every program.
2. Know Your Spots – Where do you order and purchase everything. Spend time to research the best prices, easiest/closest locations to pick them up etc. This will reduce time in supply shopping and assist future Coordinators/Managers in knowing where everything comes from. Keep a record or folder of your sources.
3. Signed, Sealed, Delivered – Time is valuable. If there is a free or reduced charged for delivery of supplies, take it.
4. Order in Bulk – If the supply is not food-related/perishable, and if space is not an issue, often ordering a great deal of an item will reduce cost. It will also save the trouble of having to question whether you have enough of it for longer periods of time.
5. Know Your Storage – We are often working with smaller spaces with reduced storage for all items. Before purchasing any items, have a storage plan. It will avoid troubles of having to take over extra areas that are not a good long-term solution
6. Have an organization system – Labels, bins, shelving, this will depend on your site. Make labels legible and organization systems logical to every user. You can't use a supply, if you can't find a supply.
7. Be mindful of expiry dates – This could be for craft supplies, food supplies and other tools.
8. Check your storage and program location often – When left unattended, these spaces with these items can attract theft, pests and other undesirables. Make a plan to check all locations/areas every few days to a week to keep on top of any growing issues
9. Choosing a storage location – if possible, try to choose a storage location that is easy and accessible for all staff and volunteers. This will help with program preparation time and helping the educators feel organized.
10. Reduce, Reuse, Restock – Write as part of your program plan that restocking supplies is a part of every program clean-up. This will ensure educators are preparing for either their next program, or their fellow colleagues.
---
Effective Delivery of Tours and Programs
Inquiry-Based Learning
To give our museum's collection meaning, space for exploration, and elements of discovery, we as Museum Educators combine Inquiry-Based Learning, with Object-Based Learning.
What is Inquiry-Based Learning? Inquiry-based learning is a form of active learning that starts by posing questions, problems or scenarios—rather than simply presenting established facts or portraying a smooth path to knowledge. Inquiry-based learned can and should be student led and generally results in more engaged and enthusiastic program participants. This process is often assisted by a facilitator.
Facilitation
What does a good inquiry question look like?
A good question is an invitation to think (not recall, summarize, or detail).
A good question does not have a yes or no answer.
A good question comes from genuine curiosity about the world.
A good question makes you think about something in a way you never considered before.
A good question invites both deep thinking and deep feelings.
A good question leads to more good questions.
A good question asks you to think critically, creatively, ethically, productively, and reflectively about essential ideas in a discipline.
Good questions examples:

How can we better understand the people of the past?
How do we know what we know about the past?
Why do you think the HBC decided to establish Fort Edmonton in this area?
How did the First Nations, French, British and Métis peoples interact with each other as participants in the fur trade?
What do you think?
Why do you think
What does a bad question look like?
In what year was Fort Edmonton built?
Who was John Rowand?
How many people lived in the Fort?
In what year did Canadian women obtained the right to vote?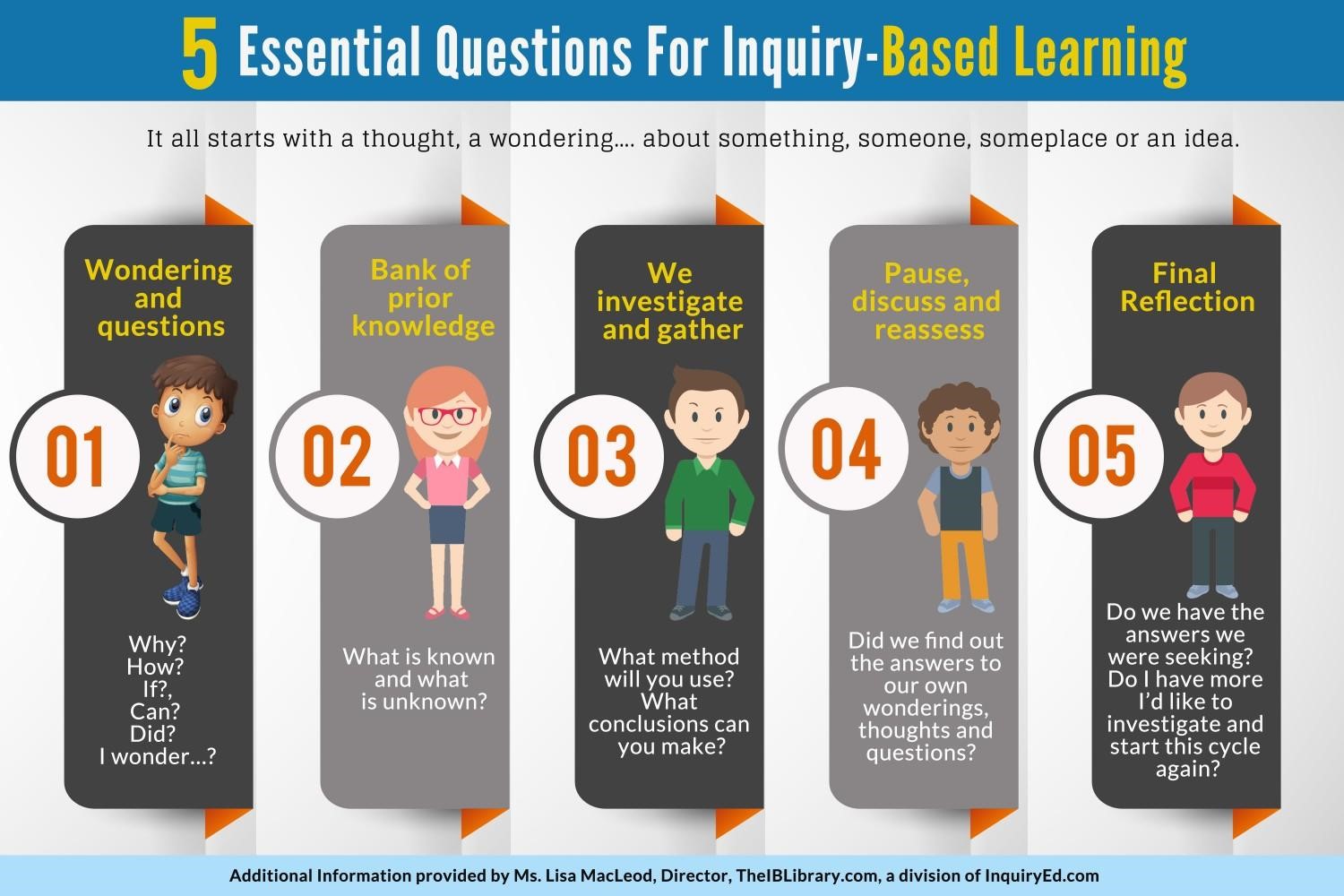 Real Example from BC
Check out The Maritime Museum of British Columbia's Museum Tot program
Program Outlines
Program outlines (also known as lesson plans) are key aspects to any structured program in a museum. They:
Are a reference for all staff and volunteers on the program expectations
Reflect the mission, vision and values of the museum and program
Ensure the programs are relatively standardized and repeatable in terms of messaging and content delivery for all visitors
Are training tools for new staff and volunteers
Suggested Format for Program Outlines
Program outlines are as unique as the programs and museums they are located in. These subheadings (topics) are suggestions, and should be tailored to each program and museums outcomes.
Title
Includes grades/ages it is intended for
Length of program
How many staff/volunteers are leading it (eg. 2 Museum Educators, 1 volunteer)
Program Description
What appears on the marketing (so staff/volunteers can see what is externally promoted)
Program Objective
The themes, goals, intentions of the program
These are overarching, general and should help staff/volunteers
Eg. Families will engaged with artifacts, learn how to bake over a wood burning stove, explore family life from the 19th century
Program Schedule
Minute by minute account of how long each portion of the program should take. Keep in mind that these are time estimates, always factor in time for wiggle room and time to move from one space to another.
Here is an example of how to break the program into portions:

Logistics Introduction = 10 minutes
Lesson Introduction & Hands On with Artifacts = 25 min
Interactive Quiz = 5 min
Activity Rotation = 30 min
Break = 15 minutes
Activity Rotation = 30 min
Activity Rotation = 30 min
Wrap-Up = 10 minutes
Curriculum Connections (School Programs only)
Specific curriculum links the program is connecting with
Program Details
Set Up/Prep Time (how educators are preparing for program)
Supplies (in depth supply list, and where to find the supplies in your museum eg. bin, in a certain location, etc)
General Procedures (signing in, getting into costume if necessary, meeting the group, safety procedures)
Leading the Program
Detailed activity descriptions (including rotations should the group be split into smaller groups)
Inquiry questions prompts
Transitions (how to move smoothly from activity to activity – this could include imagination games, songs, questions that bridge a logical spot-to-spot narrative etc)
Images of activities (this can be helpful for Educators to visualize what the end result should look like – especially for crafts!)
Wrap-Up & Further Reading/Resources
'Connecting the Dots' for the visitors
Thanking them for attending
If there is a program evaluation
Activity Options
Structured Programs need diversity. A mixture of active options (like a physical game) and passive options (like a craft), all age appropriate, are necessary to maintaining order and engagement in your audiences. Consider different levels of ability and ways to include all in the activity. If you have adult chaperons – include them too!
These are just some activities that can compose your structured program. Be creative and research more on your own!
Pilot Programs
Create, Test, Re-Design, Test Again, Evaluate. Tester Programs or Pilot Programs allow you to see in action a program you have created, and where the holes are. Follow these steps to pilot and test your program:
Develop relationships with trusted visitors, families, teachers
Offer to bring them into your exhibit for free to experience a new program
Ensure they understand at the end of the program, they will be expected to provide feedback on the program
Choose a date, time that works well for them (as they are doing you a service in attending)
Run program just as you would a member of public
Gather feedback – depending on the nature of the program, this can be done

Surveys (if the group is large and you wish for a large sample of information)
Focus groups (selecting a number of the participants and discussing with them their experience with a pre-selected number of questions)
Informal Discussion (often in pilot programs, this can yield the best results as the pilot group will feel free to offer their feedback unrestricted – make sure you listen and record all pieces of feedback
Sample Email to Teacher for Pilot Program:
Hello there all!
Thank you to everyone for their responses! I am delighted there is excitement and interest for this opportunity.
Our proposal with (SCHOOL) is as such. We are currently in the process of editing our program 'Boats and Beavers' and we would love the opportunity to pilot our edits with a classroom. This would of course be free of charge for this program and we would love to have feedback from both the students and the teachers in the program. All thoughts are welcome!
We are currently examining the time frame of late February to early March 2019. Would this time period work for your group at all? We look forward to hearing from you soon!
Program Evaluations
It is important to gather feedback about a structured program not just at the pilot stage, but throughout when it is being offered. This keeps your finger on the pulse of visitor experiences. This helps with future program adaptations, justify program direction with your management/board and potential funding opportunities.
Evaluations can come in many fashions, the most common are paper (handed to visitors at the end of the program) and kept onsite. The other is online, through portals such Google Forms (free through a Gmail account) and Survey Monkey (https://www.surveymonkey.com/). A link to your survey can be sent out to visitors pre-visit or post-visit, or handed out (card with link) at the end of the program. The online surveys often have analytical functions (graphs, charts etc.) that can provide helpful visuals for interpreting the data.
Sample Questions:
How did you hear about our programs?
How would you rate the booking process?
Did the program meet your curricular objectives? (for school programs)
The Museum Educator was knowledgeable on the subject matter (ranking)
How can we improve on this program (essay box)
---
Working with Curriculum
If you are offering education programs for school programs, the content should be linked to the provincial Education Curriculum you are situated in (such as the BC Curriculum). The way your program supports and connects to curriculum should be clearly communicated to your audiences and in your program plan.
British Columbia recently modernized their K-12 curriculum for all subjects. See note on their website (https://curriculum.gov.bc.ca/) The new curriculum includes a focus on inquiry-based learning.
B.C.'s New Curriculum
B.C.'s Kindergarten to Grade 12 (K-12) education system has been modernized. As part of this process, new curriculum is being introduced in all B.C. schools.
Full transition to the new K-9 curriculum began in the 2016/17 school year.
Full transition to the new Grade 10 curriculum took effect in the 2018/19 school year.
Full transition to the new Grades 11 & 12 curriculum took effect in the 2019/20 school year.
"A key goal in modernizing the education system is to provide students with an education that is still rigorous, but also flexible and innovative, one from which they gain the knowledge, skills, and abilities they need to succeed in today's modern world.
Another goal is making sure that teachers can deliver the curriculum efficiently and effectively. The new system provides teachers with more time and flexibility to explore topics in depth with students."
If you have education programs that are written prior to the 2019-2020 school year, you will need to review the content of the program to ensure it meets with the upcoming curriculum.
Working with a curriculum can be daunting, but breaking it down and only selecting the curriculum connections that best pertain to your program is key for not overwhelming yourself and teachers. Visit BC Government's website for the new curriculum and easy-to-follow visuals for the information
Example: You have built a new exhibit on the fur trade in British Columbia, let's choose a curriculum connection to build a structured program around
Visit the new BC Curriculum website
Select the Grade Level (s) you wish to build the program around
Download the curriculum for the grade – to start off with, it may be easiest to pick a subject (eg Social Studies) to center your program around
Choose the Curricular Competency, and Content (related to your exhibit) surrounding it
Build your program with these themes in mind (take a look at the 'Sample Activity' and 'Key Questions' for guidance!)
Make sure you highlight these connections on your marketing (website, brochure) and program outlines/lesson plans
Write, test, pilot and go!
Once you are comfortable and have built a program surrounding one grade level, and one subject area – you can introduce cross-curricular connections.
Real Examples from BC
Check out the Museum of Vancouver for their Elementary School Programs (in English and French)
---
Artifact Kits
Artifact Kit, Museum-in-a-Box, Reproduction Kit, EduKits, Outreach Materials. These are kits, boxes, trunks that are inspired by your collection. The main theme is: you can touch it!
Their contents could include: costume pieces, de-accessioned artifacts, craft supplies, reproduction pieces, lessons plans etc
They can be onsite at your museum, or be able to be rented by the public (teachers, community groups etc)
Therefore: don't pack your kit with things that you cannot replace easily
Take a look at these examples: These examples from other museums can give you an idea of what can appear in a kit. Specifically take note on how they have: combined paper (lesson plans, worksheets etc) and 'touch' pieces (costuming pieces, artifacts, games, toys). These examples take a different approach to Object-Based Learning in allowing the pieces to 'speak for themselves'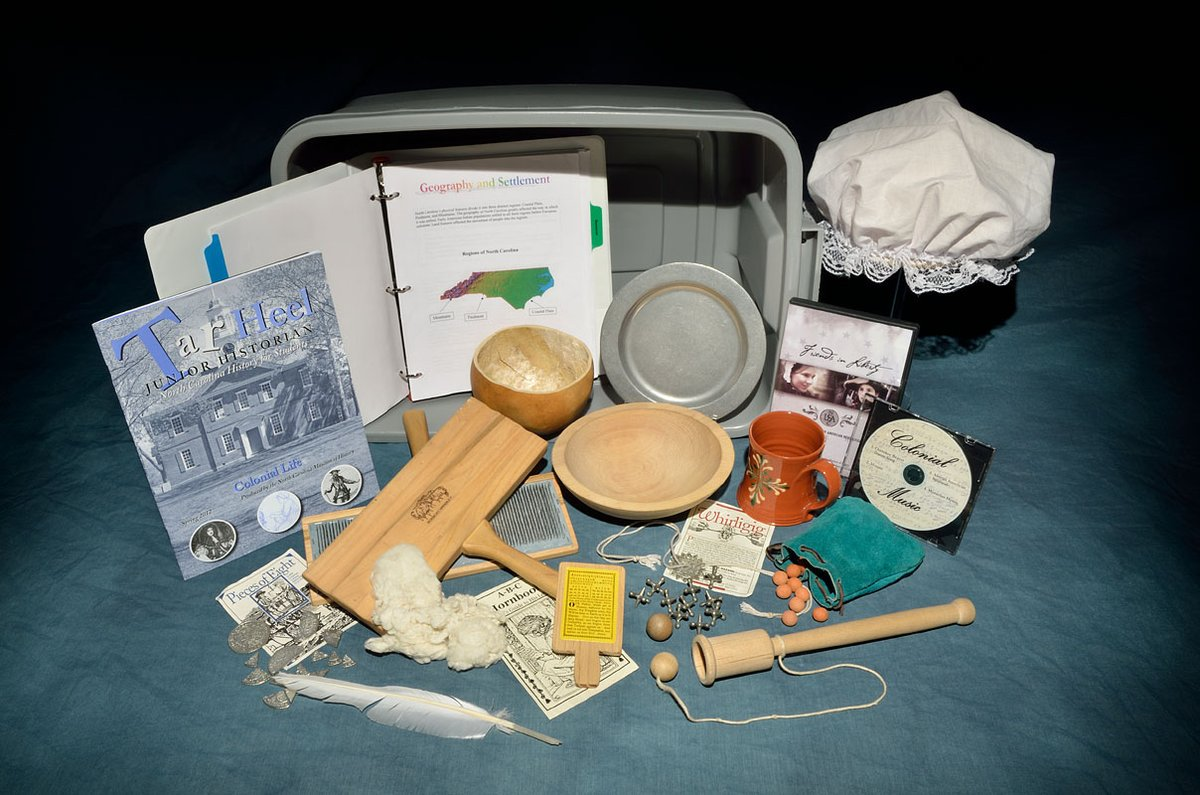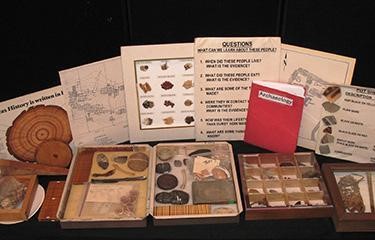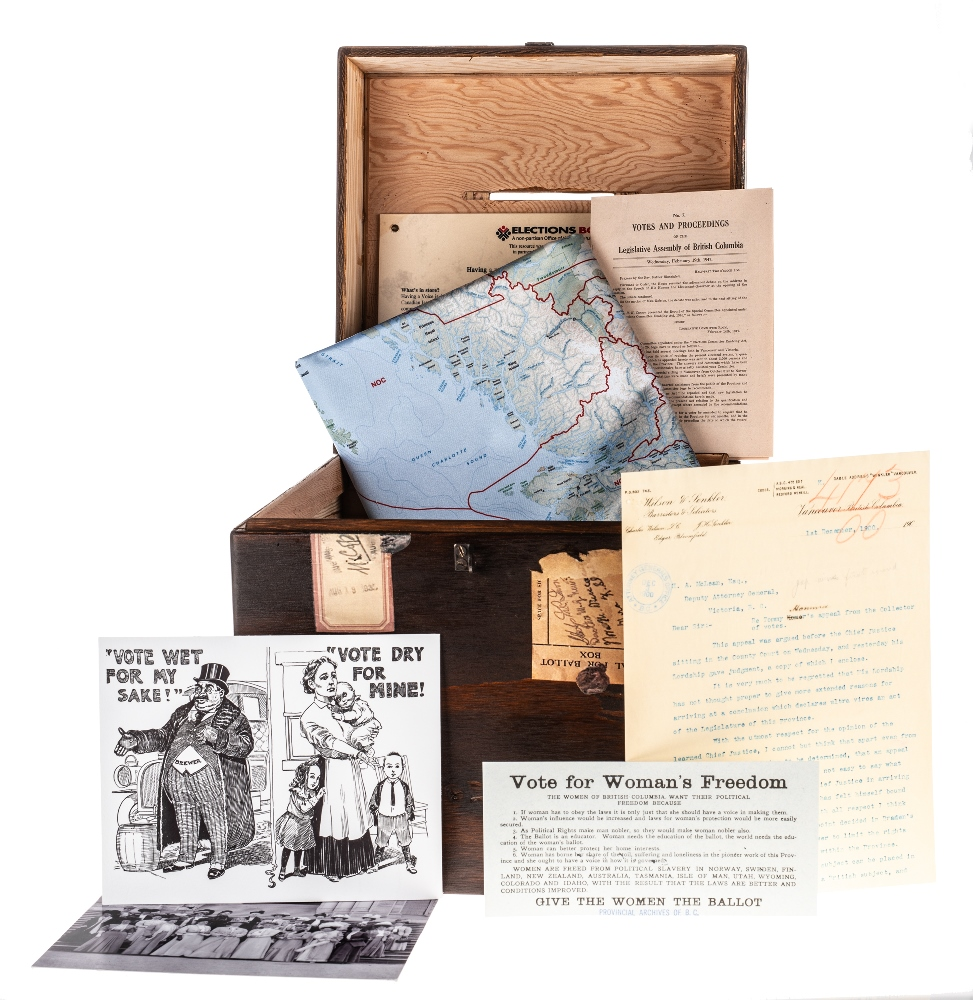 Before building your Artifact Kit, ask yourself:
What story am I trying to tell? Do my objects illustrate my stories in the best way?
Do I have enough programming/reproduction artifacts to make the kit?
Can I purchase reproduction items?
Do I want lesson plans to go with them?
Onsite or offsite?
How will they be taken care of/rented out?
What happens when something gets destroyed, stolen, misplaced?
Where is this kit stored?
Is this kit wanted and will it be cost effective for us to create
Move forward only when these key beginning questions have been answered. As these kits are meant to be self-directed, you should do more preparation in ensuring the audience will feel comfortable working with them prior to advertising them/sending them out.
You are now ready to build your own Museum Education Program! Have fun, take risks and explore the many ways you can make learning come to life in museums!
---
Works Cited and Resource List
Helpful Reads
Neatby, Nicole, Hodgins, Peter . Settling and Unsettling Memories: Essays in Canadian
Public History. Toronto: University of Toronto Press, 2012.
Loewen, James. Lies Across America: What Our Historic Sites Get Wrong. New York:
Touchstone, 2000.
Silverman, Lois H., O'Neill, Mark. "Change and Complexity in the 21st Century Museum".
Museum News. November/December 2004. Pg. 37-43.
Simon, Nina. The Art of Relevance. Santa Cruz: Museum 2.0, 2016.
Simon, Nina. The Participatory Museum. Santa Cruz: Museum 2.0, 2010.
Strong-Boag, Veronica. "Experts on Our Own Lives: Commemorating Canada at the
Beginning of the 21st Century," The Public Historian 31, no.1 (2009): 46-68
Taylor, C.J. Negotiating the Past: The Making of Canada's National Historic Parks and
Sites. Montreal: McGill-Queen's University Press, 1990.
Tyson, Amy. The Wages of History: Emotional Labor on Public History's Front Lines.
Amherst, MA: The University of Massachusetts Press, 2013.
Indigenous Peoples in Museums
Bench, Raney. Interpreting Native American History and Culture at Museums and Historic
Sites. Toronto: Rowman and Littlefield Publishers, Inc. 2014.
Brown, Alison K. First Nations, Museums, Narrations: Stories of the 1929 Franklin Motor
Expedition to the Canadian Prairies. Vancouver: UBC Press, 2014.
Francis, Daniel. The Inconvenient Indian: The Image of the Indian in Canadian Culture.
Vancouver: Arsenal Pulp Press, 1992.
King, Thomas. The Inconvenient Indian: A Curious Account of Native People in North
America. Toronto: Doubleday Canada, 2013.
Peers, Laura. Playing Ourselves: Interpreting Native Histories at Historic Reconstructions.
Lanham, MA: Rowman & Littlefield Publishers, 2007.
Museum Education and Education
DeSantis, Karin, House, Abigail. "A Brief Guide to Developmental Theory and Aesthetic
Development". Visual Understanding in Education. New York: 2007.
Johnson, Anna et al. The Museum Educator's Manual: Second Edition. Boulder: Rowman
& Littlefield, 2017.
Journal of Museum Education. https://www.tandfonline.com/loi/rjme20
Leftwich, Mariruth, McAllen, Amanda. "Be the Change: A Mindset for Museum
Teaching". Journal of Museum Education. Vol. 43, No. 4. 2018. Pg. 394-399.
"Learner Engagement: Teaching and Assessment Essentials". Sheffield Hallam University. https://blogs.shu.ac.uk/engagement/toolkit/using-objects-to-stimulate-learning/obl-in-small-group-teaching/?doing_wp_cron=1545582430.3977789878845214843750)
Toolbox for Museum School Programs. Nova Scotia Museums.
https://museum.novascotia.ca/toolbox
Interpretation
Beck, Larry, Cable, Ted T.The Gifts of Interpretation: Fifteen Guiding Principles for
Interpreting Nature and Culture, Third Edition. Urbana, IL: Sagamore Publishing, 2011.
Brochu, Lisa, Merriman, Tim. Personal Interpretation: Connecting Your Audience to
Heritage Resources. Fort Collins, CO: InterpPress, 2008.
Brochu, Lisa. Interpretive Planning: The 5-M Model for Successful Planning Projects.
InterpPress, 2003.
Falk, John H., Dierking, Lynn D. The Museum Experience. Washington, D.C.: Whalesback
Books, 1992.
Falk, Pamela ed. et al. The Interpreter's Big Book of Disasters. Red Deer, AB:
Interpretation Canada, 2015.
Flannery, Mary Ellen. "Brainstorm: Inside the Mind of the Museum Visitor". Museum.
March-April 2010. pg. 41-63.
Museum Hack. https://museumhack.com/
Pitts, Phillippa. "Visitor to Visitor Learning: Setting Up Open-Ended Inquiry in an
Unstaffed Space". Journal of Museum Education. Vol. 43, No.4, Dec. 2019, pg. 306-315.
Rose, Julia. Interpreting Difficult History at Museums and Historic Sites. Boulder:
Rowman and Littlefield, 2016.
Schep, Mark, Kintz, Pauline, ed. Guiding is a Profession: The Museum Guide in Art and
History Museums. Fonds 21.
Tilden, Freeman. Interpreting Our Heritage, Fourth Edition. Chapel Hill: The University of
North Carolina Press, 2007.
Vagnone, Franklin D., Ryan, Deborah E. Anarchist Guide to Historic House Museums.
Walnut Creek, California: Left Coast Press, Inc., 2016.